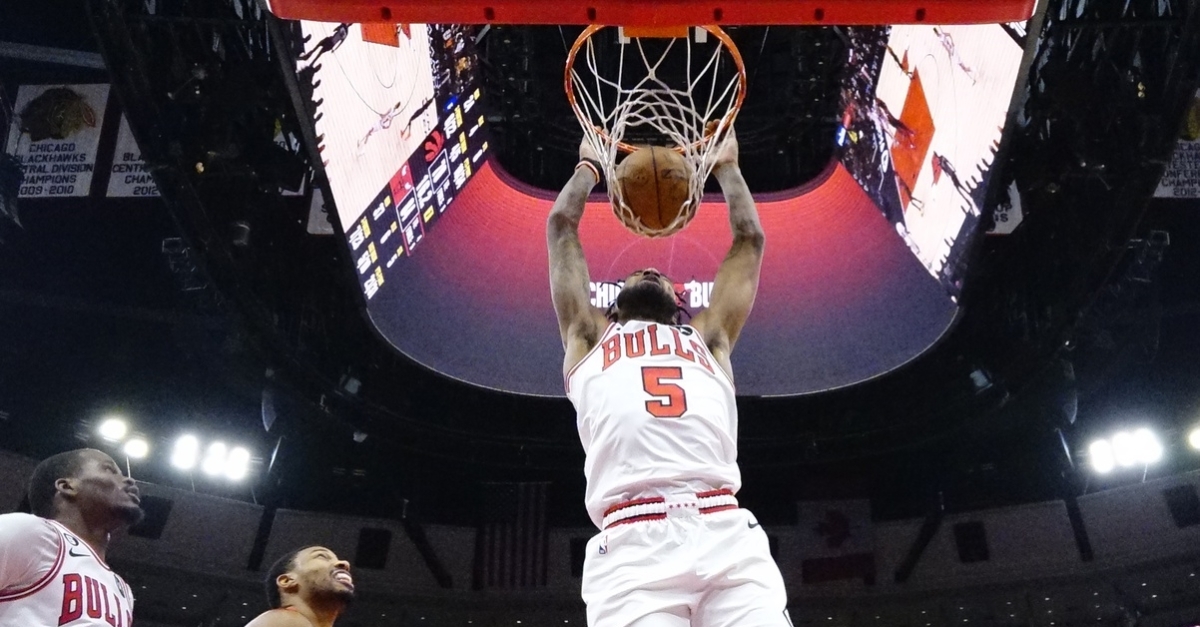 | | |
| --- | --- |
| Bulls return home to get revenge on Raptors | |
---
CHICAGO - As challenging as back-to-back games are in the NBA, one of the perks is that it allows you to reset and get back to business quicker than normal. For the Chicago Bulls (6-6), that is what they were trying to do as the Toronto Raptors (6-5) came to town and were looking to make it two straight against Chicago.
Unlike on Sunday when Zach Lavine was out due to knee management, the SG was back on the floor Monday, looking to pick up where he left off in the games prior. Throughout the early portion of the season, we have talked about Lavine and his early season struggles as he continues to get back into basketball shape after a lengthy layoff.
Monday saw Lavine give the Bulls plenty of hope as he started to look like the player of old and finished with a game-high 30 points. The Bulls could have used that type of offense on Sunday, but that wasn't the case, as this will be something Chicago has to adjust to early on. Lavine was the catalyst that made the offense go, but what about everyone else on the roster?
Unfortunately for Chicago, he was the only player to score 20 points in the game, but that didn't mean the Bulls struggled to score. DeMar DeRozan has been very consistent this season, but has been quiet for the most part. People take notice when you drop a season-low nine points, as he was bound for an off-game.
With him struggling, Nikola Vucevic continued to pick up the slack and is suddenly playing at an all-star level. Take his 15 points out of the equation for a minute, and you have a guy who added 13 rebounds as he continues to control the paint in dominant fashion. The Bulls also saw Ayo Dosunmu pick up 12 points and Patrick Williams add 10 as their starting five did a great job keeping things balanced in the win.
Like most teams, the Bulls will only go as far as that second unit can take them, and right now, that unit is shorthanded. The longer Coby White and Andre Drummond are out, the harder it will be for the Bulls starters to keep up their pace, as they will need some much-needed rest. Derrick Jones Jr is going to be one of the guys that need to step up, and after a perfect 5-5 night from the field and 12 points, he is starting to come into his own off the bench.
Another player that has been huge for the Bulls so far this season has been Goran Dragic, as he added another double-digit game with 10 points. Personally, I think Dragic should be starting, but the Bulls like his offense off the bench, and you can see why. Javonte Green (9) and Alex Caruso (4) rounded out the offense for Chicago as their massive third quarter paved the way for the win.
One night after torching the Bulls in Toronto, Fred VanVleet was at it again, as the Bulls will have nightmares of him. Not only did he make better than 50% of his shots, but he knocked down six triples on 10 attempts to finish with 27 points. He has been a huge surprise and is playing the best basketball of his life.
VanVleet wasn't alone in having a great game, as another sharpshooter was on the money. After a great first half, Gary Trent jr started to cool off in the second, but still came away with 19 points in the win. One name Bulls fans should be very familiar with is OG Anunoby, and not for the reasons you would think. Sure, Anunoby is a terrific player with tons of potential, but he was rumored to be on the Bulls radar during the trade deadline last season, only to stay put.
Toronto is pleased he stayed put, and the Bulls wish they had another shot at him as his 13 points may not have stood out, but he does all the little things that don't show up in the stat column. With Pascal Siakam still out of action, the play of Anunoby and Chris Boucher off the bench will be huge, but it wasn't enough on the night as the Bulls extracted revenge from Sunday and turned the tables at home.
WINDY CITY BLOW BY THE CRUISE
While the Bulls took center stage on Monday, their counterpart and G-League Affiliation, the Windy City Bulls (2-1), were back on the floor taking on the Motor City Cruise (0-2). Coming off a tough loss against the Herd to kick off their home schedule, Windy City wanted to come out and send a message to the Cruise and let me tell you that message was received.
Sparked by a pair of massive quarters in the first half, Windy City built a 63-48 lead at the half and never looked back as they picked up the 125-109 win. Carlik Jones continues to put the team on his back, and after his 27-point, nine-rebound night, some may be calling for him to join the Bulls bench to add some scoring punch.
Ethan Thompson has gotten off to a slow start this season, but he finally heated up with 22 points while his outshot continues to carry the Bulls. Add in 18 points, eight rebounds from Chris Clemons, 15 points from Kostas Anteteokounmpo, and 17 points from Henri Drell, and the Bulls had plenty of options to go around that made life difficult for the Cruise to defend. Marko Simonovic only played in 15 minutes, but it was 15 very productive minutes as he came away with 10 points and seven boards in the win.

Upgrade Your Account
Unlock premium boards and exclusive features (e.g. ad-free) by upgrading your account today.
Upgrade Now