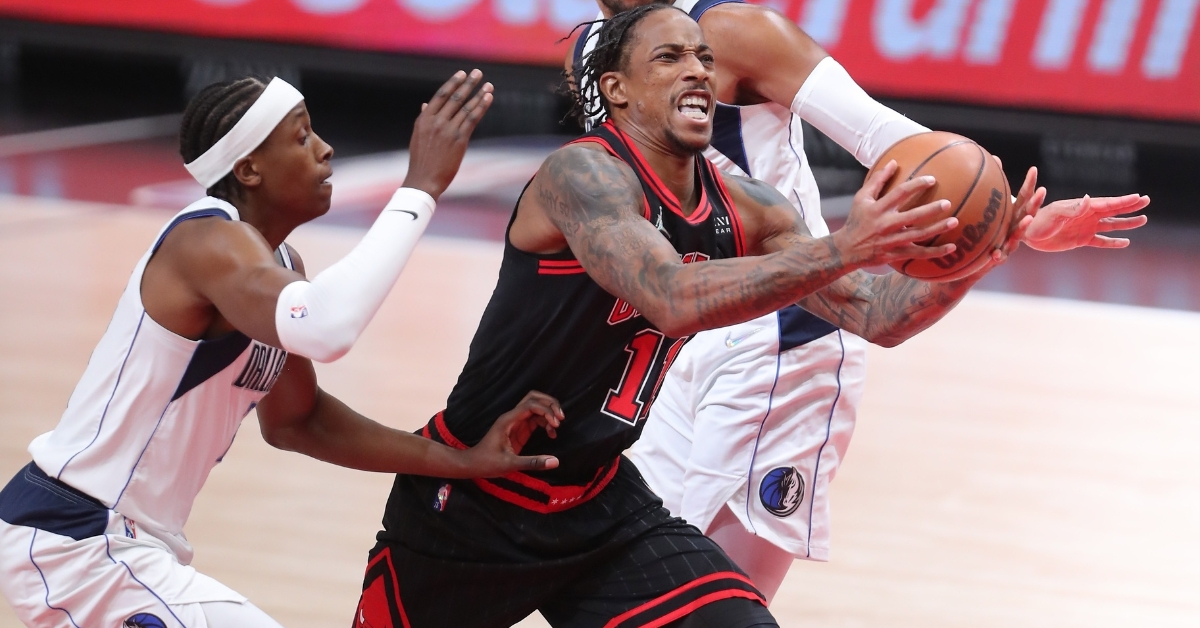 | | |
| --- | --- |
| Bulls stay hot with win over Mavericks | |
---
CHICAGO – When players from other teams start to say the Chicago Bulls (8-3) are back, it is hard not to take notice. Well, that appears to be ringing true as this Bulls team is starting to look like the Bulls of old that gave United Center fans so much to cheer about.
Not only has this team been winning games they typically don't, but they are beating high-quality opponents, which is something they have struggled with since 2015. With another great team in the Dallas Mavericks (7-4) coming to town last night, the Bulls had a chance to make another statement in what has been an impressive start to their season.
The Bulls were again led by a free-flowing offense filled with balanced scoring as their opponents find it difficult to guard them consistently. Couple that with a defense that can shut teams down, and it is no secret that this team ranks in both the top 10 in offensive and defensive efficiency so far this season. That is right where you want to be if you're going to become champions, as the Bulls continue to play inspiring basketball, topping Dallas 117-107 at home.
To beat the Mavericks, you need to stop the engine that keeps them going in Luka Doncic. Since being drafted several years ago, Doncic has not only improved as a player but has emerged as one of the game's best players capable of getting you a triple-double every night. Chicago did a great job keeping him in check, although he was still able to record 20 points and 10 rebounds.
Dallas also has two more weapons, who are known for having big games in Tim Hardaway Jr. and Kristaps Porzingis. Even with Porzingis leading the way with 22 points and Hardaway JR adding 21, Dallas still couldn't hang with the Bulls in this one as the rest of their roster didn't do much. That is precisely what Chicago has been doing this season as they look to take away their opponent's best player and make others beat them.
For the most part, it has been DeMar DeRozan leading the way for the Bulls this season as he has paired very well with Zach Lavine in his first year. Lavine continued to go about his business, dropping a game-high 23 points, but it was DeRozan who was held in check, picking up just 17 points in the victory. That meant that other players needed to step up, and the Bulls certainly had plenty of contributions.
Nikola Vucevic continues to work through some shooting struggles, but finally put together a Vucevic like game with a season-high 18 points to go with 10 boards. Lonzo Ball also came through when they needed him to as he connected for seven triples in the game, finishing with 21 points, also a season-high for him.
Season highs were a trend for Chicago, with Alex Caruso getting in on the fun. Although his scoring has been down this season, Caruso continues to do so much more for the Bulls off the bench. Last night was a classic case of what he can do when he heats up, as his 16 points off the bench were massive for Chicago as the Bulls get back to their high water mark this season at five games over .500.
Lonzo Ball can shoot
When the Bulls elected to bring Ball over from the Pelicans, it aimed to make this offense better. Although not the best in offensive production, Ball is your typical pass-first point guard who looks to get everyone involved by running an efficient offense.
That doesn't mean he can't score, and throughout his career, he has shown the ability to score even if his shooting hasn't been as consistent as he would like. I give him a ton of credit as he continues to put the work in, leading to better results each season. After struggling to score points in his first 10 games, Ball finally broke out and delivered the game the Bulls had hoped he would.
Not only were his 21 points massive, but he knocked down seven triples on 10 tries proving that he can be a threat when given the opportunity. Whether it be a lack of confidence or just not in his DNA, Ball is a better shooter than what people give him credit for, and hopefully, this is the beginning of a more aggressive player.
Lonzo Ball has made 34 threes on the season.

10th most in the NBA. pic.twitter.com/zLfevfAaXf

— BFR (@BFRMedia) November 11, 2021
The Carushow
From the moment Caruso joined this team, he brought with him a sense of energy the Bulls haven't seen in a long time. That energy played dividends with the Lakers over the last several seasons, where he became one of the best sixth men in the game.
Looking to continue that trend in Chicago, Caruso has been one of the leaders on the Bulls bench, even if his scoring hasn't been where he knows it can be. Sometimes, scoring doesn't matter, as there are so many things he does well that go overlooked. Caruso is not only a terrific ball-handler, but a magician with the ball in his hands, frequently making the most challenging passes look routine.
Another thing he does better than most is getting his hands on the ball as he ranks in the top three in steals this season. His tenacity on the defensive end has often ignited the Bulls, which leads to big runs to close out games. You had to expect the scoring to come at some point, and last night it came in a big way with Caruso dropping 16 points.
Caruso has had great looks all season, but for the most part, a lot of his shots haven't fallen. That wasn't the case last night as he went 6-7 from the floor, including 3-4 from deep. It was only a matter of time until he started to heat up, and maybe last night was the beginning of that.
Alex Caruso is leading the league in steals with almost 3 per game... while coming of the bench! pic.twitter.com/hlFXao7vj0

— Bulls Nation (@BullsNationCP) November 11, 2021
Time for the real test
Everyone said this portion of the Bulls schedule would be their most challenging part of the season, and so far, they have held their own, going 4-2 over their last six games. The more wins they rack up against good teams, the more the rest of the league will believe in them and start to take them seriously.
If the Bulls and their fans thought things were tough now, wait until the next week or so as things are about to get real tough. Not only are the Bulls about to embark on a six-game west coast swing, but it all starts with the NBA's Best Golden State Warriors, followed by the Los Angeles two-step.
Needless to say, the Bulls are about to finish up their challenging gauntlet in a big way as they will thoroughly be tested. Given the lack of size, Chicago has, look for these teams to use that to their advantage and force Billy Donovan to make plenty of adjustments. Not only can he, but the Bulls have enough bodies to get through this where if they go 3-3 or even 2-4, you have to consider this trip a success and a building block for the rest of the season.