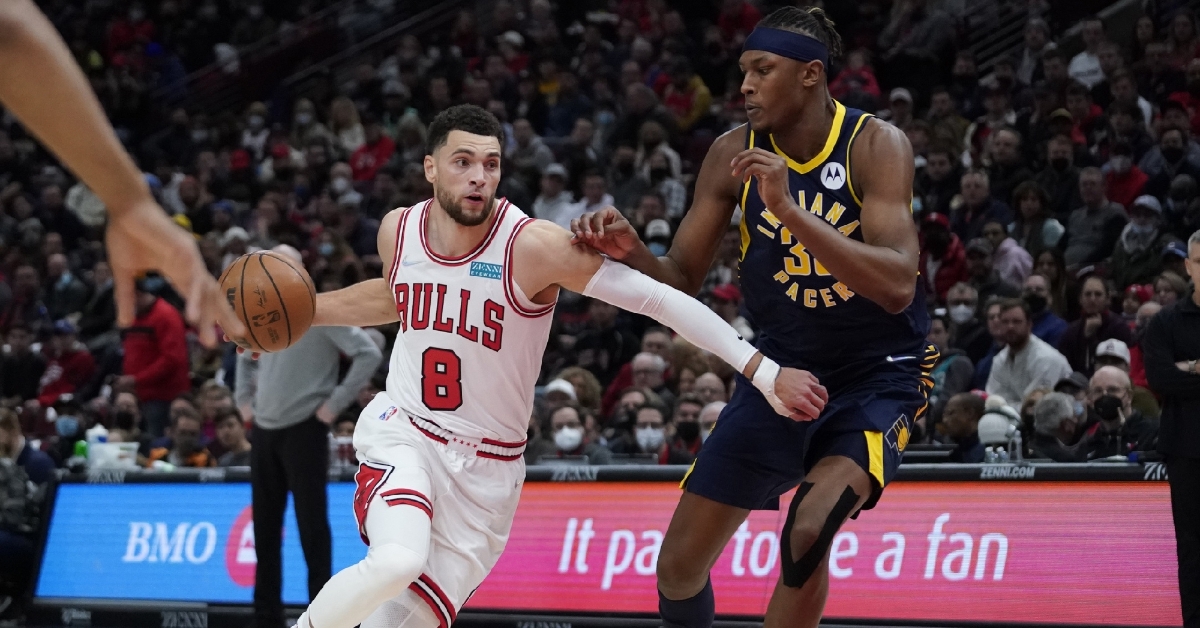 | | |
| --- | --- |
| Bulls suffer blowout loss to Pacers | |
---
| | | |
| --- | --- | --- |
| 2021-11-23 10:50:21.0 | | |
CHICAGO – Outside of the Chicago Bulls (12-6) lopsided loss to Golden State to open their west coast trip, they have been in every game this season, with most of their losses being decided in the final few minutes. That was not the case against the Indiana Pacers (8-11) on Monday, as this was the first legitimately flat performance from this team all season.
Despite an 8-11 mark, this is a good Pacers team with some talent, especially in the frontcourt with Myles Turner and Domantas Sabonis, who gave the Bulls fits all night. Sabonis not only led his team with 21 points and 11 rebounds, but led all scorers in general as this game was decided by the end of the first quarter, with the Bulls trailing by 15 at that point.
The Pacers had plenty of contributions throughout the roster as all five of their starters finished with double-figure points, with Malcom Brogdon dropping 16, Justin Holiday connecting for 14, and Turner joining Caris LeVert with 12. Indian's bench also played a significant role in the team's success as they saw only two players come away without points in their most impressive win of the season.
For the Bulls, it was just a rough night from top to bottom as they couldn't do anything right offensively or defensively. Outside of the first few minutes of the first quarter, you could see the Bulls effort was lacking as they didn't have the same energy they had through the first 17 games this season. DeMar DeRozan and Zach Lavine continued to lead the way with 18 and 17 points, respectively. Still, with the game already decided by halftime, most of the Bulls regular rotational players had extended time off during the second half.
Not only were those the only two players that landed in double figures, but Alex Caruso also missed the game with a wrist injury, as head coach Billy Donovan is calling it day to day. Coby White stepped in to fill in for Caruso and struggled to shoot the ball, dropping four points with Lonzo Ball failing to score, meaning that outside of DeRozan and Lavine, the Bulls had no scoring options.
With virtually every significant option for the Bulls struggling to get anything done, it was time for Donovan to go with players who typically aren't in the rotation to give them additional minutes. Ayo Dosunmu continued to make big shots dropping seven points off the bench, with Derrick Jones Jr leading the way with eight. Troy Brown Jr got back into the mix with six points while Matt Thomas (5), Devin Dotson (2), and Marko Simonovic (1) all saw playing time down the stretch in what was a 109-77 Pacers win.
DeRozan stands alone in first
The Bulls franchise isn't all that old, but most of their history comes from the past 30 years. A big reason for that was Michael Jordan, as you will see his name at the top of nearly every Bulls statistical category. One list that he was on top of forever was the most points in franchise history through 16 games with an impressive 425.
However, records are made to be broken, and MJ no longer sits atop of that list. Instead, DeRozan has cemented himself in Chicago immortality as he has passed Jordan with 426 points through his first 16 games as a Bull. That lands him first on that list, and the numbers he has put up through now 18 games will be hard for anyone to top.
For what was a rough overall night on the floor, the fans still had some moments to cheer about when DeRozan was on the floor. These games will happen from time to time, but when it comes to the fans' side of things, they are hoping they are few and far between.
The NBA did the Bulls no favors
Chicago knows they are a good team, so they will not make excuses on Monday, but this was a game the Bulls should have won. I would argue that the NBA caused this loss as the Bulls were coming off an emotionally draining win on Sunday against the Knicks and were on the second leg of a back-to-back.
Chicago has benefitted from other teams being on back-to-backs this season, so it was time for them to endure one. However, after having to go out West for over a week and then face the Knicks at home, the league had no business scheduling a back-to-back for them on Monday as they could have waited until later in the week to do that.
Regardless, a loss is a loss, but it is still one game, and this is not something fans should get used to. It took 18 games for the Bulls to have an effort like this, and should that pace continue, and you are looking at four performances like this during the season. That is a far cry from what things have been in recent seasons, so this is one of those flush it down the toilet games. At least the fans had some fun by chanting FIRE NAGY in the second half to alleviate the pain.
Bulls were down 30 and somehow...it's still Matt Nagy's fault ?????

Chicago fans are ruthless ??

(??:@JGordonCHI) pic.twitter.com/2KklP04KeZ

— FanDuel Sportsbook (@FDSportsbook) November 23, 2021
G-League players get involved
Losing a game by this big margin is never good, and it is often hard to find a positive. The one positive I can take away from it is that it gave the Bulls starters some much-needed rest after putting the team on their back through the first 17 games. With that being said, other players who typically don't see the rotation hit the floor, gaining valuable minutes in the process.
Alize Johnson and Brown Jr have been forced out of consistent minutes over recent weeks, so both of them benefitted from being back on the floor. Thomas made just his second appearance of the year scoring all five of his points last night, while G-League players Dotson and Simonovic were recalled and immediately hit the floor.
Dotson saw limited action in the closing games last season but has been on a tear in the G-League this year, coming off a career-high 30-point night on Saturday. He scored his first bucket of the season. Simonovic has been lighting it up with Windy City this season and was always viewed as a potential piece this season for the Bulls. He may not have scored a bucket, but he did knock down one free throw for his first career NBA point and gained several valuable minutes during an NBA game that will bode well for him this season.