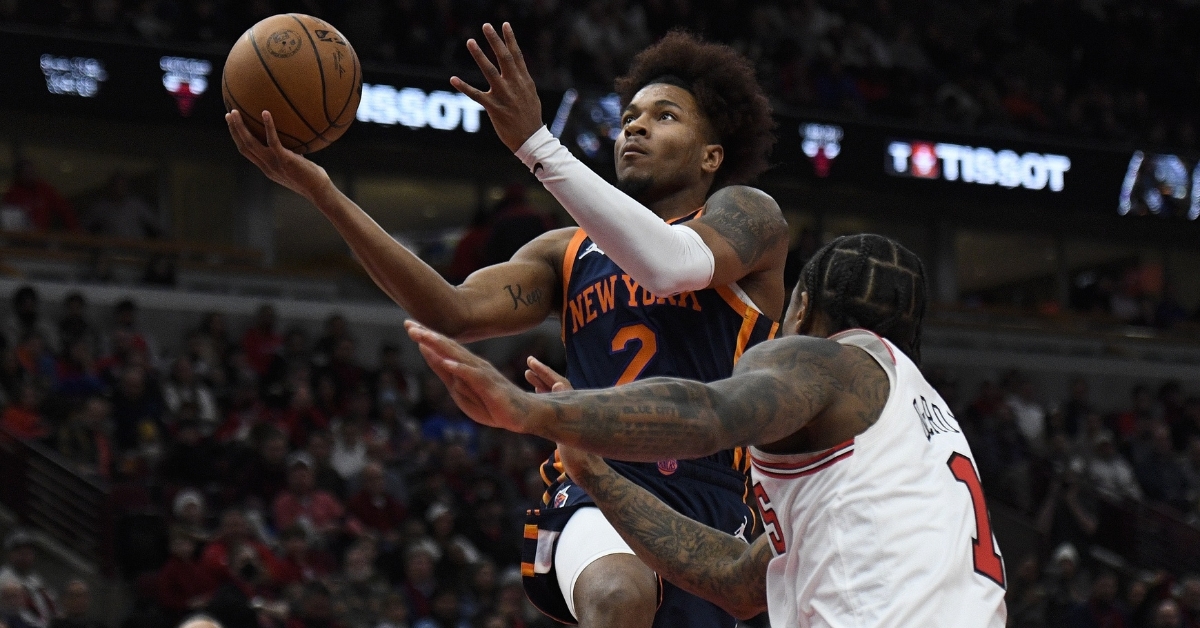 | | |
| --- | --- |
| Bulls suffer embarrassing home loss to Knicks | |
---
| | | |
| --- | --- | --- |
| Saturday, December 17, 2022, 8:32 AM | | |
CHICAGO - The theme for Chicago sports right now is rebuilding, as every one of the major four teams appears to be in rebuild mode. That includes the Chicago Bulls (11-17), who, if things don't change, will have to blow this roster up and start a new one.
Looking to salvage a split at home against the New York Knicks (16-13) after their overtime win on Wednesday, things started great for Chicago, but quickly went south. That was primarily due to a lackluster second half that saw the Bulls score just 38 points.
Things were pretty close until the Knicks opened the fourth quarter on a 21-4 run which was the turning point in the game. They took care of things from there and picked up another big win, 114-91, as the struggles of this Bulls team continued. On a side note, there was some joy that came from this as Derrick Rose entered the game in the fourth quarter and received a bigger ovation than his former team received in the game.
It goes without saying that you are only as good as your stars, and the Bulls stars were not very good on Friday. When no one on your team surpasses the 20-point threshold, it becomes tough to win, and that is what the Bulls were up against on Friday as Zach Lavine led the way with 17 points on, surprisingly, one of his best nights shooting the ball.
That didn't bode well for the offense, as they seemed to be stuck in neutral after a promising showing in the first quarter. DeMar DeRozan went off on Wednesday, which was a big reason why the Bulls managed to force overtime. He didn't have as much luck this time around, as he settled for just 14 points. Chicago also received 10 points from Patrick Williams, as those were the only three players in double figures.
Looking at the rest of the roster, you had Alex Caruso have one of his better nights with nine points, but you have to start questioning some of Billy Donovan's decisions. One of the knacks against him, when the Bulls hired him, was that he didn't know how to coach a veteran team, as the most success he has had came with young teams.
You are starting to see that again this season, as the Bulls have one of the older rosters in the league and nothing to show for it. That is very concerning when you consider that most of the Bulls younger talent hasn't developed as they had hoped. Fans are also starting to wonder why Andre Drummond has seen his minutes drastically cut in recent games, as he has always been a force off the bench.
With Chicago struggling to get things going on the offensive end, it would be up to their defense to pick up the slack. To their credit, the defense has been the team's strong suit this season, as they have been a top-10 defensive team most of the year. Although they struggled and gave up 114 points in this one, it makes things very difficult when your offense only scores 91.
Having a trio of 20-point scorers will do that for you, as the Knicks had plenty of offensive support to go around. Coming off a big game on Wednesday, RJ Barrett was at it again as he finished with a game-high 27 points. Barrett connected on three of his five triples and made seven over the two games, as he would like to face the Bulls every game if he could.
Jalen Brunson and Quentin Grimes joined Barrett with 20 plus points, who combined for 44 points, 22 each. A big part of their success came from the outside, where they knocked down 11 triples on 18 attempts. Chicago did a much better job containing Julius Randle, but with 19 points and 12 rebounds, you wouldn't know, as those four finished with 90 points and nearly outscored the entire Chicago roster.
Not only were those the heavy hitters for New York, but they were the only double-digit scorers for the Knicks. That didn't matter as they did more than enough to sweep the two-game trip to Chicago as the Bulls continue their year-long tailspin. Chicago will be back on the floor Sunday when they face an excellent Minnesota Timberwolves team.
Grand Rapids Upsets Windy City
There are some games during an NBA season that you would like to toss out the film and forget about it. This could be one of those games for the Windy City Bulls (9-6), as they were upset by one of the worst teams in the league, the Grand Rapids Gold (3-12), 106-103.
As surprising of a loss as it was, when you release Kostas Antetokounmpo in a surprising move before the game, it does suck the life out of your team just a little bit. You could see that early on, especially in the paint, but it gave other players a chance to step up.
Malcolm Hill delivered an excellent 22-point night to lead the team as he played 35 minutes for the Bulls. Fresh off his recently signed two-way contract, Carlik Jones continued to put together a fantastic season as he finished with 21 points and 10 assists. Jones will be with Chicago at some point if that type of play continues and contribute off the bench.
Those were the heavy hitters for the Bulls, who also received 15 points from Ethan Thompson and 14 points from Javon Freeman-Liberty, who continues to thrive off the bench. The Gold was led by Jared Butler, Chasson Randle, and Jack White, who all had 21 points in the win. White also added 17 rebounds for a massive double-double as the Gold used a 29-20 third quarter to take complete control and held on for the win.
Tomorrow night, these two teams are back on the floor, where the Bulls will look to get back on track with a win.