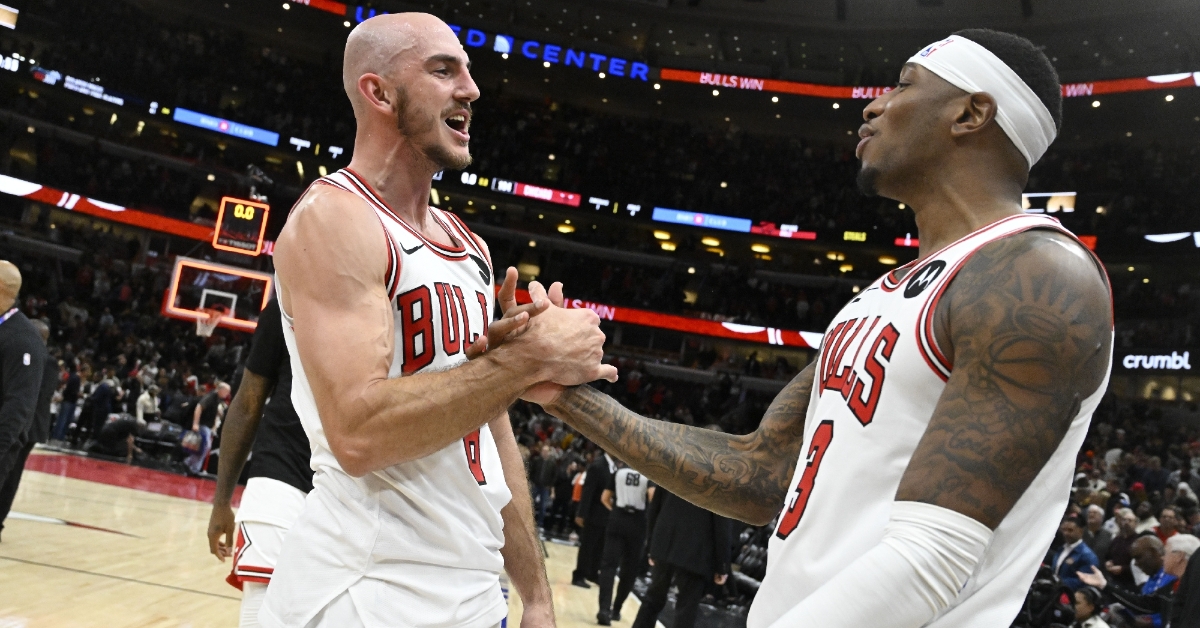 | | |
| --- | --- |
| Bulls with epic comeback win in overtime over Raptors | |
---
CHICAGO - Sometimes, all it takes for a team to get on track is an unlikely hero to come through. For the Chicago Bulls (1-1), that hero was Alex Caruso, as the Carushow was in full effect on Friday. Despite coming off the bench again, Caruso had a big night as he finished with 13 points, 13 rebounds, and two steals.
One of those steals came in Overtime, which helped set up the game-winning bucket for the Bulls. Trailing the Toronto Raptors (1-1) 103-101 late in the overtime, Caruso took it upon himself to strip a driving Pascal Siakam and put the ball in the hands of Zach Lavine. Despite having the look to tie things up, Lavine chose to pass to Caruso in the corner, and he delivered the game-winning triple with just over two seconds to go as the Bulls took down Toronto 104-103.
This was a must-win game, considering their subpar play on Wednesday, and for the most part, that play continued to be sketchy at times throughout this one. Over the past three seasons, the one thing that has continued to haunt the Bulls is their lack of overall shooting, which has been the case again through two games. It doesn't seem to matter who they hire as a shooting coach. This team struggles to shoot the ball for whatever reason, and after going just 8-39 from deep and shooting 37% overall, you have to wonder if some changes are needed.
Demar Derozan was one of the rare players to have a good night for Chicago, as he led all scorers with 33 points on 11-22 shooting. His biggest issue was from the free throw line, where he went 10-14, including three misses late in the game, which could have ended the game in regulation. Another player who had a great game was Coby White, but you wouldn't have guessed it by looking at his stat line.
Yes, the 17 points and eight assists are what you want to see from a PG, but when you shoot 5-15 and just 26% from the field in two games, there are some concerns. However, it wasn't his offense that made the biggest difference, but instead, his ability to do all the little things right. Chicago got off to the worst start possible in this one, as the Raptors opened up a 16-4 lead at one point. That was when White took a charge on the defensive end, which seemed to awaken the Bulls altogether.
From then on, Chicago got rolling in a hurry as they closed out the first half on a 38-19 run to take the lead after one half of play. Their effort nearly went to waste as Toronto came out swinging to begin the second half, outscoring the Bulls by 10 in the third to retake the lead, only to see the Bulls continue to fight back throughout.
While the shooting of White has been an issue so far, you have to be even more concerned with Zach Lavine, as he hasn't looked great in two games. Coming off a game where he had just 17 points, Lavine followed that up with eight points tonight and was also seen with a heating pad on his back. Given that the Bulls have another game on Saturday, you have to wonder if Billy Donovan will consider sitting him as he is not 100%.
With Lavine struggling again, the Bulls needed other players to step up, and Caruso certainly did that off the bench. Nikola Vucevic tried to do that, but with 11 points and 12 rebounds, his overall offensive game still wasn't there in the early part of the season. While Lavine may be one of the concerns right now, Patrick Williams is starting to become an even more significant concern, and some are wondering if he played his way out of the starting lineup tonight.
The fourth-year man and former No. 4 overall pick has stated he is looking to land a 200-million dollar contract, but given his play thus far, he isn't going to land anything close to that. With just three points in 13 minutes, including only three minutes in the second half, Williams may be on the bench for quite a while as he needs to figure some things out. Look for Torrey Craig to take over as he added seven points off the bench in 24 minutes, but provided the Bulls with a sense of energy they haven't had so far this season.
Despite the Bulls struggling on offense again, the same thing can't be said about their defense, as that was once again what kept things close. A top-10 defensive team a season ago, Chicago will have to lean on their defense to bail out the offense right now, and for the most part, they did that apart from two big Toronto runs. Scottie Barnes had his way with a team-high 22 points, but he was the only one who hit the 20-point threshold.
Siakam gave him a nice combo with his 18 points, but with O.G. Anunoby (11) and Dennis Schroeder (10) barely reaching double figures, the Toronto starting lineup looked just as lethargic as the Bulls starting five. Had it not been for the 16 points by Gary Trent Jr off the bench, who knows where this game would have ended up, as the Bulls needed to scratch and claw for every point in this one? Chicago will now look to make it two straight on the back end of a back-to-back as they hit the road to take on the Pistons on Saturday.