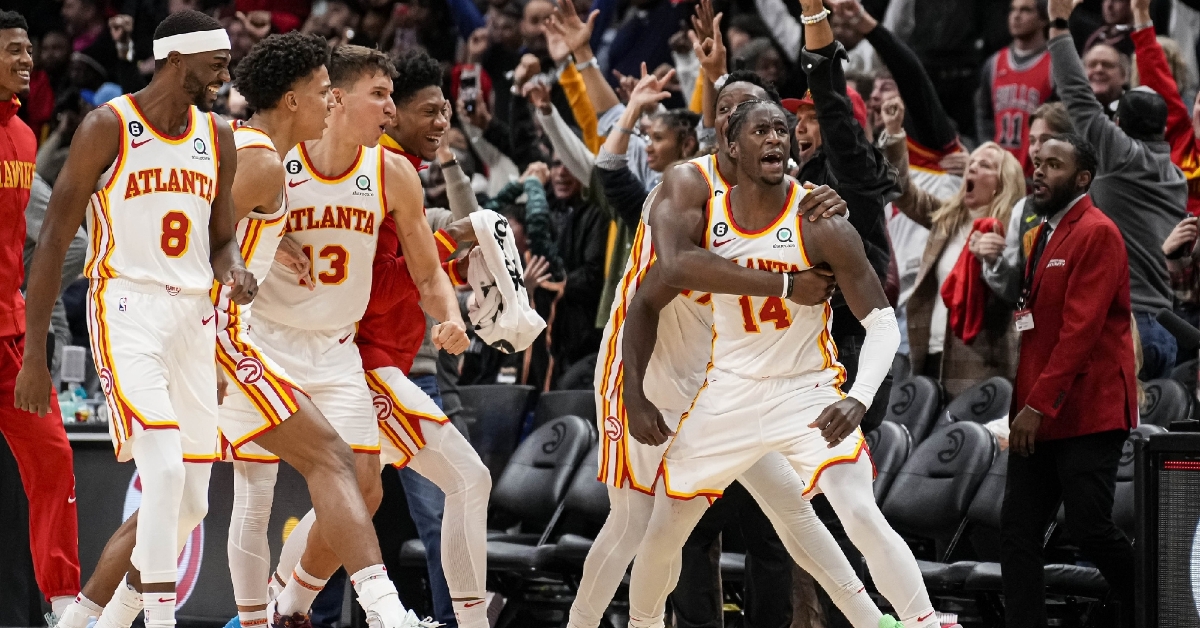 | | |
| --- | --- |
| Buzzer-beater sinks Bulls in overtime | |
---
| | | |
| --- | --- | --- |
| Monday, December 12, 2022, 8:33 AM | | |
ATLANTA - As fun as basketball is, it can also be equally as heartbreaking at the same time. The Chicago Bulls (11-15) learned firsthand how painful things could be as they took on the Atlanta Hawks (14-13) for their second back-to-back game. After taking down the short-handed Mavericks on Saturday, the Bulls had another opportunity to bank a win against a short-handed Hawks team down a few players of their own.
The only problem is the Bulls are starting to get short-handed themselves as the year-long injury issues from last season are beginning to return. With Alex Caruso going down on Saturday with a back injury, Ayo Dosunmu left on Sunday with an abdominal injury, which was a crushing blow for the Bulls.
Still, the Bulls were in a position to win this game as they rallied from seven points down in the fourth quarter to set themselves up for the win. Down by a point late, Derrick Jones Jr was fouled on a putback and earned two free throws from the line. He connected on the first to tie things up, but after missing his second attempt, there was bonus basketball to be played.
As if the first 48 minutes were not exciting enough, the extra frame brought equally as exciting action as the Bulls trailed by a pair late. That was until DeMar DeRozan, and his game-high 34 points was fouled on a three-pointer as the Bulls had a chance to win the game with less than a second to go. DeRozan did his part by sinking all three free throws, and the Bulls held a 122-121 lead with 0.5 seconds to go.
Unfortunately, that 0.5 seconds can be an eternity if the opposing team can execute things properly, and that is exactly what the Hawks did. Following their timeout, the rookie AJ Griffin got free as he elevated over the Bulls defense to knock down the buzzer beater and stole one from the Bulls 123-22.
As mentioned, DeRozan led the way with 34 points, but Chicago had plenty of offensive contributors on the night. Zach Lavine quietly added 21 points while shooting the ball much better than he has in recent games. Throw in 13 points from Nikola Vucevic, and the Bulls had three starters land in double figures while Patrick Williams and Dosunmu combined for just 10 points.
With two of the Bulls starters struggling to get things rolling, Chicago needed another strong showing from their bench, and they delivered. Led by Derrick Jones Jr yet again with his 14 points, Chicago had three players land in double figures off the bench as their second unit came through with 54 points to almost top the starters.
You had Andre Drummond pick up a season-high 14 points with nine rebounds, while Coby White added 12 points to lead the way. Even at that more was needed as this team continued to struggle with consistency.
When it comes to the Hawks, their team starts and stops with Trae Young, who averages better than 34 PPG against the Bulls. That is his highest point total against any team, as he has dominated Chicago in the past. Despite leading the Hawks starters in scoring, give the Bulls and their defense a ton of credit as they held him to just 19 points.
Instead, their offseason acquisition Bojan Bogdanovic set the tone for the Hawks as he led Atlanta with 28 points off the bench. Anytime you have an output like that off the bench, you know things will be a struggle, and the Hawks rode his wave of success in this one as they needed all 28 of his points.
While Young may have had a bad game by his standards, the Hawks still had plenty of balanced scoring to go around as four of their starters landed in double figures. Despite going just 2-11 from deep, Griffin came through when he needed to as he finished with 17 points plus the game-winner.
Deandre Hunter added 16 points, with Clint Capela dominating on the inside with 15 points while also taking it to Vucevic for 14 rebounds. Atlanta also saw Onyeka Okongwu come away with 14 additional points off the bench to give the Hawks the same amount of double-digit scorers as the Bulls as they battled back from what looked like a loss to steal one from Chicago.
Although this team has played better over the last two weeks, the wins still need to be consistently there, which is starting to become a concern for this team. The current 10-game stretch that they are in could indicate whether they are buyers or sellers at the deadline, and the more injuries this team takes on, the tougher things will be.