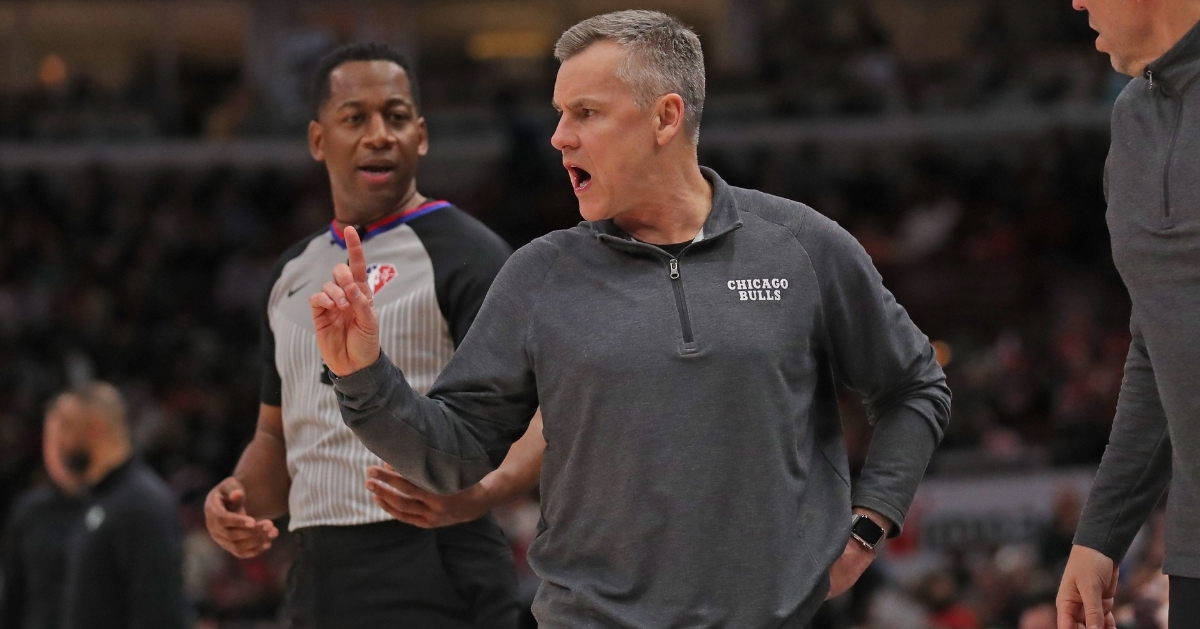 | | |
| --- | --- |
| Celtics put a hurting on Bulls as slide continues | |
---
| | | |
| --- | --- | --- |
| Thursday, April 7, 2022, 1:55 PM | | |
CHICAGO - Despite opening their final homestand with the best home record in the Eastern Conference, things haven't gone well for the Chicago Bulls (45-35). After narrowly escaping the Los Angeles Clippers behind Demar Derozan's 50 points, the Bulls dropped consecutive games to the Miami Heat and Milwaukee Bucks in blowout fashion.
Those losses meant the Bulls are still searching for a win against the top three seeds in each conference, except for an early December win against the Boston Celtics (50-30). Speaking of Boston, the Celtics were at the United Center on Wednesday as they continued to push towards the top spot.
Since the beginning of February, no team has been as good as this Celtics team as they have risen from the No. 7 seed to the No. 3 seed. I know the Bulls have a win against Boston this season, but that was before they reached the third seed meaning this team still hasn't beat a top-flight team this season.
Chicago will have to wait until the playoffs, or worse next season, for that to happen as the Celtics handed the Bulls a third straight loss 117-94. Given the injuries this team has dealt with and having Alex Caruso out last night, many fans are ok with losing to good teams. However, the way this team losses against these teams is a concern as they are not even competitive in those games.
Zach Lavine said it best, "We look like a completely different team right now, and it is upsetting." Billy Donovan followed that up by saying, "We are not as bad of a team as we have been playing right now, but we weren't as good as our nine-game winning streak showed. We are somewhere in the middle."
When you look at their offensive and defensive efficiency charts, this team is playing at a 40 win clip, so they have overachieved by five games so far. That has resulted in the Bulls first playoff appearance in five years, which should be considered a win.
Unlike Chicago, which peaked early and has fallen off late, the Celtics are playing their best ball of the season and peaking at the right time. That alone is a big reason why the team has surged in the standings, as Ime Udoka deserves some coach of the year recognition.
When it comes to beating the Celtics, you have to take away their two-headed monster of Jaylon Brown and Jason Tatum. While Tatum had a quiet offensive night with 16 points, he did add 10 rebounds for a double-double. On the other hand, Brown had a great night, knocking down three triples to finish with a game-high 25 points.
Brown started to heat up during the second half and was a massive part of why the Celtics were able to build the lead they had. Another player who played a considerable role was the veteran big man Al Horford. Not only did he drop 17 points and record 10 rebounds for a double-double, but he was a perfect 3-3 from distance. Horford got off to a hot start which helped the Celtics race to a 13-point first-quarter lead, and they never looked back.
Along with those three, former Chicago Bull Daniel Theis had a great night after playing well with the Bulls last season. Signed by the Houston Rockets this offseason, Theis was traded back to Boston, where he hasn't missed a beat, finishing with 15 points.
Boston also received 10 points from Derrick White off the bench to give them five double-digit scorers. That alone was challenging for the Bulls to overcome as Boston shot nearly 50% as a team and 45% from deep.
As for the Bulls, not only have they struggled to beat elite teams, but they continue to look bad doing so. If they don't get that fixed soon, it will be an early playoff exit in ugly fashion. Dealing with injuries hasn't been easy, but it becomes even more of a challenge when the team goes into one of their worst shooting stretches for the better part of a month.
Not only did the Bulls shoot just 43% as a team, but they went just 7-23 from deep, good for 30%. That isn't going to cut it, as they can't seem to get back on track. Although Zach Lavine was back in the lineup, Caruso was not, and Lavine gave Chicago very little offensively, finishing with just seven points.
DeRozan continued to pace the Bulls offense as he is ranked No. 6 in the NBA in scoring for a reason. Although 16 points is far from his season average, this game was out of reach by the fourth quarter, allowing some extra rest. Nikola Vucevic gave Chicago the second starter in double figures, but his effort was far from appealing, with 13 points and seven rebounds.
Not only did Lavine struggle, but Ayo Dosunmu and Patrick Williams combined for just 12 points as the Bulls starting lineup was sluggish at best. That meant that a lot of scoring would have to come from the bench to win.
Credit the Bulls bench for stepping up with Coby White and Tristan Thompson dropping 10 points, while Javonte Green and Derrick Jones Jr added nine. The Bulls bench dropped 46 points, but the results won't be pretty when your starters struggle to score.
Chicago caps off their home slate of the season on Friday against Charlotte before hitting the road Sunday at Minnesota.