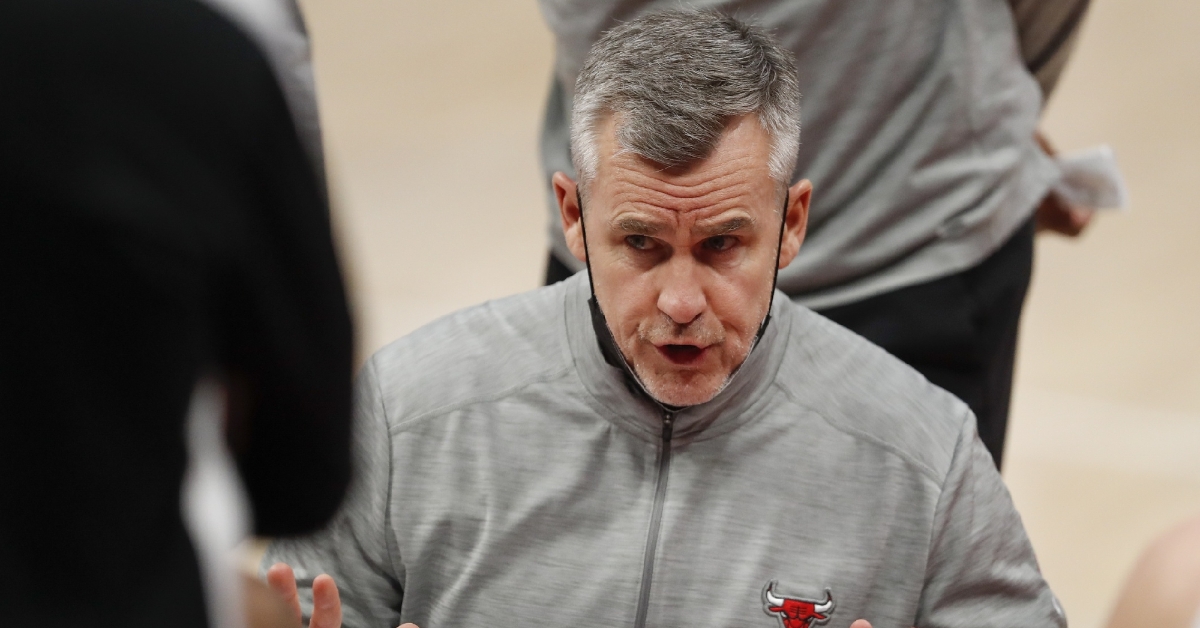 | | |
| --- | --- |
| Commentary: This is why the Bulls hired Billy Donovan | |
---
| | | |
| --- | --- | --- |
| Tuesday, October 5, 2021, 9:14 AM | | |
After going through years of struggle after Tom Thibodeau and the Bulls elected to part ways, the organization was in need of a shakeup. After what seemed like an endless rebuild with no clear direction, Jerry Reinsdorf decided to part ways with Gar Forman and John Paxon as this team needed new blood to change the direction of the franchise.
In comes Arturas Karnisovas as the team's new President of Basketball operations after spending plenty of time as the GM of the Denver Nuggets. To no one's surprise, his first move was hiring a GM which Marc Eversley was his guy after the two of them had previous working experience together. Next on the list came the hiring of a head coach.
Although there were plenty of candidates out there, most expected the Bulls to bring in a younger first-time head coach with an opportunity to build the team how they wanted. Instead, the Bulls shocked the world by not only hiring the most qualified coach on the market, but the best one to be left without a job in Billy Donovan.
The former Oklahoma City Thunder Head Coach and Marshall University and Florida university head coach, Donovan, has long been known as a players coach. He has been one of the most successful coaches across the board. No matter where he has landed, winning has followed. That was something the Bulls have been focused on for years, and even if this was a blindside hire, the Bulls had winning on their mind when they pulled the trigger.
After five years with the Thunder, Donovan elected to part ways as that organization was about to enter a rebuilding mode. After he led the team to an NBA finals appearance in his first season, followed by several playoff appearances. Seeing him leave was not a surprise, but seeing him land in Chicago was surprising as they, too, have been in rebuild mode.
The most significant difference is that the new front office has a clear view of where they want this team to be, and they have a history of building winners. That is something Donovan wanted to be a part of, and he has the utmost trust in this organization. The one word that comes to mind when you look at his time with the Thunder is overachieving. A lot of people felt he overachieved as a head coach mainly because of the talent he had.
While that may be true early on, once Russell Westbrook, James Harden, and Kevin Durant left, Donovan was still finding a way to win games, so he must be a great head coach. In his first season with the Bulls, things were tough as Chicago finished 10 games under .500 and missed the playoffs by two games.
However, there was a time when they were sitting at 18-19 and climbed up to the sixth seed in the Eastern Conference. That forced the hand of Karnisovas to make a trade, and in came Nikola Vucevic, among others. While the result was not what the organization hoped for, there is an excellent chance brighter days are ahead, especially after this offseason.
Along with Zach Lavine continuing to improve as a player and Vucevic giving the Bulls a legitimate center, Chicago has added Lonzo Ball, DeMar DeRozan, and Alex Caruso, among others, this offseason giving the Bulls their most talented roster in a decade. Now it is time for Donovan to work his magic as this is the most talented team he has had since that final's appearance. This is why Donovan was hired to win ball games, and he has the team to do it this season.
Until the Bulls start winning games consistently, they will be considered a rebuilding franchise. They are intent on turning that narrative, and the time starts now. A rebuilding team doesn't go out and make the moves they have done the past two seasons. They know Lavine is entering free agency, and they did whatever they needed to do to put a talented team around him.
Now that it has happened, Donovan is going to work his magic to bring this group together. Fans saw what things could look like when this team moved into the sixth seed before the bottom fell out. It is about consistency, and wins will start on the defensive end of the floor where the Bulls struggled last year.
Offensively, this team could score with the best of them, and they will be even better this season. No one is expecting them to hold opponents under 100 points per game. However, if they even improve to the point where they are holding teams to 105 -108 points, you will see this team win a lot of games. Donovan has always been known as a defensive coach, but he is so much more than that. This is the team he was waiting for when he took this job, and now that he has it, he will begin working his magic to turn the Bulls into winners again.