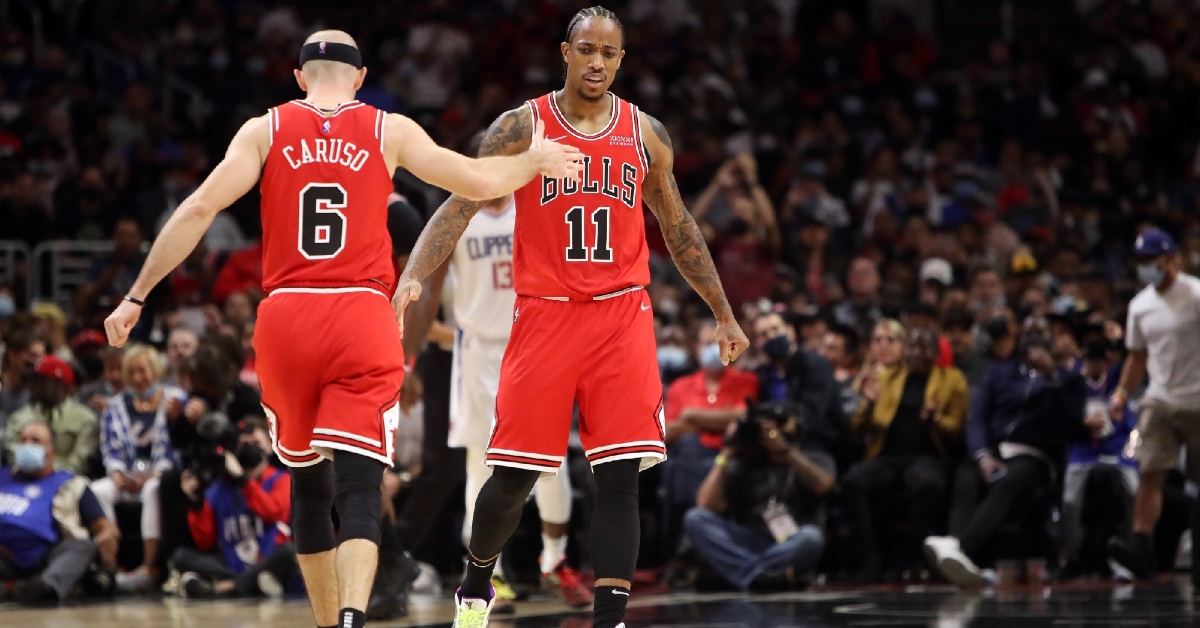 | | |
| --- | --- |
| Bulls News: DeMar DeRozan drops 35 points in win over Clippers | |
---
| | | |
| --- | --- | --- |
| Monday, November 15, 2021, 1:03 PM | | |
LOS ANGELES – After suffering their worst loss of the season against the best team in the league Friday, the Chicago Bulls (9-4) continued their West Coast swing against another red hot team. After starting the season 1-4, the Los Angeles Clippers (8-5) have found themselves as they entered Sunday's contest riding a seven-game winning streak.
Looking to forget how they lost on Friday, Billy Donovan made a lineup change with Alex Caruso replacing Javonte Green in the starting lineup. Although Caruso only scored seven points in the game, it was all the other things he does well at that proved to be the difference as the Bulls defense set the tone in the 100-90 win.
DeMar DeRozan and Zach Lavine have not only gelled much quicker than anyone thought, but have formed one of the most potent scoring duos in the NBA. Lavine entered the game ranked sixth in scoring, with DeRozan checking in at seven. Usually, a 29 point night like Lavine had would draw plenty of attention, but as the league has found out this season, he is quietly having another great season.
That is because DeRozan is playing at a level not seen from him during his NBA career, as his scoring is at an all-time high. Not only does he once again lead the team in scoring, but he dropped a game-high 35 points on an impressive 12-16 shooting. The mid-range touch that he has displayed this season is near remarkable, and he is proving to be one of the biggest steals of the offseason.
Outside of those two, the Bulls didn't get much scoring from anyone else, with Lonzo Ball adding 10 points as the only other starter in double figures. Green picked up nine points off the bench in what was otherwise a rough night when shooting the basketball. For the Clippers, they are still missing Kawai Leonard, which makes the current run they are on that much more impressive.
However, Paul George has picked up the slack in his absence and is putting together a solid showing to start the season. Not only did George lead the way for his team with 27 points, but he added 11 rebounds for a strong double-double. Eric Bledsoe had a great game of his own, adding 21 points with Reggie Jackson chipping in 13, but outside of that, the Bulls defense made life difficult for the Clippers, who lost their first game in two weeks.
Although he didn't play Sunday and nothing has been made official yet, but it does appear that White will be making his season debut against the Lakers on Monday. Expect a minutes restriction in the early stages as he is brought back into the mix. Hearing this kind of news is great for not only the Bulls, but for their fans.
In the two years since drafting White, the former North Carolina PG has displayed great scoring ability both off the bench and as a starter. His numbers are better when in the starting lineup, but the team does better with him coming off the bench, which is all that matters. Given the lack of size for the Bulls, no one knows what the long-term picture is for White at this point as his name continues to be mentioned in trade talks.
However, the short-term outlook for White is a critical piece for the Bulls bench who will be adding more scoring to the second unit. As good as this team has been this season, consistent bench scoring has been an issue and one that White could help solve instantly.
The loss of Vucevic is good for the future
In their two games without Vucevic, we have seen a good version of Chicago and a bad version. Despite his struggles with shooting on the offensive end, the team is better when he is on the floor, and you can see that based on their last two offensive results.
However, he was a liability defensively, and in his absence, the Bulls have had one rough game and one great game defensively. Donovan said it best himself when they found out that Vucevic would be missing time. He said that things would be rough early on, which they have been, but also felt it would be great for this team going forward.
Not only will it give guys like Tony Bradley Jr, Alize Johnson, and perhaps Marko Simonovic some added minutes, but DeRozan and Lavine will learn some new ways to play offensively. Typically, if DeRozan and or Lavine were double-teamed, they would often drop the ball off to Vucevic for a shot or another pass to someone else.
Without him, they don't have that safety valve and have to adjust on the fly for what to do when double-teamed. Although not the best way to go about adjusting, this is something that will be good for this team long-term, as DeRozan and Lavine will only get better because of this.
The defense is still impressive
The Bulls offense has been a big reason for the teams start this season, but so has the defense. Not only do they rank in the top 10 in offensive efficiency, but they rank in the top five in defensive efficiency also which typically leads to long-term success. The job this team has done this season on the defensive end of the ball has been nothing short of remarkable and last night may have been the best showing of the season.
Down a big, the Bulls are counting on Bradly Jr and Johnson to fill in the void and play more meaningful minutes. Fans saw both in action on Friday, but Donovan elected to go small against the Clippers, where Bradley Jr was the lone player above 6-9 who saw any extended minutes. Despite scoring just 4 points in 24 minutes, it was his defense that showed up in a big way, helping to neutralize the Clippers attack.
With a considerable size advantage in the frontcourt, Nicholas Batum and Ivica Zubac were poised to have big games. Instead, Bradley did a great job keeping them off rhythm as they combined for just nine points to go with 14 rebounds. He wasn't alone in handling both of them, but played a huge role, and if that type of defensive effort continues, the Bulls will get through this trip just fine without Vucevic.