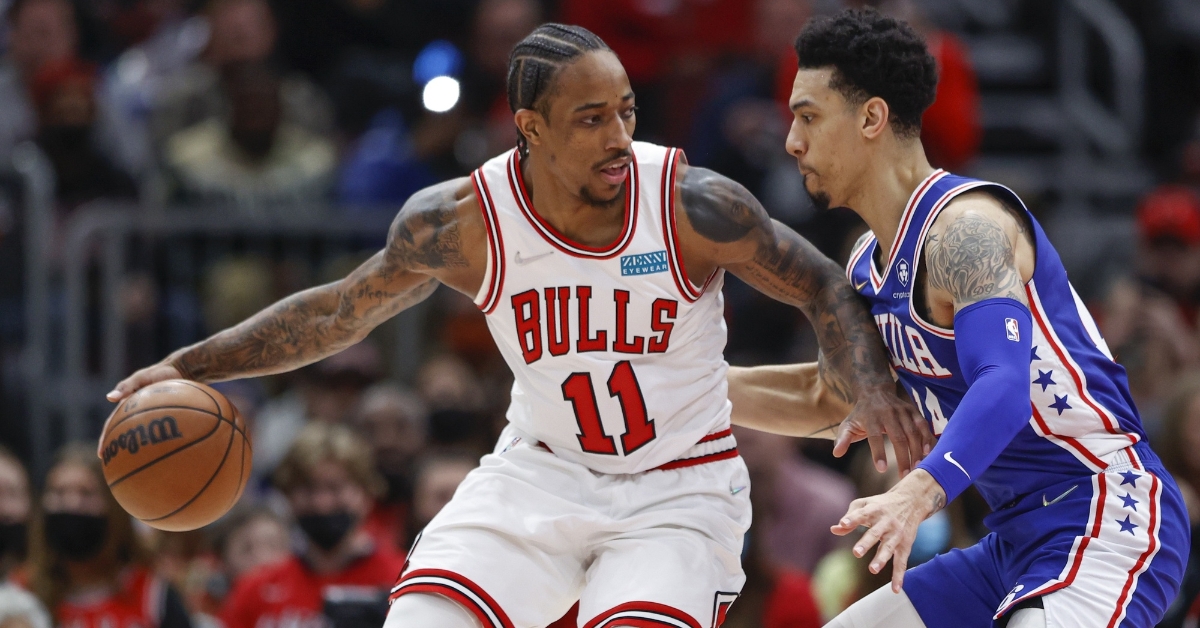 | | |
| --- | --- |
| Bulls News: Demar DeRozan drops 45 points in loss to 76ers | |
---
| | | |
| --- | --- | --- |
| Monday, February 7, 2022, 9:22 AM | | |
CHICAGO – There haven't been too many teams that have had the Chicago Bulls (33-20) number this season. The one team that can claim owning the Bulls this season would be the Philadelphia 76ers (32-21), as they improved to 3-0 against them this season. Not only did they claim the season series with their 119-108 win, but all three games have been dominated by Philadelphia, even if the scores may not always indicate that.
Take away the first quarter in which the 76ers outscored the Bulls by eight, and things were extremely close as the Bulls were outscored by just three points over those final three quarters. The problem was falling behind as much as they did out of the gates as they were playing catch up, which is never an easy thing to do.
To make things harder, the Bulls were down Zach Lavine (back), and Coby White (Abductor Strain) as this team can't shake the injury bug this season. That meant that DeMar DeRozan would have to shoulder an even bigger load as he often has this season. Despite that, DeRozan balled and put on a show for the home crowd. His 45 points were not only a game-high, but he did that on 18-30 shooting and nearly notched a triple-double in the process.
DeRozan has got back to playing at an MVP level again lately, but is he taking on too much is now becoming a question. Going up against one of the best big men in the game, Nikola Vucevic had his work cut out for him, but still delivered with a solid 23 point effort. Javonte Green continued to pick up the slack in his own right with another 17 point effort, but that was the brunt of the success for the Bulls.
Per usual, the 76ers were led by the MVP candidate as Joel Embiid put on quite a show. Not only did he drop 40 points to lead his team, but he added 10 rebounds for one of his better double-double efforts this season. Philadelphia had plenty of support to go around, with Tobias Harris adding 23 points, with Tyrese Maxey adding 16 points to go with six assists.
Seth Curry rounded out the double-digit scorers as he overcame a rough shooting night to finish with 12 points. Like the Bulls, the Philadelphia bench didn't account for much as they scored 20 points in the game. 18 of those points came from Georges Niang and Furkan Korkmaz, who added nine points apiece in the victory.
Get DeMar some help
No one will argue that DeRozan has been the team's MVP this season. However, we are getting to the point where he is taking on too much. With his counterpart Lavine still nursing a sore back, the Bulls secondary scoring option continues to miss time, shifting the secondary scoring to Vucevic.
Fans have seen Vucevic do more than his share to contribute when needed, but he isn't Lavine, and the Bulls can't expect him to be that guy. Even with his improved play over the last month, this team is better when Lavine and DeRozan are on the floor together. That hasn't happened a lot since January, and the Bulls record is suffering because of it.
No player should be expected to drop 40 points, and DeRozan has done that twice in the last 10 days. To make matters worse, both his 40 point games resulted in losses as the Bulls are not helping him out right now.
The bench needs to step up
Along with others needing to help out DeRozan, the second unit for the Bulls needs to step up as they have been nonexistent of late. I understand that Derrick Jones Jr, Alex Caruso, and White are all down with injuries right now, but that is not an excuse.
Despite playing shorthanded most of the year, the Bulls have found plenty of ways to win this season. Matt Thomas has been getting more minutes lately, but no one else has been able to match the production he has given. Sunday night was a prime example of what we are talking about as the Bulls bench accounted for just 10 points with Thomas and Malcom Hill dropping five each.
This type of production can't continue if the Bulls want to make a deep run in the postseason, and ultimately their lack of second unit production is what put them in the position they were in against Philadelphia. Hopefully, when this team gets healthy, the team will get more second unit production as they are struggling with that right now.
Avoid Philadelphia at all costs
When the playoffs begin in April, the Eastern Conference will be fun to watch as there will be plenty of great matchups. One matchup the Bulls want to avoid, at least early on, is Philadelphia, as this team has the Bulls number.
This year, Chicago is 0-3 against the Sixers, but they are 1-11 against them over their last 12 games, as Philadelphia clearly has their number. This is a team that matches up well against Chicago and takes care of business more often than not. This Bulls team is talented enough to make a deep run in the postseason. For that to happen, they want to avoid this Philadelphia team, especially in the first round, depending on how the seeding plays out.