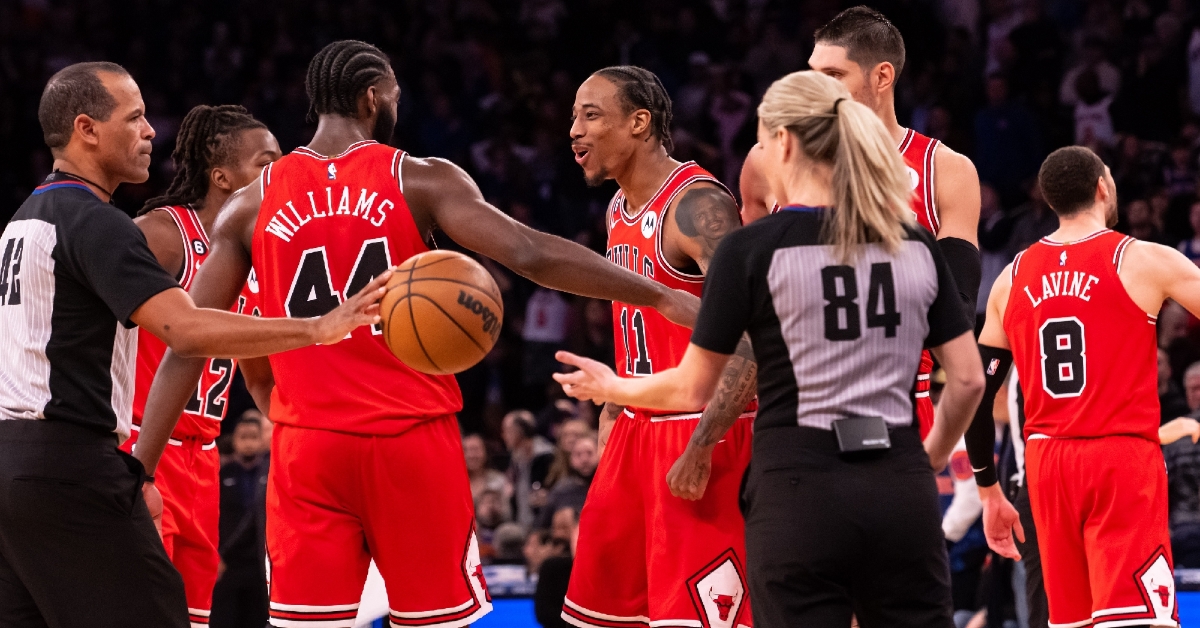 | | |
| --- | --- |
| DeRozan comes through as Bulls stun Knicks | |
---
| | | |
| --- | --- | --- |
| Saturday, December 24, 2022, 10:32 AM | | |
NEW YORK - Sometimes, all it takes is for a team to hit rock bottom before figuring things out. When it comes to the Chicago Bulls (14-18), rock bottom may have been a week ago when they gave up 150 points in their loss to Minnesota. The result was reports that teammates were unhappy with Zach Lavine and even called him out at the half.
That was not a good look for the Bulls and one that could have sent this team spiraling out of control. However, in the days since, this has been a much different-looking Bulls team and one that has responded to adversity quite well. Coming off a pair of wins on this road trip, with the last one coming via an Ayo Dosunmu buzzer-beater, the Bulls played their final game before Christmas against the New York Knicks (18-15) at Madison Square Garden.
Not only are the Knicks one of the hottest teams in the league, but they met twice last week in Chicago, with the Knicks taking both games from them. After another rough second quarter which has been the team's downfall all year, the Bulls were in a position to lose yet again as RJ Barrett went off for a career night and dropped 44 points. Trailing by one late, Jalen Brunson had a chance to finish Chicago at the line, only to miss both free throw attempts.
That gave Chicago life and an opportunity to win their second straight game at the buzzer. They were up to the challenge as DeRozan did what he does best by finding space in the mid-range and connecting for the foul plus the bucket with 0.4 seconds to go and giving the Bulls their third straight road win. DeRozan was excellent despite a below-average shooting night, as he finished with 25 points, including that buzzer-beater.
However, the play of Zach Lavine ignited this team as he picked a great time to show up on the biggest stage in the NBA. Lavine led the team with 33 points, was very efficient from the floor, and played aggressively. That has been lacking all season, so to see it come back was a pleasant surprise.
Another thing regarding the Bulls recent success has been the emergence of Nikola Vucevic, who is starting to become the third scoring option they were hoping for. Along with his 12 rebounds, Vucevic came up big again as he finished with 21 points to keep a promising trend going. Those were the only double-digit scorers in the game, with Patrick Williams finishing with seven points and Dosunmu adding nine in place of the injured Alex Caruso.
Chicago also had some nice production from the bench despite only three players seeing the floor. Goran Dragic, Coby White, and Andre Drummond gave Chicago at least 18 minutes of action, with Dragic leading the way with nine points and White and Drummond adding eight and six. Drummond also picked up eight rebounds and has seen a nice increase in his minutes in the last two games.
The big story of the night was the play of Barrett, who has come on strong as of late. Ironically some of his best games this season have come against Chicago, but no one saw this coming. Not only was he a perfect 6-6 from downtown, but he shot 70% overall from the field to drop a game-high 44 points. Throw in 29 points and 12 rebounds from Julius Randle, and the Knicks had two big-time scorers who single-handedly kept them on pace with the Bulls starters.
Their big problem was their inability to get anyone else involved, with Immanuel Quickley coming through with 15 points off the bench and Brunson adding 12. Brunson did pick up nine assists for a near-double-double, but he didn't have as much success as he did in Chicago. The other deciding factor came from the free throw line, where the Bulls shot 77%, and the Knicks shot 57%. Had they knocked down a few more, things would have been different, but the Bulls will gladly take this win.