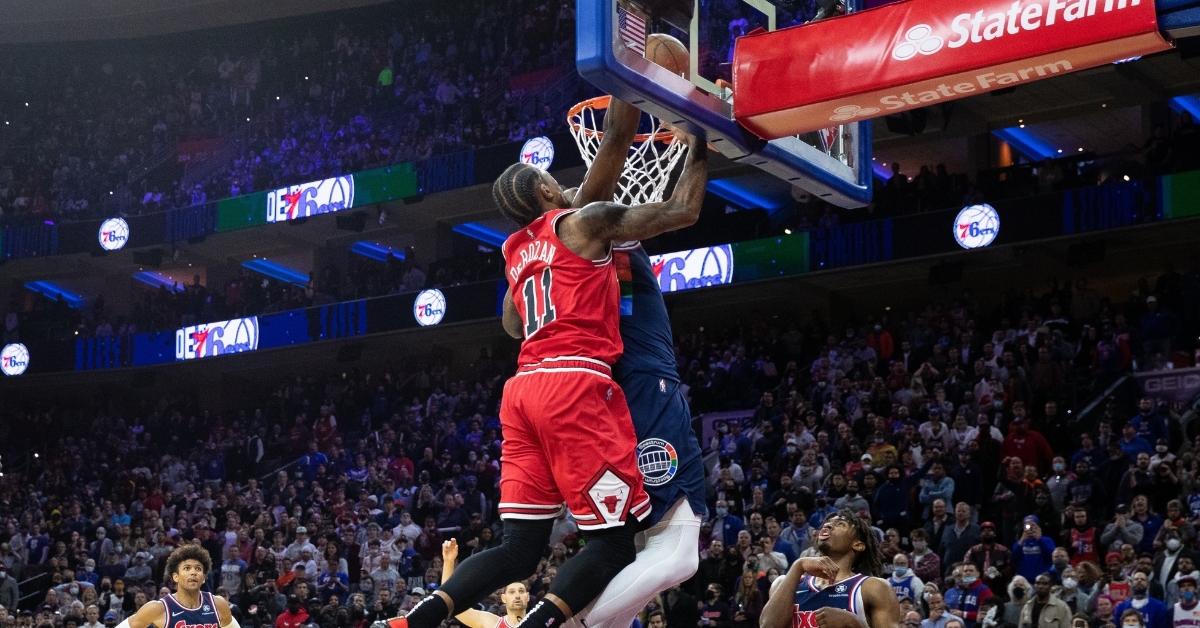 | | |
| --- | --- |
| Bulls News: DeRozan drops 37 points in close loss to 76ers | |
---
| | | |
| --- | --- | --- |
| Thursday, November 4, 2021, 10:43 AM | | |
PHILADELPHIA – One of the teams that have continued to be the Chicago Bulls (6-2) kryptonite in the Eastern Conference has been the Philadelphia Sixers (6-2). Looking to show the Sixers that this isn't the same Bulls team of the last several years, Chicago hit the road to put their NBA-best record on the line.
Even without Ben Simmons and Tobias Harris, the Sixers team should be considered one of the favorites in the Eastern Conference this season as they are perhaps the deepest in terms of overall roster. From the likes of Joel Embiid, Seth Curry, Georges Niang, Harris, and Andre Drummond, among others, this team has so many options to look for both offensively and defensively, and they put that on display last night.
Right from the opening tip, you could see just how uncomfortable the Bulls were offensively as they never were able to settle into a consistent rhythm. Even with Embiid going through some shooting struggles, guys like Curry and his team-high 22 points stepped up, as did Tyrese Maxey (14) and Furkan Korkmaz (11), as they gave the Sixers some much-needed balance from the starting lineup. Even Niang had a hot shooting night, especially from deep as
the Sixers built a commanding 18-point lead in the first half and went into the locker room up 14.
As the second half began, the Bulls finally started to settle in as they are starting to be known as the comeback kids. Even with his slow starts to most games, Zach Lavine continues to go about his business, picking up 27 points, including 16 in the third quarter to put the team on his back. He continues to form a strong duo with DeMar DeRozan, who continues to lead the Bulls offensively this season.
Not only has he now dropped four consecutive 30-point games, but following his 37 point 10 rebound performance, DeRozan has established himself as arguably the best player on the Bulls roster thus far and playing at an MVP level. Pair them with 13 points from Lonzo Ball, and the Bulls were able to rally once again from near 20 points down in the first half to once again pull even in the fourth quarter.
Had it not been for a horrible game from Nikola Vucevic, who finished with just four points, things may have been different, but it was the Sixers who were able to withstand the comeback, picking up a 103-98 win. It was the Bulls second loss of the season, and first on the road, as both of the Bulls losses have come in the final minute of regulation. That bodes well for a team that struggled to compete with higher-quality opponents the past few seasons.
Taste of their own medicine
Say what you want about the Bulls and some of their slow starts this season, but it is hard to argue with their success. Despite falling behind by double digits in three of their last four games, the Bulls have had a knack for fighting back, with mostly positive results happening.
A big reason for the Bulls second-half success has been their tenacity on defense, leading to several huge runs. You saw it against the Knicks when they used a 12-0 run to get back into a game and then using a 17-2 run against Boston before finishing the game on a 41-16 run. Last night the Bulls got a taste of their own medicine, which ultimately did them in during the first half.
After fighting back from an early 12 point deficit in the second quarter, the Sixers put the clamps down defensively and forced the Bulls into some uncharacteristic poor play. That led to a 15-0 run that took a once-close game and turned it into an 18-point lead. Fortunately, the Bulls were able to come back before falling late, but who knows how that game turns out if that run doesn't happen.
Bench scoring issues
With Patrick Williams and Coby White both out with injuries, this team is already down two of their scoring options for an extended period of time. White is expected back sometime in January, but Williams is done for the season after undergoing wrist surgery last week.
With Williams absence, the already small Bulls team is that much smaller, and unless a trade is made, their lack of size will be an issue. Chicago did receive some vital minutes from Tony Bradley Jr during the first half, but his defensive efforts can only go so far unless he can put some points next to his name in the box score.
What looked to be a strength for this team coming into the season is starting to become a problem as the Bulls bench scoring has been an issue. For the most part, Alex Caruso and Ayo Dosunmu have been playing well, but outside of them, the bench has been non-existent. Tyler Cook and Matt Thomas have yet to score, Alize Johnson and Troy Brown Jr have been in and out of the lineup the last several weeks, and Derrick Jones Jr will never be the scorer everyone thought he would be.
For this team to be taken seriously and continue to be competitive, the bench scoring needs to pick up and get back to the level they expected it to be. As bad as things were last season, bench scoring wasn't the problem as the Bulls bench was one of the best in the league a season ago. They were expecting that again this season, but it hasn't happened yet. Once White comes back, things will look a lot better as he will score 15 points on his own off the bench. Outside of him, the rest of the bench needs to step up as the starters can't carry this team all season.
This team has no quit
Even though the Bulls suffered their second loss of the season last night, you had to love the fight they showed. Being down 18 in the second quarter could have had the Bulls pack it in, especially against a team of Philadelphia's caliber. That was not the case as this Bulls team continues to prove they will fight until the end.
Not only did they erase that 18-point by tying things up in the fourth quarter, but that is starting to become the norm for this team which makes things very uneasy for their opponents. Where it is better shot selection or just the defense clamping down as the game goes on, Chicago continues o prove they will not be taken lightly this season, and every team should fear them.
The way they have fought to open the season is an excellent thing if you are a fan, when you look at how much this team has struggled over the years. Trailing by double digits is not a long-term recipe for success, but this team continues to prove that they should never be counted out in any game against anyone.