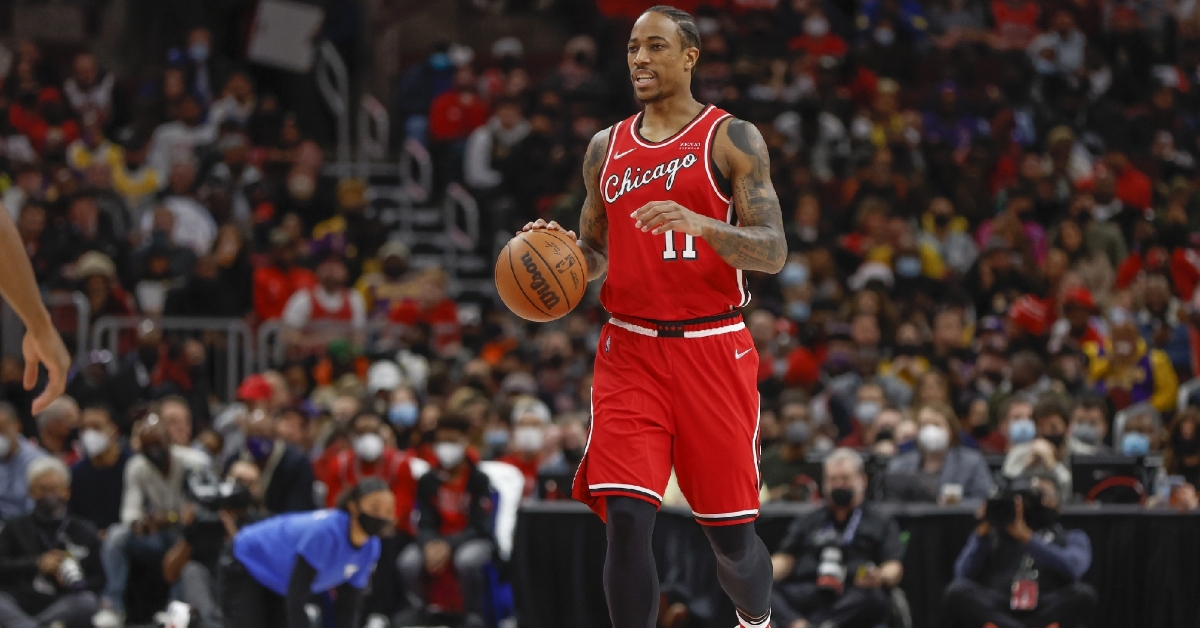 | | |
| --- | --- |
| Bulls News: DeRozan drops 38 points in win over Lakers | |
---
| | | |
| --- | --- | --- |
| Monday, December 20, 2021, 11:20 AM | | |
CHICAGO – For the first time in over a week since the NBA shut them down, the Chicago Bulls (18-10) returned to the floor in front of the United Center fans. After dealing with a massive COVID outbreak that saw 10 players land on the COVID list in a week, the league felt it was best for the Bulls to take a breather with the hopes of getting healthier.
Although they were still missing some pieces in Zach Lavine, Alize Johnson, Ayo Dosunmu, and others, the Bulls did get some help as DeMar DeRozan, Alex Caruso, Javonte Green, Coby White, and Derrick Jones Jr all returned to the lineup. Their returns were not only welcomed but couldn't have come at a better time as the Los Angeles Lakers (16-15) came to town for what was a primetime Sunday night showdown.
Much like the Bulls, the Lakers are dealing with some COVID issues of their own as Russell Westbrook was thought to be entering the COVID protocol, but managed to produce two negative tests in time to play. The Lakers were also without their start big-man in Anthony Davis as he will be missing a month with an MCL sprain. Even without a significant piece to their lineup, Lebron James continues to prove he is one of the best if not the best player on the planet as he continues to do his work in his 18th season.
Despite a terrible shooting night from distance, James still went about his business, dropping a team-high 31 points to go with 14 rebounds as he continues to put the Lakers on his back when they need him the most. He was helped out by Carmelo Anthony, who continues to impress with 21 points off the bench, and Westbrook, who added 20 as those three provided a lethal combo on the floor. Outside of that, scoring was hard to come by for the Lakers, but there managed to keep things close throughout.
For the Bulls, all they needed to get back on track was some healthy bodies, and most of those bodies came up huge last night. With Lavine expected to be out until after the holidays, this team will rely on DeRozan more than ever as he returns to game action. Not only has DeRozan been the team's most consistent and clutch player this season, but he continues to play at an MVP level, dropping a game-high 38 points in his return to go with 19 points in the fourth quarter.
Add in 19 points and 13 boards from Nikola Vucevic and 19 points from Lonzo Ball, who has played phenomenal against the Lakers this season, and the Bulls had three primary scorers to lean on yet again to provide most of the offense. With Lavine out, Chicago needed someone else to step up, and Caruso was that man as he finished with 17 points to go with nine rebounds. That type of game is what this team will need from him as the Bulls managed to hold
off the Lakers in the final minutes 115-110 to secure a huge win.
Mr. 4th quarter comes up huge
When you talk about clutch performers this season, DeRozan better be on that list. He has been the definition of clutch this season and, from all accounts, has been the Bulls closer most of the year. Not only is he averaging a career-high 26.8 PPG, but he entered Sunday leading the NBA in points per game in the fourth quarter, where he averages nearly 10PPG.
Not only did he show the world why he has been so successful in crunch time, but he single handily carried this team in the final 12 minutes and almost outscored the Lakers in the process. Sitting at 19 points through three quarters, DeRozan erupted in the fourth to score 19 of his team's 32 points and helped the Bulls hold off the Lakers. Put that into perspective, and the Lakers only had 26 points as a team in that final quarter, which shows you how good DeRozan was. When everyone has been talking about LaVine and the player he is, DeRozan deserves just as much credit for the job he has done this season.
?? @DeMar_DeRozan dropped 38 PTS to lead the Chicago Bulls to win over the Lakers last night. pic.twitter.com/m8hciTAlAb

— NBA TV (@NBATV) December 20, 2021
Slowly getting back to health
It took the NBA long enough to step in, but they finally did after the Bulls had 10 players out with COVID. I don't care what the rules say. No team will win games with only seven or eight healthy bodies, no matter how talented you are. The Bulls found that out the hard way as they were not only missing pieces but missing their top two scores, which is a massive part of their offense.
Over the last week, the Bulls have been getting healthy as several players have been cleared to return from COVID protocols. Sure, LaVine, Dosunmu, and others will be out until after X-mas, but the Bulls had five healthy bodies return, which was a massive lift. One of those bodies was Jones Jr, who was injured after just six minutes of action on Sunday, so that hurts, but no one knows how severe it is.
The last week has taught us that the NBA is serious about the health and safety of players, and they will do what they need to do to keep everyone safe. I would argue that the protocols may be a little strict, especially towards vaccinated players, but that is a discussion for another day.
Chicago Bulls forward DeMar DeRozan said that he went to the Bulls practice facility as soon as he was told that he was out of the health and safety protocol.

DeRozan said he was at the gym at 1am.

(Via Bulls FB Live)

— Daniel Greenberg (@ChiSportUpdates) December 20, 2021
Time to bank some wins
Even though the Bulls are still short-handed with several players still out, they have a great opportunity ahead of them to bank some wins while waiting to get back to full strength. Not only was the win against the Lakers on Sunday huge, but the Bulls will face the Houston Rockets tonight, which should be another win, especially after getting blown out in Houston last month.
Following that game with Houston comes a game against Toronto, two games with Indiana, and two games with Atlanta, as the Bulls have an excellent opportunity to win plenty of games over their next seven. In a league where every win matters, the Bulls want to be healthy, but if they are not healthy, this is the perfect time to be healthy as they realistically should win four or five of these games.
They are the better team on paper when you look at their next few opponents, and they should still be able to win even without Lavine. However, this is the NBA, and we have seen some strange things this season. Chicago needs to remain focused and continue to play the way they have so far. Should they do that, they will continue to win games even with critical pieces out.
18-10. pic.twitter.com/UBbc0Nsjmg

— Chicago Bulls (@chicagobulls) December 20, 2021