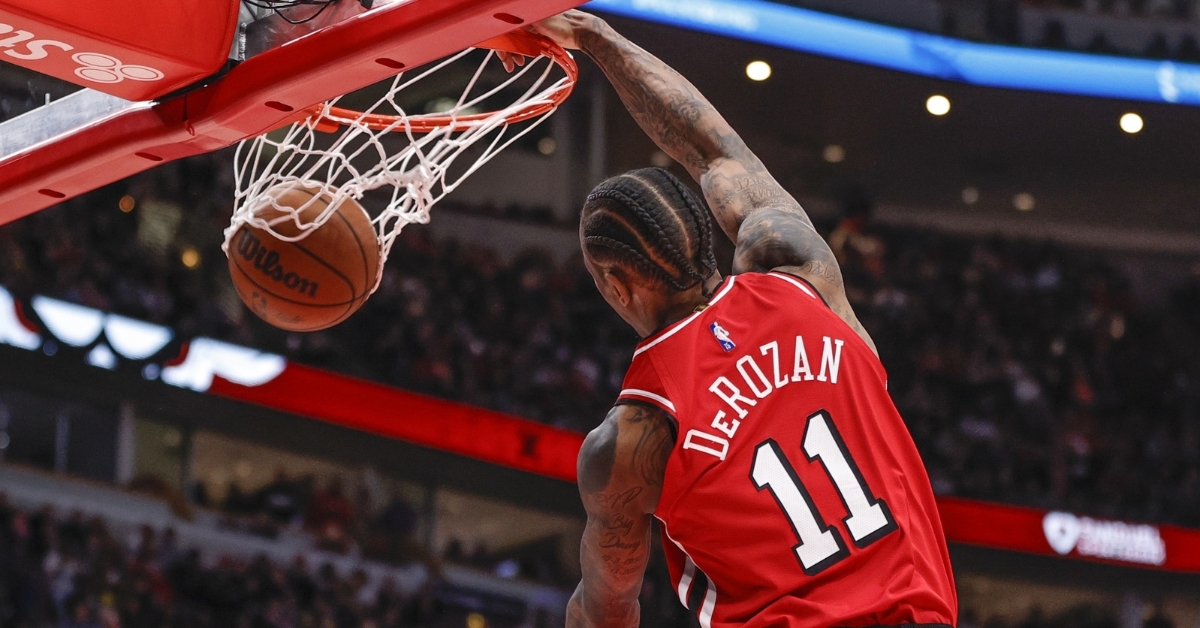 | | |
| --- | --- |
| Bulls News: DeRozan drops 50 in overtime win against Clippers | |
---
| | | |
| --- | --- | --- |
| Friday, April 1, 2022, 7:53 AM | | |
In what could be a season-defining homestand for the Chicago Bulls (45-32), the Bulls needed a herculean effort from DeMar DeRozan to top the Los Angeles Clippers (37-40). Down by as many as 16 at one point in the second half and 11 points in the fourth quarter, the Bulls saw their season hanging in the balance as a possible play-in destination was on its way.
That is when the Bulls put together one of the best 10-minute stretches of their season as they managed to take the Clippers best shot only to bounce back. Despite being outscored by 18 points from distance, the Bulls did more than makeup for that in the paint as they outscored Los Angeles by 24 points inside.
That is where things changed, especially late as DeRozan put the team on his back, as he has done so often in the fourth quarter to lead a comeback attempt. His massive fourth helped the Bulls close out the game on a 22-11 run to force overtime.
If that wasn't good enough, DeRozan continued to go after it in overtime, where he finished things off with a season-high 50 points and helped the Bulls secure a massive win at home 135-130 in Overtime. While DeRozan was the star of the show, and rightfully so, it wasn't just him who sparked the Bulls comeback as plenty of contributions came about.
Nikola Vucevic was a big reason why the Bulls dominated on the inside and backed DeRozan with 22 points to go with 14 rebounds for another double-double. Although he was much quieter, Zach Lavine also had a good game and finished with 21 points to give Chicago the Big three they were looking for.
Apart from them, the Bulls finally had some contributions from the bench as their second unit ranks 27th in the league in overall scoring. Although not at the level he would like to be at, Coby White continues to lead the way for the bench finishing with 11 points.
Patrick Williams also came up huge, but in a variety of ways. Not only did he play sound defense to come away with several game-changing plays, but he scored all 10 of his points across the fourth quarter and overtime. Add in 12 rebounds, and the Bulls are starting to get what they anticipated from him, which could be huge down the stretch.
It was all about the three-point shot for the Clippers, 16 of them to be exact, before their late-game implosion. One of the more under the radar stars in this league is Reggie Jackson, who did more than enough to put the league on notice in this one. Not only did he connect for six triples, but he finished with a team-high 34 points and single handily tried to win it for his team. That effort from him closed out one of the best months of his career in terms of overall scoring.
With Kawhi Leonard done for the year, the Clippers have battled, but have needed other guys to step up. Paul George has been one of those guys, although his 22 point effort was quiet for his standards. George also committed what was the worst foul in the game when he fouled DeRozan on a three-point attempt, which resulted in free throws to send the game into OT.
Journeyman Nicholas Batum has found a home in Los Angeles and continues to play well in his age 35 season. Primarily filling in for Leonard, Batum knocked down four triples of his own, including several clutch ones down the stretch, as he finished with 17 points.
Those three may have been the Clippers primary options, but there was way more scoring than that to go around. Marcus Morris Sr. was a matchup nightmare for three quarters before cooling off late. He added 20 points to give the Clippers a trio of 20-point scorers to help pace the offensive attack.
You also had Ivica Zubac finish with 11 points to ensure that all five starters landed in double figures. Zubac got himself into foul trouble late, which altered his aggressiveness down the stretch. Add in 11 points from Luke Kennard off the bench, including some big-time three-pointers late, and it is a miracle that the Bulls somehow found a way to win this game to remain in the fifth seed in the East.
With the win, the Bulls moved one step closer to clinching a playoff spot and helped remain in the fifth seed as they move back to .5 games ahead of Toronto and two games ahead of Cleveland. The Bulls also own tiebreakers against both teams, which will help in the coming weeks.
The win was good news, but Chicago will also be getting Lonzo Ball back on the rehab train as they hope he can come back before the season's end with the playoffs in mind. Next on the docket for the Bulls is a surging Milwaukee team that has dominated this series the last four years.