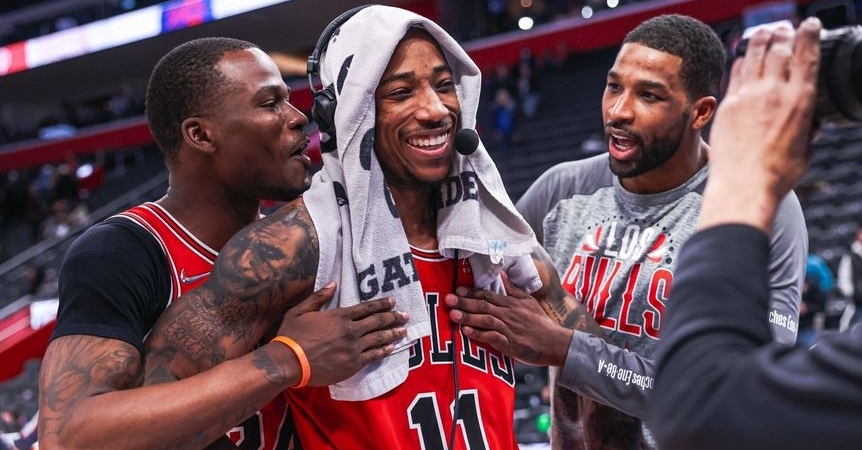 | | |
| --- | --- |
| DeRozan's 16 fouth-quarter points lead Bulls to comeback win over Pistons | |
---
| | | |
| --- | --- | --- |
| Thursday, March 10, 2022, 9:48 AM | | |
DETROIT – You know things have gotten bad when you can no longer beat the teams you are supposed to beat. That was precisely the case for the Chicago Bulls (40-26), as they continued to struggle through three quarters on Wednesday.
Looking to avoid a six-game skid and playing a Detroit Pistons (18-48) who was riding a three-game winning streak and playing much better, these are the games the Bulls need to have as they have struggled against above .500 teams this year. The only problem is, when you start to struggle, no game is easy, and this was far from an easy one for Chicago.
After winning their first three meetings, with two of them handily, the Pistons were eager to show their new faces were more than up to challenge one of the best in the East. Through three quarters, they did just that as the Pistons led by seven and outscored Chicago in each of the first three quarters. It wasn't until the fourth quarter that the Bulls got cooking as DeMar DeRozan started to heat up again, looking like the closer from the first four months.
His play down the stretch was crucial, as was the Bulls defensive effort as they held the Pistons to just 17 points in that final frame. Mix that with an offense that dropped 30, and you have a team that came back and did so rather easily to pick up a crucial 114-108 win and sweep the season series 4-0.
Despite his recent shooting struggles, DeRozan is still DeRozan and will continue to lead this team offensively. No surprise he was at it again, going 12-25 from the field. He also made 12 of his 13 free throw attempts to go with that as he finished with a game-high 36 points, ending a three-game stretch where he didn't look good.
Zach Lavine is another one of those guys who has been quiet, but consistent, to say the least. Not the shot taker in terms of volume, Lavine has a chance to be a 90-50-40 guy this season, which is a rare feat. Although his three-point shot was off going 1-7, he did make 50% of his shot attempts and finished right around his average with 25 points.
One of the biggest reasons for the Bulls loss to Philadelphia on Monday was not having their big-man Nikola Vucevic in the lineup as he was out with hamstring soreness. Back in the lineup on Wednesday, Vooch did what he needed to do, to give the Bulls that three-headed combo they desire. He may not have gotten the rebounds finishing with just six, but his 21 points offensively was a breath of fresh air and something this team needed to win.
Apart from those three, no one else on Chicago landed in double-figures which has been a concern lately. You did have Ayo Dosunmu add nine points, with Coby White picking up eight off the bench, but that was about it as the Bulls offense was three-players deep. This is one aspect of their game that needs to change, and until it does, they will not be able to beat the top teams.
Even though their record is what it is, credit the Pistons for the fight they showed last night and the way they have been playing of late. This is a young team filled with talented players who will only get better. Unlike Chicago, which only had three double-digit scorers, Detroit had seven as their overall balance has been impressive.
As expected, the Pistons were led by rookie Cade Cunningham as he continues to come into his own. His 22 points flashed his offensive game, but he showed he is more than just a scorer with six rebounds and four assists. Outside of that, Detroit didn't have a single player with more than 13 points, but they still got plenty of contributions which led to the competitive game on the court.
Jerami Grant, Saddiq Bey, and Kelly Olynyk had 12 points in the game, with Olynyk getting his from the bench. Grant has tailed off the last part of the season, but he is still a big-time player who should get back to his old scoring ways. Look for the offseason trade market to be hot and heavy with him next season.
While those four may have been the go-to guys, Detroit still had three more players finding the bucket as they finished with 10 points. Newly acquired Marvin Bagley III was one of those three as he has found a home with Detroit so far. Saban Lee and Hamidou Diallo added 10 points from the bench as Detroit did more than their share to win this game, only to come up short.
With the win, the Bulls remain in second place in the Central division trailing Milwaukee by 1.5 games. They also sit in fourth place in the Eastern Conference at 3.5 games back, but just .5 games ahead of the streaking Celtics. With just 16 games left, Chicago needs to play better, and if they do, they should secure the No.4 seed at worst.