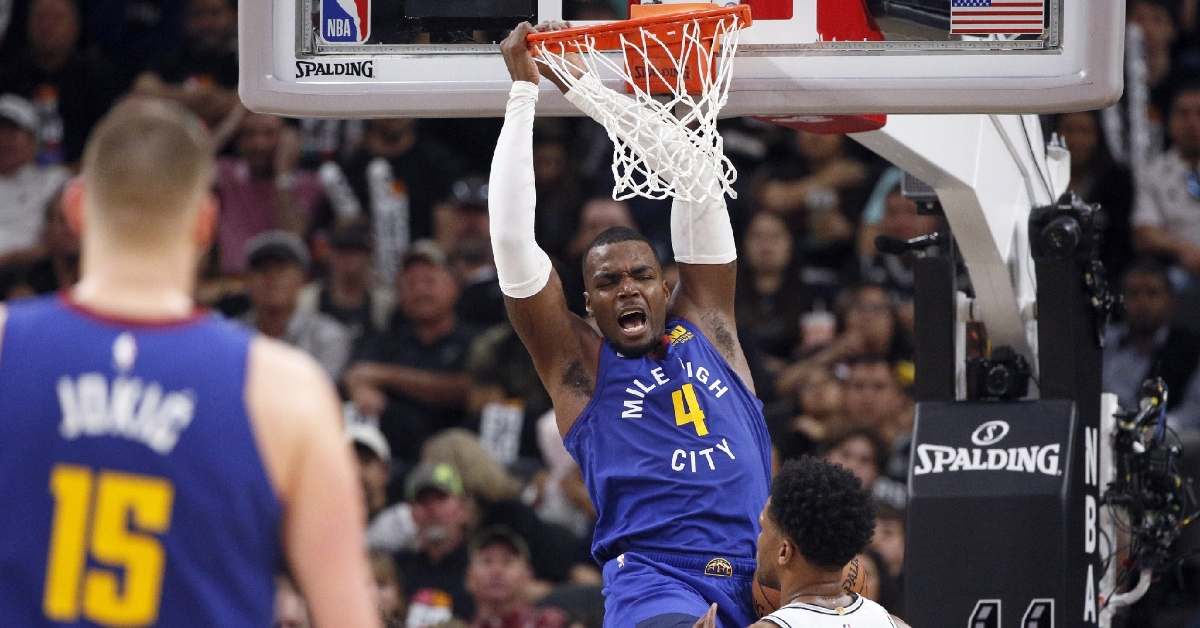 | | |
| --- | --- |
| Four veteran options for Bulls this offseason | |
---
| | | |
| --- | --- | --- |
| 2022-06-14 13:00:08.0 | | |
It is no secret what the Bulls plans are for the offseason. It starts and ends with the never-ending Zach Lavine saga and what to do with him and his contract. Mixed in with that is a roster that needs fixing, especially when looking at frontcourt players.
Seems easy enough, right? Well, when you have a team strapped for cash and in a win-now mode, things may not be as easy as one might think. With the 18th pick in the 2022 NBA draft, all signs point to the Bulls adding some frontcourt help for Nikola Vucevic. While that is fine and dandy, what happens if Vucevic isn't around next season as there are more reports out there that he will not be in Chicago next season.
That would mean the Bulls are potentially packaging Vucevic in some trade scenario to get better at the front court while adding more defensive depth to this team. How that is done remains to be seen, but there are plenty of options for the Bulls.
While the trade market still appears to be the most likely option, there are four free-agent veterans the Bulls could pursue that could make this team better. Some are names that have been brought up in the past, and some are cheaper options, all aimed at making this team a better defensive group.
Paul Millsap
Going back to the last offseason, the Bulls were right in the mix for veteran forward Paul Millsap, who chose the Brooklyn Nets in the end. Now entering his 16th NBA season, the 37-year-old veteran is on the market again and would be an excellent get for the Bulls.
Regarding cost, Millsap may be the cheapest option on the market, but he also comes with the most mileage and experience. Coming off a terrible season where he averaged less than four points per game, Millsap can still give you a little bit of everything when put in the right situation.
Mainly a bench player or sixth-man type of guy, Millsap has plenty of starting experience and logged 13.4 PPG to go with 7.1 RPG. I don't see him averaging those numbers again, but he should still be able to give you 9-10 points off the bench with five rebounds. He is someone this team could have used last season, and now they have a chance to get him again.
Montrezl Harrell
If the Bulls want to get more physical while adding to their frontcourt than Montrezl Harrell should be an option. A player who seems like he has been in the league forever, Harrell is still just 28 years old after entering the league in 2016.
Not a starter per se, Harrell is another one who can start when needed and is coming off a season where he averaged 13.1 PPG and 6.1 RPG. That falls in line with his career 12.9 PPG track record, as he has been one of the more consistent role players in the league.
Harrell has never been linked to the Bulls before, and that is because Chicago wasn't in the position they were in now. If this team weren't as tight on cash as they are, I would say this would be a no-brainer move. However, the Bulls would need to play around to make this work.
Andre Drummond
If adding depth behind Vucevic is a priority, why not make a run for 28-year-old Andre Drummond. A former starter in this league, Drummond has taken on more of a reserve role the past two seasons, but is still plenty productive to make an impact with this team.
The 6-10 280-pounder is coming off a season where he averaged 7.8 PPG and 9.7 RPG, but his career track record shows he can offer much more. Across his nearly 10-year career, Drummond has averaged 13.8 PPG while adding 13.3 RPG. In other words, Drummond is a double-double machine who can be a defensive specialist if needed.
He has never been someone who would give you 20 points per contest, but has had several seasons averaging at least 17 per game. Drummond also had years where he would add 16 rebounds per game as his dominance on the interior has been on display.
With Vucevic being a defensive liability, this would be the perfect complementary piece for him as the Bulls would have an offensive and defensive center to count on. The question is, at what cost could he behave, and are the Bulls willing to match that cost.
Bobby Portis
Perhaps my favorite name on this list is old friend Bobby Portis who was part of the Bulls organization for four seasons and averaged around 12.7 PPG while with the Bulls. It wasn't until he got to Milwaukee when Portis showed what he could do, averaging a career-high 14.6 PPG to go with 9.3 RPG.
When you look at what the Bucks paid to bring back Portis, they arguably got the steal of the free-agent class. There is no way he plays for that cheap again, and if the Bulls want him, they will have to pay for his services.
I think he is worth what he is asking. He has shown the ability to start or come off the bench and knows what the Bulls organization is about. While he was never a start player in Chicago the first time around, fans love him, and he will fit in nicely with this new group of players. If I am the GM, I am calling Portis the moment free agency opens to do what I can to bring him in.