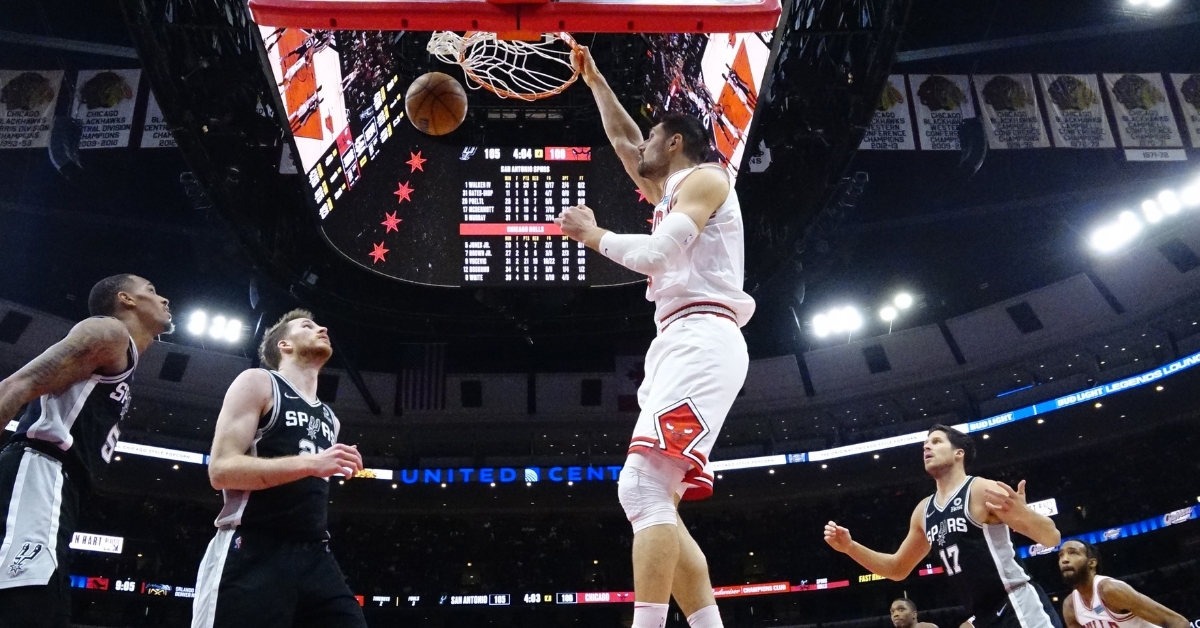 | | |
| --- | --- |
| Fourth Straight Win: Bulls with massive comeback over Spurs | |
---
CHICAGO – Approaching the final stretch run before the All-Star break, the Chicago Bulls (37-21) are nearing their high watermark of the season as they have gotten back to their winning ways. A big reason for that has been an easier schedule, but they are also starting to get some pieces back, which bodes well for the postseason.
Looking to make it four-straight, Chicago welcomed in a San Antonio Spurs (22-36) who defeated them at San Antonio two weeks ago. Even with a lot of their pieces back, the Bulls are still missing some key cogs, including Zach Lavine, who is heading to California to seek answers for an ailing sore knee. With Lavine out until at least after the all-star break, it will be up to other guys to step up and step up they did.
Despite trailing by six after three-quarters of play, the Bulls made sure they would get it together before things ended. A big reason for that was a massive fourth quarter that saw the Bulls hold the Spurs to 20 points on the offensive end, but Chicago's offense erupted for 37 points during those final 12 minutes. DeMar DeRozan was a big reason why, as he scored 18 points in that fourth to give the Bulls another big win 120-109 and keeps them in contention for the top spot in the East.
For DeRozan, the fourth quarter has been his playground as he leads the NBA in fourth-quarter points this season. He has now taken over sole possession of points scored this season as he continues to produce at an MVP level. That level was once again on display last night where DeRozan dropped a game-high 40 points and was serenaded by plenty of MVP chants.
His 40-point effort not only is his seventh straight 30 point game, but it came on 16-24 shooting. That ties him with Wilt Chamberlin for the most consecutive 30 point games shooting over 55%, and he has a chance to sit alone on top of that list on Wednesday. DeRozan has been the least of the Bulls worries this season, but what about the rest of the roster who is starting to play well.
One player who has looked like a completely different player over the last month is Nikola Vucevic. After going through the worst shooting slump of his career, the big man is back to playing all-star level basketball again, much like he did in Orlando. Vucevic continued that strong stretch by posting 25 points to go with 16 rebounds for another double-double effort.
Continuing to fill in for the injured Lavine is Coby White, who continues to have the best season of his career. Although more of a sixth man than anything, White has been a pleasant surprise this season, especially over the past three weeks. Not only did he give the Bulls 24 more points last night, but he connected on five of his six three-point attempts and has been looking like Steph Curry of late. Add in the 12 points for Ayo Dosunmu, and the Bulls continue to put forth one of the more balanced scoring attacks in the league.
Despite losing by 11, this game was played much closer than that as San Antonio gave the Bulls all they could handle for about 42 minutes. Although four of their five starters landed in double figures, Lonnie Walker's performance off the bench stood out as he led the Spurs with 21 points. There is a reason why the Spurs bench leads the league in bench scoring, and Walker is one of those reasons.
The Spurs had plenty of firepower outside of him, just not enough to keep up with Chicago. Former Bull Doug McDermott continued his breakout season, putting in 19 points in the loss. The triple-double king Dejounte Murray has quietly put together a great season as he joined McDermott with 19 points to go with his 11 assists.
While those three did most of the damage for the Spurs, Chicago still had to contend with a couple of other players as their defense was drastically tested. Keldon Johnson endured a brutal shooting night, but still finished with 13 points. After trying to trade for Jakob Poeltl at the deadline only to come up short, the Bulls had to go against him on Monday and did a great job keeping him in check as he finished with 13 points to go with his nine rebounds.
The win not only keeps the Bulls within one game of Miami for the top spot in the East, but they are getting closer to their high watermark on the season, which bodes well considering where this team was a month ago. With the Sacramento Kings coming to town tomorrow before the all-star break, Chicago can use that extra time off to potentially get one or two more pieces back for the stretch run.