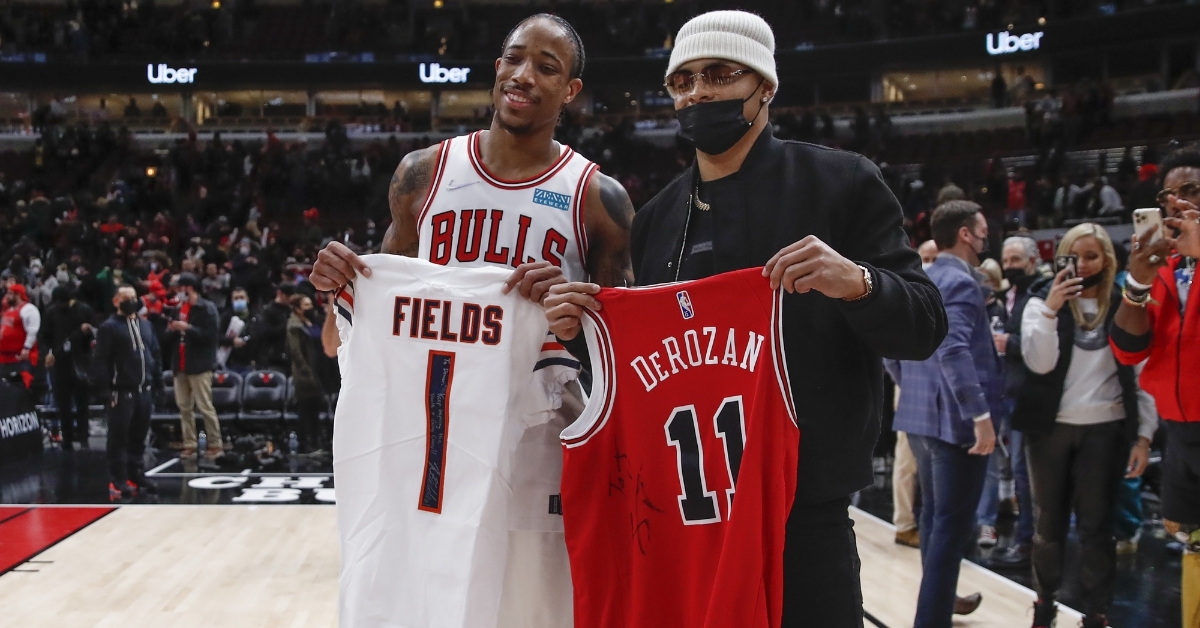 | | |
| --- | --- |
| Huge first half pushes Bulls past Raptors | |
---
| | | |
| --- | --- | --- |
| Thursday, January 27, 2022, 9:21 AM | | |
CHICAGO – January has not been a kind month for the Chicago Bulls (30-17) for various reasons. Starting with the obvious, Chicago continues to deal with a rash of injuries as more and more names land on the injured list. Sure, some of those names came back, but others were added for extended time frames, which won't make things easy for this team.
You also have to look at when the Bulls dealt with COVID and shut down some of those games. Those games had to be made up at some point, with two of those makeup games landing in January. The second of those two makeup games was last night as the Bulls welcomed in the Toronto Raptors (23-23), who continue to battle for one of those final playoff spots.
For the first time in nearly a month, the Bulls dynamic duo was back on the floor as DeMar DeRozan and Zach Lavine finally joined forces again. They did what you would expect them to do, combining for 52 points with DeRozan leading the way with 29 and Lavine coming in with 23. Those two played a significant role in the team's first-half success, where they built a 17-point halftime lead anchored by a 36-23 second quarter that opened things up.
Those two had plenty of offensive help from the rest of their starting five, which is always good. We have been saying all season that this team needs more from Nikola Vucevic, and he did his best to try and give them the more they needed. From an offensive side of things, his 17 points were solid, but still not at the level he can play.
However, add in 15 rebounds and 8-11 shooting from the field, and those are games the Bulls will take from him every night as he remains their main post option. Joining him as the fourth Bull in double figures was Javonte Green, who put together his best game in a while. In just his third game since returning from a groin injury, Green has fit right in, connecting for 12 points to go with six rebounds to give the Bulls an excellent lift.
Chicago also received nine points from Coby White, eight from Troy Brown Jr, and seven from Ayo Dosunmu, as the Bulls would need all of them to come through in the end. While the Bulls were doing their thing in the first half, Toronto flipped the script in the second half and started to get after the Bulls.
Even without Fred Van Vleet running the point, this team showed plenty of toughness, and you can see why they are in playoff contention. Gary Trent Jr had an incredible game as he finished with a game-high 32 points. More than half of those points came from beyond the arc, where he went 6-10 from distance. Joining in was OG Anuoby, who finished with 23 points.
While the Bulls duo did their own thing, these two formed their own dynamic duo giving the Raptors an excellent inside-out combination that gave Chicago plenty of problems. Toronto saw two more players land in double figures, with Scottie Barnes dropping 16 and Pascal Siakam adding 12 for a solid offensive showing in the second half. However, costly misses at the three free throw line hurt the Raptors all game long, and because of it, the Bulls were able to toughen up when needed and held on for the 111-105 win.
Together again
It has been a long three weeks, but the dynamic duo of DeRozan and Lavine were finally together again on the floor. No one will argue that both of these men are important to Chicago. From their scoring to their overall leadership, these men need to be on the floor for this team to succeed.
However, we saw it for the better part of two weeks. As good as these guys are individually, the stats don't lie; they are much better together and feed off one another. Having two players capable of dropping 30 points a night makes it challenging for a team to defend, and that is what the Bulls get when these two play together.
Looking at their overall record when they play together, you have a team that is 28-11 when both men are on the floor, which goes to show you the importance they have. Now that they are back together look for the Bulls offense to be more balanced and more free-flowing once again like it was the first three months of the season.
Protect the three-point line
The Bulls have done a great job guarding the three-point line throughout the season. Entering the game on Wednesday, Chicago ranked in the top three in defending the three as opponents shoot under 27% against them. Should that continue, this team will win plenty of games as they do a great job taking away other team's strengths.
However, they struggle when they can't guard the three, and they did struggle at times last night. Toronto shot a respectable 38% from distance, but the 60% barrage from Trent is concerning. He was feeling it from deep last night, yet the Bulls didn't do a good job closing out on him to take those shots away.
You saw what happens against teams like Houston when they heat up, but what about teams like Golden State and Milwaukee with great three-point threats. If this team can't close out the three-point shooters, they will struggle to play that elite defense that Billy Donovan had them playing all season. A lot of their mistakes over the past few weeks are getting cleaned up, but this is one thing they need to work on right now.
Ayo is officially a starter
It took nearly four months, but the hometown kid has officially been added to the starting lineup where he appears to be staying. All season long, the second-round pick out of Illinois has been impressive and could have his name brought up in the rookie-of-the-year conversations.
His mix of defensive intensity, clutch shooting, and a fearless approach to the game has left him one of the more trusted options on this team, especially with the game on the line. After bouncing around between bench and starter the last month, Dosunmu will be a starter for the foreseeable future as he has settled into the PG role with Lonzo Ball out.
Many fans thought White would remain the starter given the stretch of games he had, but his decision-making has been suspect at best, whereas Dosunmu can do so much more. Once Ball returns, look for Dosunmu to head back to the bench unless the Bulls want to get a little tricky. They could potentially move Green to the bench with Derrick Jones Jr out and leave Dosunmu in the starting lineup, but that would make their starting five even smaller than it is now. Regardless of the plan moving forward. Dosunmu has done more than enough to prove himself this season and has shown he is a significant piece of the future.