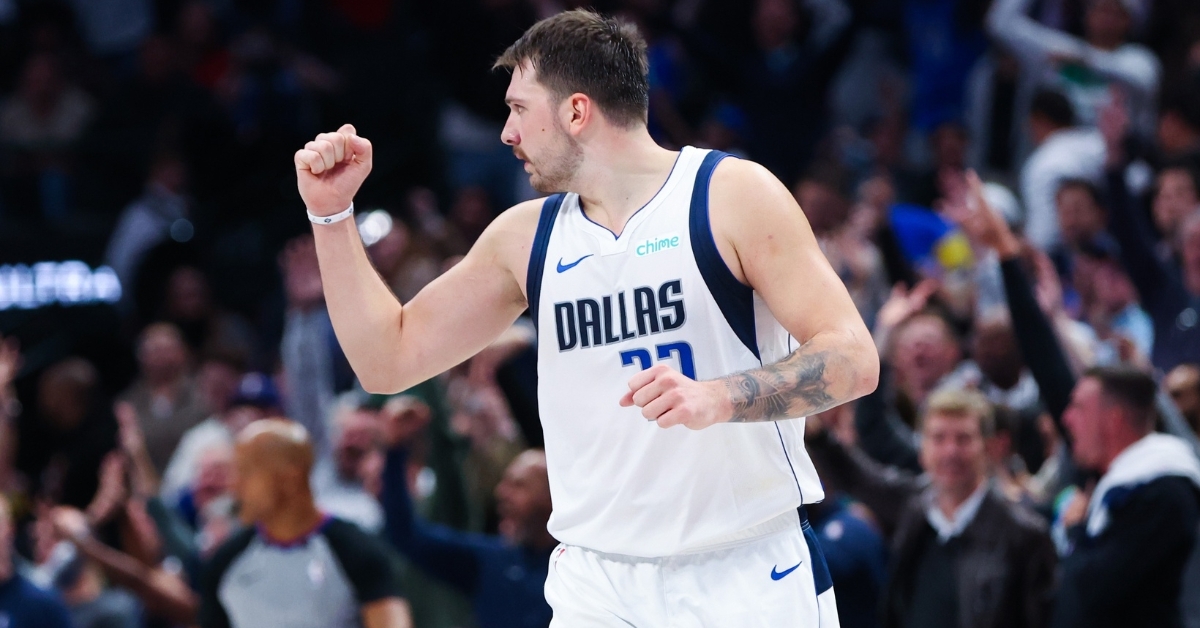 | | |
| --- | --- |
| Irvingless Mavericks top Bulls to stay unbeaten | |
---
DALLAS - Wednesday was a matchup between two different styles of play as the Chicago Bulls (2-3) hit the road to take on the Dallas Mavericks (4-0). On the one hand, you had a Bulls team that has been offensively challenged all season but has a defense that is top five in the league. On the other hand, Dallas has the best offense in the NBA, looking to remain perfect, while Luka Doncic is playing at an MVP level early on.
Great offense or not, the Mavericks were dealt a massive blow as Kyrie Irving was unavailable for the game. Throw in a rare off night from Luka Doncic, and the Bulls had to like their chances early on. Through three quarters, things were neck and neck, but the Bulls did manage to hold the narrow lead. When you look at how things went in the first half, including a stretch where the team missed five shots on one possession, Chicago was lucky to be that close, let alone in front that late in the game.
Then came the fourth quarter where the Bulls offense continued to struggle while their defense started for let them down at the worst time. In total, it was the Mavericks outscoring the Bulls 33-22 over those final 12 minutes to remain perfect to start the season 114-105. Once again, it was the Big Three of the Bulls leading the way, with Zach Lavine putting in 22 points to lead the way for Chicago.
While his game was good, Nikola Vucevic had a monster game as he suddenly picked up his play on the offensive end. Not only did Vucevic come away with 21 points for his second consecutive 20-point game, but he also added 20 rebounds for a dominating double-double performance. If the early part of the season is any indication, Vooch needs more touches, as the offense seems more fluid when he is involved.
Rounding out the production for the Big Three was Demar Derozan, who, despite having a quiet 16-point game, made a little bit of history as he passed Larry Bird for 38th all-time on the NBA scoring list and should move ahead of both Gary Payton and Chris Paul later this week. Anytime you get the type of production you have seen the past two games from these guys, you have to like the Bulls chances, but the overall shooting is still a significant concern.
Coby White rounded out the double-digit scorers among the starters with 10 points, but it was Jevon Carter having his second straight big game off the bench to lead the Bulls second unit with 12. Throw in eight points each from Ayo Dosunmu and Andre Drummond, and the Bulls had some nice production from the second unit, but it was one player who you could argue cost this team the game.
In case you haven't figured it out, Patrick Williams has no business being in the starting lineup right now, let alone on an NBA roster. Not only has he struggled all season, but with zero points in the game, it makes two consecutive games where he hasn't scored a single point. Had he done what his career average shows, the Bulls, at the very worst, could have forced OT or even won this game. It is time for Billy Donovan to take him out of the rotation and go with Torrey Craig.
With Irving out of the lineup, the Mavericks are losing their second-best scorer, which makes it difficult. However, Grant Williams made up for that as the big man played a massive role for Dallas all game, leading all scorers with 25 points and adding five rebounds. He wasn't alone in having a great game, as Tim Hardaway Jr not only had a great game but came off the bench to pick up 24 points. Hardaway nearly outscored the entire Bulls bench by himself, as 21 of his 24 points came from seven triples.
To put that into perspective, the Bulls made just 11 triples as a team, which was again a primary reason for the lack of offense. While those two had the biggest nights for Dallas, the Mavericks still benefitted from two more solid games, including another 18-point effort from Doncic. A far cry from what he has done recently, Doncic does so much more than score as he dished out 10 assists while adding seven boards.
Filling in for Irving was the former Bull Derrick Jones Jr, who was making his second consecutive starter. Primarily a bench player for Chicago, Jones Jr was not only coming off a 22-point effort last time out, but after dropping 17 more in this one, he is continuing to prove his worth on this team as a legitimate scoring threat. It makes you wonder what the Bulls were thinking when they had him the past two seasons, as he looks like a completely different player.