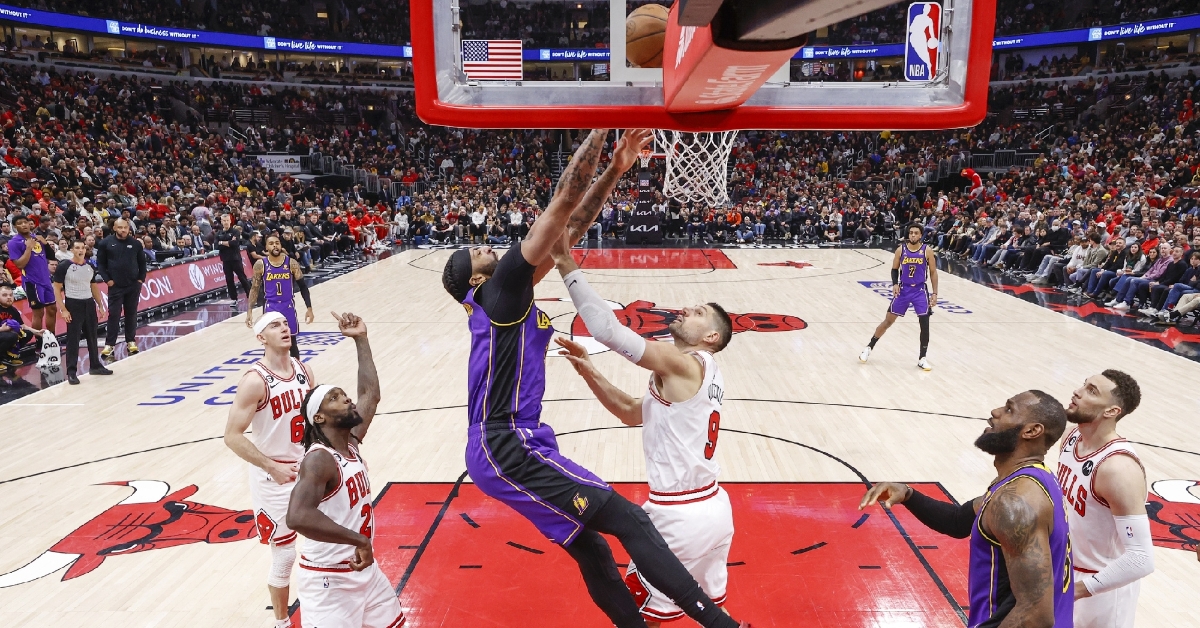 | | |
| --- | --- |
| Lakers gets their revenge over Bulls | |
---
| | | |
| --- | --- | --- |
| Thursday, March 30, 2023, 9:23 AM | | |
CHICAGO - When the Chicago Bulls (36-40) went into LA and came away with a victory against the Los Angeles Lakers (38-38) many people felt it was one of their more complete efforts of the season. Sure, they beat the Lakers without LeBron Fully healthy, but a win is a win against anyone right now as the Bulls are continuing to battle for a playoff spot.
Looking to make it two wins in less than a week against the Purple and Gold, it was time to turn the tables with the Lake Show coming to the Windy City. Unlike on Sunday, when the Bulls had plenty of balance across the board, Patrick Beverley failed to score a point while the rest of the Bulls' starting five struggled to get into a consistent groove. Mix that with an Anthony Davis and James duo that scored more than 60 points, and it made things difficult for Chicago, who fell to the Lakers 121-110.
After getting ejected on Sunday, Nikola Vucevic made it a point to not only stay in the game but to put forth a great effort. With Andre Drummond sitting out due to some mental health issues, the Bulls needed Vucevic, and the big man delivered. Vooch led Chicago with 29 points while adding 12 rebounds for a strong double-double. His play was critical to keep the Bulls within striking distance most of the night as the usual scoring tandem of Demar DeRozan and Zach Lavine struggled.
For the most part, DeRozan managed to hold his own, knocking down nine shots and hitting on 60% of his shots. He finished with 22 points but hasn't played at his MVP level that we saw last season in quite some time. Speaking of players that didn't play at an MVP level, Lavine had one of his worst nights in three months despite making better than 50% of his shots. However, when you only take 14 and connect on eight you come off a bit passive as he finished with 16 points in what was an off-game for him.
Not only did Beverley fail to score, but Alex Caruso only managed to score five points, as those two hurt the Bulls. Throw in a two point night from Patrick Williams off the bench and Chicago needed to figure out other ways to score. Fortunately, some of those ways came from Coby White whose breakout season continues.
While the Bulls struggled from distance, shooting under 30% as a team, White didn't as he connected on three of his seven triples for 17 points. You also had Ayo Dosunmu picking up some of the slack from Caruso to finish with 12 points. Had it not been for them, the Lakers would have won this game by 30 so they played a huge role in keeping things competitive.
When the Lakers are at their best, they are getting great play from Davis and James while the rest of the team chips in as needed. That was the case on Wednesday as the talented Laker duo had their way with Chicago and finished with nearly as many points as the entire Bulls starting five.
It was Davis leading the way as he finished with a game-high 38 points and bringing down 10 rebounds. We have seen this out of him before where he looks like the best player on the court. When that happens the Lakers are going to be tough to beat as he could be their single most important piece these final few weeks.
After being nursed into action on Sunday after missing time with a foot injury, all bets were off for James as he looked to be his old self. From a scoring side, he finished with 25 points which could be considered a down night, but he was his typical self doing a lot of the little things that count.
Joining them were two more starters in double figures as the Lakers starting five accounted for 107 of the teams 121 points. Austin Reaves had the hot hand all game long, missing just one shot to finish with 19 points. Throw in the 17 points and four assists from Dangelo Russell and this Lakers team continued to show everyone what they can be if healthy.
With the loss, Chicago saw their lead for the final playoff spot shrink from three games to two games, as the Washington Wizards picked up a huge win. The Bulls are still in a great position and will host the Charlotte Hornets on Friday. Those are the games you have if you want to make the playoffs and the Bulls know that and know they need to take care of business.