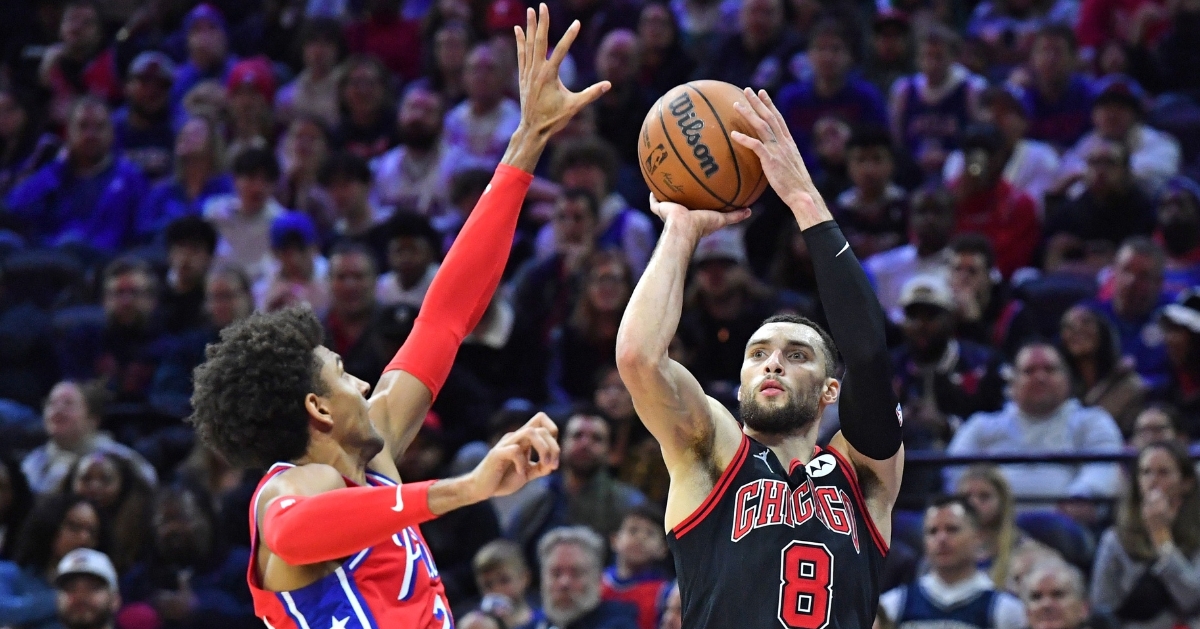 | | |
| --- | --- |
| LaVine drops 41 to lead Bulls past Sixers | |
---
| | | |
| --- | --- | --- |
| Saturday, January 7, 2023, 7:42 AM | | |
PHILADELPHIA - When you watch the Chicago Bulls (18-21) from Friday, you would never guess this is an under .500 team. One year after struggling against the elite teams in the Eastern Conference, the Bulls have flipped the script and held their own against the league's best.
The problem this year has been playing down to their opposition at times, as they have let several winnable games get away this season. Perhaps things are starting to change for the better, as Friday was a huge confidence boost for Chicago. Facing off against a Philadelphia Sixers (23-15) that has had the Bulls number in recent seasons, Chicago also was tasked with halting an 11-game home winning streak from Philadelphia.
Challenging enough in itself, the Bulls did receive a break as Joel Embiid was unavailable for this game, and that was huge for the Bulls. Throughout his NBA career, Embiid has yet to lose a game against Chicago, so you can see how one-sided things have been. With his absence, it was an opportunity for the Bulls to steal a big win, and they did as Zach Lavine, and Nikola Vucevic powered the Bulls to the 126-112 victory on the road.
I give LaVine a ton of credit for how he has handled much of the criticism this season. Not only has he bounced back, but he is playing his best basketball of the season, which is a good sign. LaVine couldn't be stopped on Friday as he finished with a game-high 41 points while connecting on a ridiculous 11-13 from distance. With DeMar DeRozan coming away with just 12 points, it was nice to see LaVine carry the load again.
However, Vucevic may go down as the player of the game for his performance as he capitalized on the loss of Embiid. The big man had a monster 19-point, 18-rebound performance, but he also added a team-best 10 assists for a huge triple-double. You also had Patrick Williams continue to step up offensively and finish with 18 points. Those were the leaders for Chicago on the night as they picked up another massive win on the road.
With Embiid out of the lineup, the pressure fell on James Harden and how he would do. The answer was not good, as Williams deserves a ton of credit for how he defended Harden. Yes, he did finish with 17 points, but he had to work for every single one of them, as he went just 4-17 from the field. Knowing that, you must be thinking, where did the Sixers offense come from if Harden struggled and Embiid was out of action?
Well, the Sixers were led by two players capable of leading the way, and they proved it once again. Tyrese Maxey continues to assert himself as one of the more underrated PGs in the league. Over the last two seasons, Maxey has started to come into his own and showed it again with a team-high 26 points to go with six assists.
You also had Tobias Harris come through with 22 points and 11 rebounds as he has struggled to find consistency this season. Even at that, Harris has still played well, and Friday was a step in the right direction for him. Along with the 17 points from Harden to give Philadelphia three starters in double figures, the Sixers also had plenty of production from their bench, where two more double-digit outputs came from.
Montrezl Harrell (17 points) and Georges Niang (12 points) did their best to spark the offense, but it wasn't enough to overcome the hot shooting Chicago. The Bulls return to the court tomorrow night for the second leg of their back-to-back when they host the Utah Jazz at the United Center.
Game Recap: Jones lifts Windy City to Overtime win
It wasn't easy, but the Windy City Bulls (2-2) rallied to pick up a 122-117 overtime win against the Lakeland Magic (1-2) on Friday to pick up their first win at home in the second half. Given how the game started, you would have never guessed that as the Magic scored 68 points at the half, outscored the Bulls by 15 in the second quarter, and held a 68-54 lead at the half.
Credit Windy City for how they battled back in this one as they outscored the Magic 31-18 in the third to put them within striking distance before getting the game into overtime and eventually winning. Carlik Jones was a massive part of their comeback effort as he put forth his best outing of the season.
Jones was the Lavine of this game, as he finished with 46 points and 10 assists while also knocking down six triples. Pair him with King and his 28 points, and the Bulls had an excellent inside-outside combo to get things rolling. Along with those two came Marko Simonovic, who has stepped up his game.
The third-year man is starting to establish himself as one of the better bigs in the G-League and finished with 20 points and seven boards. Ethan Thompson added 15 points as all, but 10 points came from the Bulls starters. RJ Hampton led the way for Lakeland with 32 points off the bench. These teams will meet again on Saturday as the Bulls are looking for the weekend sweep.