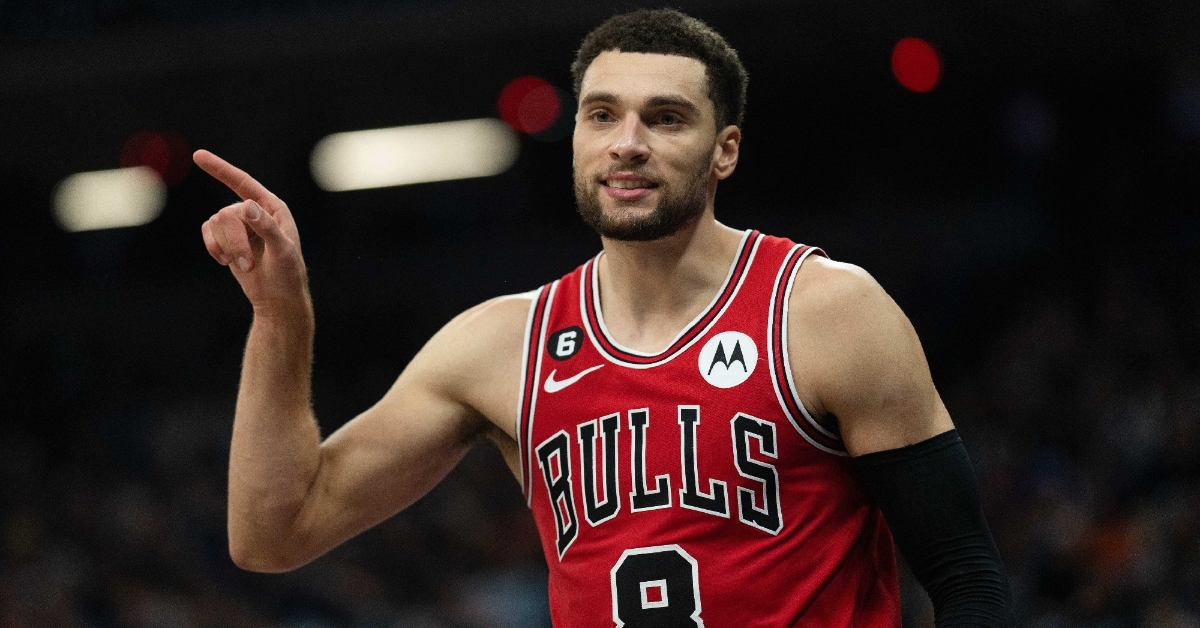 | | |
| --- | --- |
| LaVine's 41 not enough as Kings outlast Bulls | |
---
| | | |
| --- | --- | --- |
| 2022-12-05 08:31:31.0 | | |
SACRAMENTO - Mercifully, this road trip has ended as the Chicago Bulls (9-14) capped off their season-long six-game trip against the Sacramento Kings (13-9). Playing out West is hard enough when things are going well, but the road is tougher when you are struggling to win games and the teams you are against aren't.
Despite Zach Lavine putting his best game of the season on the court with 41 points, it still wasn't enough as the Kings picked up the 110-101 victory. With the loss, the Bulls finish their trip with a 2-4 record and now head home for some much-needed rest.
Losses are one thing, but the way this team has been losing has to be a cause for concern, as some serious soul-searching needs to be done. There is no way anyone expected this team to play as badly as they have this season, but given how they finished last year, this may not be a surprise.
When the Bulls gave LaVine his Supermax contract this offseason, the goal was to make him the highest-paid player in franchise history and evolve this roster around him and his strengths. The problem is LaVine hasn't lived up to his contract, and the Bulls have suffered a lot because of it.
The one place that you can count on LaVine to deliver is at Sacramento, as he has averaged better than 33 points per contest in Sacramento. That trend continued yet again as LaVine led all scorers and put together his best game of the season with 41 points.
Apart from him, the Bulls didn't have much production, although DeMar Derozan did pick up 18 points despite shooting 6-18. That is starting to become an issue for Chicago as Derozan and Lavine have great games but have them at different times. Until that happens, these might be the results fans will see.
One game after being taken out of the starting lineup, Patrick Williams was back in and finished with 10 points. Nikola Vucevic added 12 of his own to give the Bulls four double-digit scorers, but that was all. Perhaps the biggest disappointment of the season thus far has been Alex Caruso.
Sure, his defense is still where he would like it to be, but for whatever reason, his offense is lacking, as he went 0-4 from the field to finish with no points. That is the second time this season he has had a zero-point night, and that is a problem when he is being counted on to start right now.
While LaVine and the starters did most of the damage, the Bulls bench did very little, proving costly in the end. Throw in another rough showing from distance, and that proves to be a recipe for disaster for this team, as Coby White and his seven points led the second unit. Ayo Dosunmu picked up six, but that was about it for the Bulls and their production.
When it comes to the Kings, it is incredible what a new head coach can do. Mike Brown took over a talented roster that hasn't made the playoffs in nearly two decades and has them playing some great basketball at the moment. A big reason for that is a plethora of scorers capable of going off, as the Kings saw all five starters and six players in total land in double figures.
Harrison Barnes may not be the best player on the floor, but he knows how to do the little things well. That is why he is one of the highest-paid players on his team, and after dropping 17 points to lead the Kings with six rebounds, you can see his value. He was joined by rising superstar Deaaron Fox and his 16 points as the Bulls did a great job keeping him in check.
While those may not have had the best games in the world, the Kings had plenty of other guys come through, including Kevin Huerter and his 12 points. Add in the 11 points from Keegan Murray and Domantas Sabonis, and the Kings saw all five starters land in double figures.
Sabonis is no stranger to the Bulls, yet he still haunts Chicago. After dominating them as a member of the Pacers, the Bulls are happy only to see him twice a year as he added 17 rebounds to his 11 points. That gives him nine straight double-doubles against this team and 11 over his last 12 games against Chicago.
The Bulls will return home on Wednesday night as they meet the Washington Wizards.