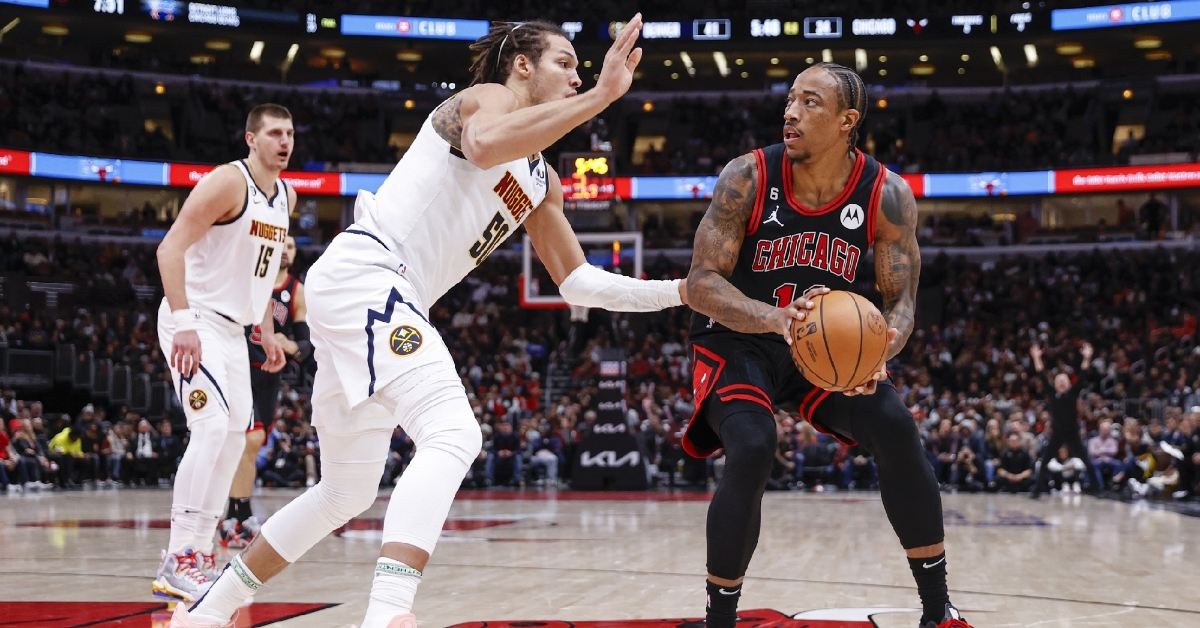 | | |
| --- | --- |
| Lifeless Bulls fall to Nuggets at home | |
---
CHICAGO - One of the many reasons why the Chicago Bulls (6-8) brought in Arturas Karnisovas to be their president of basketball operations was the success he had with the Denver Nuggets (9-4) as their GM. Not only did he build an annual playoff contender that continues to have success in his absence, but he had a knack for finding great talent in the draft, even if it came in the second round.
Perhaps the biggest steal in NBA history was the drafting of Nikola Jokic, a second-round pick by Karnisovas. Since the day that selection was made, Jokic has turned into one of the game's best centers and one of the game's best players, as he has won consecutive MVP awards. Throw in Jamal Murray, Will Barton, Michael Porter Jr, and Karnisovas' track record of drafting players is second to none.
Since arriving in Chicago, Karnisovas has had the same visions that he had with Denver, although he has yet to have the same success to this point. Not only have his draft picks not panned out quite yet, but he decided to spend more money in free agency than ever before in hopes of building a championship-caliber roster.
There were times last season when the Bulls looked like a championship team until a rash of injuries derailed that promise. Those injuries have trickled over into this season, and many of the problems they had last year have rolled over into this season. Looking for a big win against an excellent Nuggets team, the Bulls were lifeless from the jump as the Nuggets took care of business 123-106.
It is hard to fathom this score being what it was, especially considering the Bulls held Jokic to just eight points on 4-4 shooting. Had he had a typical night, this team probably hits 140 points, as the Bulls need to do some serious soul-searching before it is too late.
We have discussed this over the last week. With the schedule lightening up, fans will see more of Zach Lavine. That is a good thing in terms of his offense, but the results are not translating right now. LaVine led the team with 21 points despite a rough shooting night from the outside. Chicago needs him to be more consistent if the Bulls are going to be the team they expected to be.
With Lavine getting more action, guys like DeMar DeRozan no longer have to shoulder the load, which could be a good thing. Fans have seen how good he can be when he is the go-to guy, but at the same time, no one can expect him to play at that level again this season. However, maybe DeRozan needs to be the guy going forward, as he was limited to just 16 points and appears out of sync when he doesn't run the offense.
Despite all the negatives, there was one positive to take away, and that came from Patrick Williams. With Ayo Dosunmu and Nikola Vucevic having a rough go from the field, it was up to Williams to step up, and he did, as he finished with 15 points and six rebounds. That has been a common theme over the last five games, as he has gotten much more aggressive and is starting to look like the player the Bulls have hoped for.
Chicago also saw Andre Drummond (13) and Goran Dragic (11) have strong showings off the bench, but apart from them, the second unit has been inconsistent. Ever since Coby White was lost with an injury, the Bulls bench has lacked that secondary scorer to pair with Dragic.
Alex Caruso and Javonte Green have shown the ability to be that guy at times, but both of them were held scoreless yesterday, which is not a good thing. Had it not been for the five points from Dalen Terry and four from Derrick Jones Jr, the Bulls bench would have been a two-man show, and that is not a good thing.
You had to give the Nuggets a ton of credit for their win last night. Not only did they play exceptional defense, but they overcame a poor offensive night from Jokic and didn't miss a beat. A big reason for that was the performance of Porter Jr, who led all scorers with 31 points. Add in the 23 points from Murray, and the Nuggets had two players that scored more points than anyone on the Bulls roster.
Denver also received 13 points from Aaron Gordon, 12 points from Bruce Brown, and 10 from Kentavious Caldwell-Pope as the Nuggets had plenty of support all night long to take down the Bulls. With the loss, Chicago is now two games under .500 which is the lowest mark they have had at any point in the last two seasons.
WINDY CITY CAPS OFF WEEKEND SWEEP OF IOWA
While the Chicago Bulls may be struggling out of the gates, the Windy City Bulls (4-1) are off to a great start and appear to be a different team this season. Looking to cap off the two-game weekend sweep of the Iowa Timberwolves, the Bulls took care of business with a 121-105 victory.
You have to give the Bulls front office some credit, as they moved some of their NBA roster players to Windy City to get some extra work. Terry was one of them, as he not only scored five points against the Nuggets last night, but dropped 14 points and 10 rebounds for Windy City earlier in the day.
He wasn't alone in having a double-double afternoon, as two other players had great games. Carlik Jones led the way with 23 points, adding 10 assists, with Marko Simonovic adding 22 points and 10 boards. Malcolm Hill was another one of those roster guys sent down to Windy City to get some work as he dropped 20 points to give the Bulls three 20-point scorers.

Upgrade Your Account
Unlock premium boards and exclusive features (e.g. ad-free) by upgrading your account today.
Upgrade Now