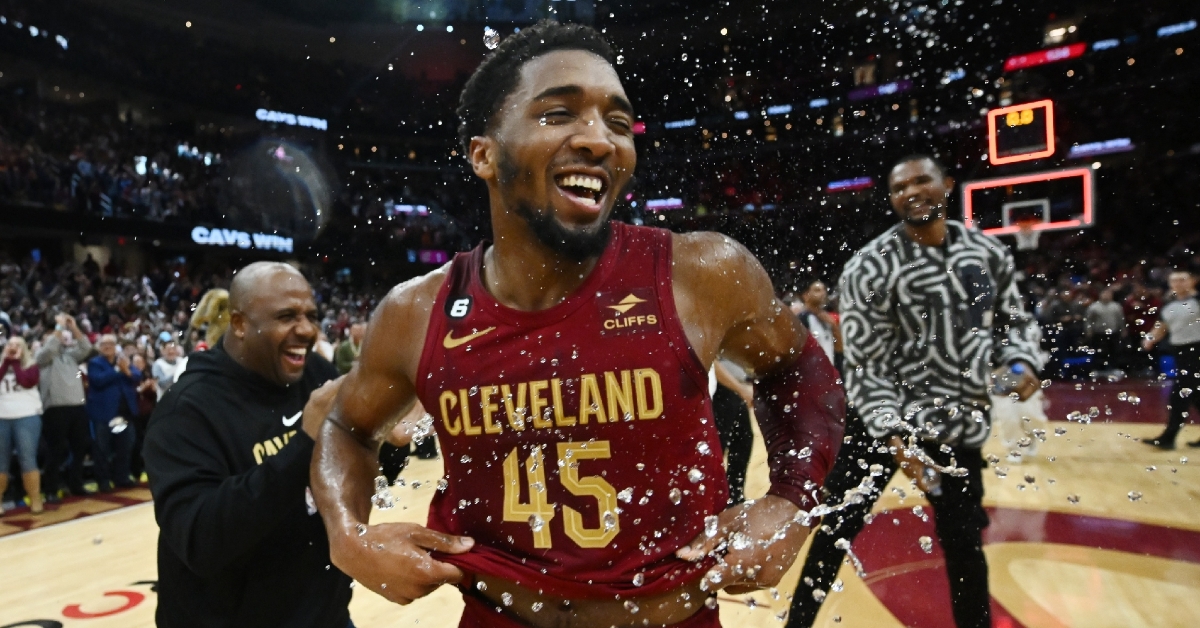 | | |
| --- | --- |
| Mitchell drops 71 points to power Cavs past Bulls in overtime | |
---
| | | |
| --- | --- | --- |
| Tuesday, January 3, 2023, 6:58 AM | | |
CLEVELAND - It only took the Chicago Bulls (16-21) three games to solve the Cleveland Cavaliers (24-14), or at least it looked that way for a while. After dropping their first two meetings against their division rivals, including a heartbreaker on Saturday, the Bulls were back in action Monday as they traveled to Cleveland for another matchup with the Cavs.
Unlike their previous two games, the Bulls were in complete control early, leading 60-39 at one point in the first half and 65-47 at the break. That was until Donovan Mitchell took over in the second half to firmly cement his place in the MVP conversation. Not only did he drop 24 points in the third quarter to bring the Cavs back, but he intentionally missed a free throw late in the game only to get his own rebound and put it back to force overtime. Mitchell was the difference maker all game long as he not only set a franchise record 71 points, but it was the most points ever scored against the Bulls as they fell yet again to Cleveland 145-134 in overtime.
This was a painful pill to swallow, especially considering how easily the Bulls handled things during the first half. DeMar DeRozan put forth another Herculean effort as he finished with a season-high 44 points. You throw in 26 points from Zach Lavine, and 20 points from Nikola Vucevic, and the Big Three for Chicago scored 90 points in the game. Typically, that would be more than enough to win, but when you have a guy on the other team nearly match that on his own, it becomes a problem.
While the Big-three of Chicago was busy doing their thing, Chicago had double-digit outputs from Ayo Dosunmu (11 points) and Patrick Williams (10 points) as all five starters landed in double figures. That equates to better than 110 points, as the Bulls bench needed to give them just a little production. With 24 points, their production was OK, but it still should have been good enough to win had the Bulls defense been able to do its job.
Anytime a player scores 60 points in a game, let alone 70, you have to give them credit, and Mitchell was in a groove that no one could stop. He also benefitted from 25 free throw attempts, of which he made 20. His biggest miss was the intentional one late in the game, where he got his own rebound and put it back. I have no clue what the Bulls were thinking on that play, as they forgot to box out, and it cost them dearly in the end.
While Mitchell was stealing the show and adding 11 assists to his 71 points, Jarrett Allen came up with a massive game after being held to just six points on Saturday. Allen gave Mitchell a lethal inside-out combination to finish with 21 points while picking up eight rebounds. Several rebounds came late in the game when the Bulls could have used them to ice the game.
Cleveland saw Caris Lavert and Kevin Love add double-figure games to the starting lineup, but they were much quieter than on Saturday, but it didn't matter in the end. Mitchell played a massive role in why it didn't matter, but so did Cedi Osman off the bench, as his scoring ability was tremendous for Cleveland. Not only did he connect for four triples, but his 19 points led all bench scorers as he nearly outscored the entire second unit of the Bulls by himself.
Apart from him, the second unit of Cleveland was quiet, but no one cared with Mitchell playing the way he did. At five games under .500, there are a lot of frustrations building up as this team expected to be better than their record shows. Fortunately, there is a lot of season left, and the bottom half of the Eastern Conference is not that good.
Currently, the Bulls are on the outside of the playoff picture and looking in, but they are just .5 games out of the final play-in spot and just one game out of the ninth seed. All it will take is for a brief winning streak to make up some of that ground and put them in a spot to make some noise in the second half if they can clean up a lot of their mistakes.