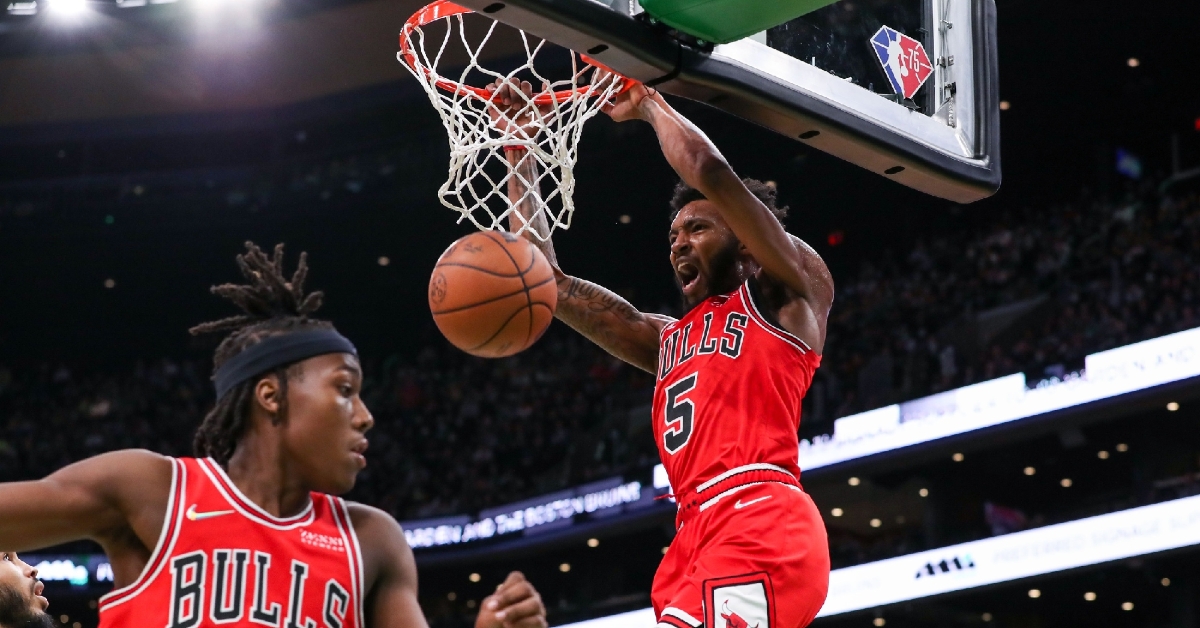 | | |
| --- | --- |
| NBA's Best record: Bulls complete historic comeback over Celtics | |
---
| | | |
| --- | --- | --- |
| Tuesday, November 2, 2021, 10:56 AM | | |
BOSTON – There isn't much not to like about the Chicago Bulls (6-1) right now. Not only have they gotten off to their best start in a long time, but they continue to play inspired basketball, staying unbeaten on the road and owning the league's best record so far. In the middle of what could be a telling stretch for this team, Chicago continues to impress as they are starting to believe in themselves.
Facing off against the Boston Celtics (2-5), who were looking for their first win of the season at home, the Bulls found themselves in a rare position as things were looking bleak much of the night. Led by a trio of 20-point scorers with Jaylen Brown leading the way with 28 and Jayson Tatum and Al Horford each adding 20, Boston was well on their way to their third win of the season and first home victory of the year.
The production from them as well as Marcus Smart and Dennis Schroder adding 16 and 13 of their own helped the Celtics not only hold a 14-point lead after three-quarters of play and led by as much as 19 with 17 minutes to go. Give Chicago credit, as Boston had a chance to bury the Bulls there, but Chicago refused to go away.
Led by DeMar DeRozan and his game-high 37 points, the Bulls managed to weather the storm and closed the deficit to 14, heading into the final 12 minutes. DeRozan wasn't alone in having a big game as Zach Lavine put in 26, while Lonzo Ball (12) and Nikola Vucevic (11) continued to add double-digit figures to help the Bulls attack.
While those four did most of the damage, it was the Bulls bench, in particular Derrick Jones Jr, Alex Caruso, and Ayo Dosunmu, that turned the game around as the Bulls opened the fourth quarter on a 17-2 run to storm in front by a point. Dosunmu has been brought along slowly this season, but Head Coach Billy Donovan loves his makeup and believes he will be a significant piece for the Bulls this season.
He had his coming-out party by not only dropping 14 points off the bench, but doing that on a perfect 6-6 shooting night from the floor. That alone helped the erase that double-digit deficit with ease and saw the Bulls eventually go on a 41-16 run at one point to put the game out of reach. After trailing by 14 after three quarters, the Bulls managed to outscore the Celtics 39-11 in the final quarter to claim a 128-114 victory to improve to 6-1.
A run for the ages
The Bulls have a rich history of great basketball that has been filled with plenty of runs. However, no run may have been more impressive than the one this team put forth the final 16 minutes last night. After being dead in the water for nearly three quarters and trailing by 19 points at one time, Chicago went on a 41-16 run, including a 17-2 run to start the fourth quarter.
That run alone not only gave the Bulls the lead, but it appeared to break the Celtics back in the process. You saw a sense of that happening as the fourth quarter continued with the Bulls outscoring the Celtics by 28 points in that final quarter to take a 14 point deficit and turn it into a 14 point win.
In the process, Chicago became the first team in NBA history to win a game by 14 points after trailing by 14 points entering the fourth quarter. When you look at how long the game has been played, that tells you something, as this is a run that fans may never see again.
?? @DeMar_DeRozan drops a season-high 37 PTS to lead the way for the @chicagobulls! pic.twitter.com/9txkFAqKxf

— NBA (@NBA) November 2, 2021
The hometown kid shows up
When Dosunmu fell to the Bulls in the second round, it was a no-brainer for the team to make him their selection. Known for his scoring ability while playing for the University of Illinois, Dosunmu has been praised for his defensive tenacity and work ethic while his offensive game is coming along slowly.
That shouldn't surprise you when you are a rookie not seeing a ton of minutes, but last night the hometown kid had his coming-out party and finally showed fans what he is capable of. Not only did his strong defensive work continue, but he dropped 14 points, good for third on the team while shooting a perfect 6-6 from the field.
He was a big reason the Bulls got on the run, and his confidence continues to grow with every game. Not only is his confidence growing, but so is the confidence in Donovan when it comes to using him in big moments. Dosunmu had his coming-out party last night, and that is just the beginning.
Ayo Dosunmu was PERFECT off the bench tonight??

The rookie dropped 14 points on 6-6 shooting helping the Bulls beat the Celtics ?? @ayodos_11 pic.twitter.com/PwDmTbguQu

— B/R Hoops (@brhoops) November 2, 2021
Do you believe in the hype yet?
Following the offseason the Bulls had, they went on to have a dominating preseason going a perfect 4-0. That led them to have the highest expectations this organization has had in some time to open the season. Despite their 4-0 start to begin the season, most fans were still not sold on this team as they wanted to see how they would do against better teams.
After losing to the Knicks, there were some questions about how they would hold up with a lack of size and Patrick Williams injuring himself, and the Bulls have responded in a big way. Not only did they cap off that comeback last night, but they defeated the Utah Jazz at home on Saturday and have secured a pair of impressive wins in a row against playoff teams.
There is a lot of season left as the Bulls are around 10% finished with their games, but it is hard to argue how impressive they have been. Going back to preseason and this team is 10-1, with most of their games being controlled from the start. Not only has their offense been lethal, but their defense has continued to improve, which is something they needed to get better at.
Fans may not be fully on board with what is happening right now, but the more this team wins, the more fans will believe this team is back. As far as I'm concerned, this team is for real, they continue to show what they can do, and they will be a force to reckon with as the season goes on.