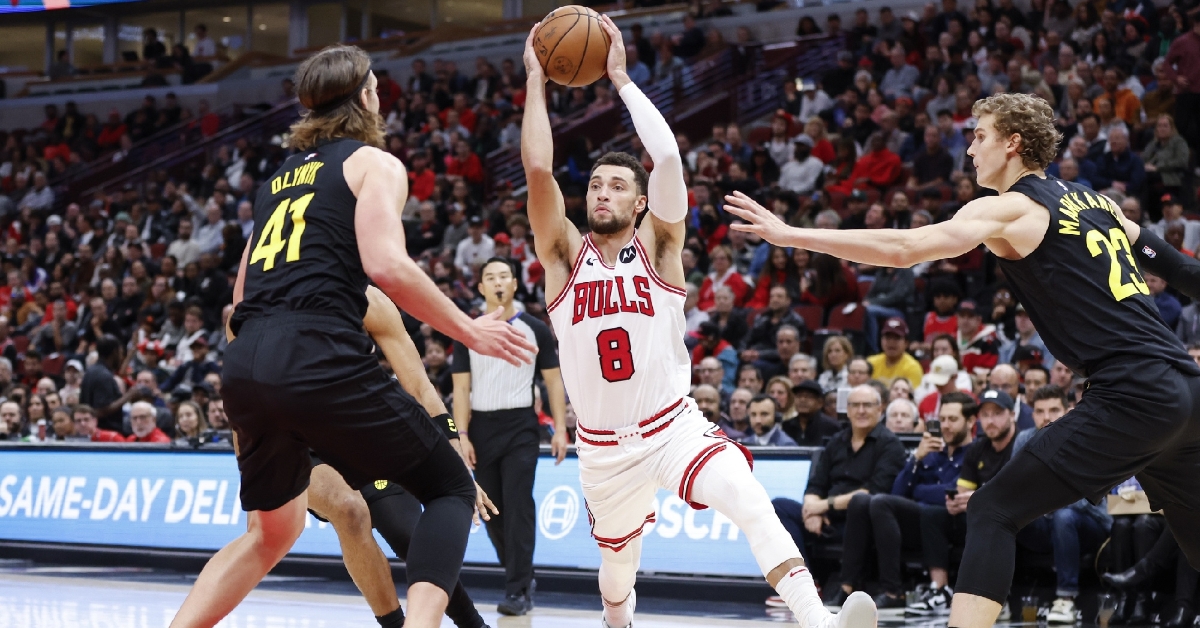 | | |
| --- | --- |
| Offense explodes as Bulls rout Jazz | |
---
CHICAGO - That is more like it. It only took eight games (10%) of the NBA season, but the Chicago Bulls (3-5) offense finally decided to wake up. After watching this team struggle through the motions for seven games and getting off to another terrible start, there were so many question marks surrounding this team.
Then came the Monday against the Utah Jazz (2-6) where the Bulls offense not only came to life, but finally started to look like the offense everyone envisioned they would. Not only did they have eight double-digit scorers, with three of them dropping over 18 points, but the Bulls shot better than 50% from the field at 51.6%, to be exact. To make things better, the Bulls entered the game as the worst three-point shooting team in the league and went out and dropped 18-34 triples in this one, which is better than 52%.
All that played a massive role in their 130-113 win over the Jazz as Chicago hopes this will jumpstart their offense for bigger and better days down the road. Any time you score 130 points offensively, you are doing something right, but it was the way the Bulls scored tonight that has to be encouraging, as they scored at least 29 points in all four quarters. Their 29-point second quarter would've been one of their better outputs this season, but they scored 32 points in both the third and fourth quarters while also dropping a season-high 37 points in the first.
It was in the second and third quarters when the Bulls blew this game wide open as their offense continued to send a message while their defense was locked in. The Bulls allowed 46 combined points in those quarters, with 20 coming in the second and 26 in the third. Considering the Jazz scored more than 60 points in the first and fourth quarters, the Bulls defense over those 24 minutes sealed the victory, as this was a much-needed win for this team.
Anytime you get that type of offensive production, you know you are getting standout performances from many players, but that wasn't the case for Chicago. Sure, Zach Lavine led the way with 24 points, but considering what he can do offensively, this can be looked at as a down game. The same can be said for Demar Derozan who added 21 points as those two were the table setters for the Bulls offense.
Typically, 45 points from those two wouldn't be enough, so where did the rest of the production come from? Look no further than Coby White, who put together his best offensive game of the season with 18 points and seven assists on 7-9 shooting. That included 4-6 from deep, as his three-point shot has been an issue this season. Nikola Vucevic rounded out the starters in double figures with a quiet 10-point eight-rebound game, as his production was much lower than his usual level.
Another area of struggle for the Bulls all season has been their lack of bench scoring, but you can chalk up the bench as the heroes in this one. Javon Carter continued his recent hot streak by adding 12 more points. Andre Drummond also got into the action with a solid 12-point, seven-rebound performance, with Patrick Williams adding 10. For whatever reason, Williams continues to play better off of the bench, and Billy Donovan has finally realized that Williams is a better role player than a starter. The Bulls also got 10 points from Alex Caruso, eight points from Ayo Dosunmu, and even two points from Dalen Terry as everyone was getting involved in this one.
There once was a time when the Jazz were one of the better teams in the Western Conference as Donovan Mitchell and Rudy Gobert led the way. Those days are long gone, as this team has a much different look to them. The new face of the franchise stings as former Chicago Bull Lauri Markkanen continues to have a fantastic career since leaving Chicago. Had the Bulls known how good he would be, it seems very unlikely they wouldn't have resigned him, and after dropping a game-high 29 points, Markkanen continues to make the Bulls regret their decision.
Unlike the Bulls, who were getting production from tons of people, the Jazz had a harder time getting the same production, although several other players played well. Walker Kessler had the best game of anyone on the night, as he not only finished with 15 points but added 15 rebounds in a Gobert-like performance. The Jazz also received 14 points from John Collins and Collin Sexton, who is coming off of the bench this season. That is one of the many puzzling moves made by the new coaching staff in Utah.
Apart from those four, Kelly Olynyk added 13 points off of the bench, but no one else had more than seven points in the game. It is hard to win like that, but the Jazz did their best to make a run late as they knocked down 16 triples themselves in the losing effort.