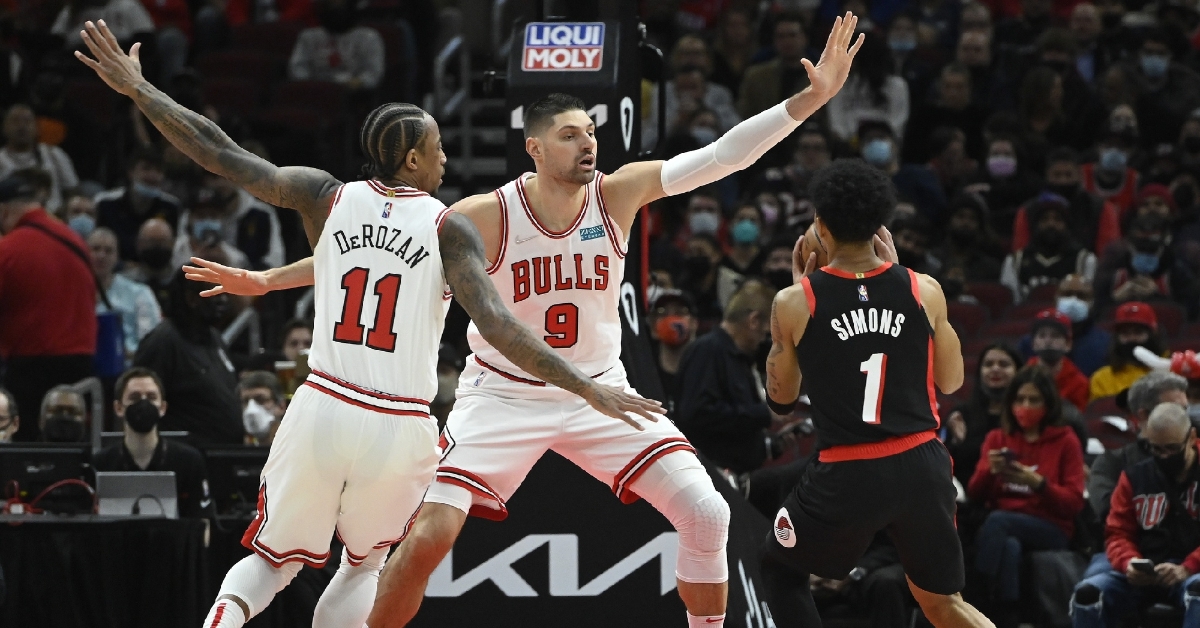 | | |
| --- | --- |
| Offense heats up as Bulls take down Portland | |
---
| | | |
| --- | --- | --- |
| Monday, January 31, 2022, 1:43 PM | | |
CHICAGO – Over the last month, things haven't gone as smoothly as the Chicago Bulls (31-18) would have liked, as wins have been hard to come by. Part of that has been the injury issues the Bulls have dealt with, but you also have to consider a challenging portion of their schedule that has seen Chicago 4-8 over their last 12 games.
Even with things lightening up a little bit over the next few weeks, the Bulls are finding out how hard it is to play shorthanded for as long as they have. With the Portland Trailblazers (21-29) coming to town on Sunday, the Bulls were hoping to get back to their winning ways after a rough showing against San Antonio on Friday.
Early on, things didn't look great as the Bulls defense struggled to keep the Blazers offense in check, allowing 35 first-quarter points and trailing by six after one. Norman Powell was a big reason for that as he had the hot hand for much of the first three quarters, finishing the game with 22 points. Anfernee Simons added 21 points from the starting lineup, with CJ McCollum leading all scorers with 29 points.
Portland also saw Robert Covington (11), and Jusuf Nurkic (11) drop double digits as all five Trailblazers starters added a double-digit stat line. Typically, getting close to 100 points from your starting five presents a tough assignment for any team. That was the case for the Bulls in this one, but they had an offense that was more than up for the challenge.
Led by Nikola Vucevic and his 24 points, 14 rebound night, the Bulls offense erupted in the second quarter as they scored 44 points to take an eight-point lead into the break. Chicago continued to build on their lead in the second half as they outscored Portland by six after the half to pull away late. Joining Vucevic in having a big night was DeMar DeRozan, who put together a quiet, but effective 23 point performance.
Zach Lavine added 20 points of his own to give the Bulls a trio of 20 point scorers themselves, but the play of Javonte Green was crucial. Not known for his offensive numbers, Green had his best game of the season as he finished with 16 points. The Bulls also had plenty of contributions off the bench as their second unit combined for 40 points, with 28 coming from Coby White and Tony Bradly Jr.
White continued his impressive run with 18 points, but it was the 10 point, six rebound effort off the bench from Bradley that gave the Bulls a much-
needed lift. Their efforts alone were crucial in the Bulls comeback attempt as Chicago took some punches, but stood tall for the 130-116 win.
LaVine moving up the ranks
With his three triples in the game, Lavine has passed Scottie Pippen on the Bulls all-time list and now sits in third place in franchise history. With Kirk Heinrich and Ben Gordon the only ones ahead of him, Lavine has the team record in his sights as he has a shot at reaching that if he is extended.
Not only has Lavine accomplished plenty of things since coming to Chicago, but fans are also starting to learn a lot about him this season. Perhaps the most crucial aspect of his game is what he is showing fans this year, as he is no longer the go-to option on this team. DeRozan has taken that over, and rightfully so, but that doesn't bother Lavine.
Sure, Lavine wants to be compensated by the Bulls this offseason and is being paid to score. However, he also wants to win and is willing to sacrifice a lot it pick up wins. Lavine has proven to be a team player this season, and that is a refreshing sight to see with his free agency approaching.
Unsung Heroes
When you have a team dealing with injuries as much as the Bulls have, you have to get contributions from everyone on the roster. For the most part, Chicago will have four or five go-to guys, but at some point, others need to step up. With Derrick Jones Jr, Alex Caruso, and Lonzo Ball out until March at the earliest, the Bulls rotation is missing three crucial pieces that have done a great job this season.
Fortunately for this team, they continue to get production from players you wouldn't expect, which was the case tonight. Green came through with a season-high 16 points and has looked great since returning to the lineup. Bradley Jr gave the Bulls a solid performance off the bench, and if that continues, it will be a huge lift for this team down the stretch.
Time to focus on the deadline
As January comes to a close, teams will start to look at the trade deadline in February. Everyone expects the Bulls to be aggressive come the deadline, but their plans may have changed in recent weeks. In desperate need of front-court help, Chicago appeared destined to land a PF that can give the Bulls some much-needed size and scoring.
However, with Ball missing significant time, the Bulls trade targets are starting to shit. Once viewed as a crucial trade chip, Chicago may be forced to hang onto White as he gives them some great play with extended minutes. That could mean that Williams is now expendable, but that is the last resort for Chicago at this point.
The Bulls will continue to look for front-court help in the coming weeks, but PF may no longer be their top focus. Instead, the Bulls are willing to bring in a backup C, and there are plenty of great options that cost a ton less than some of the PF targets.