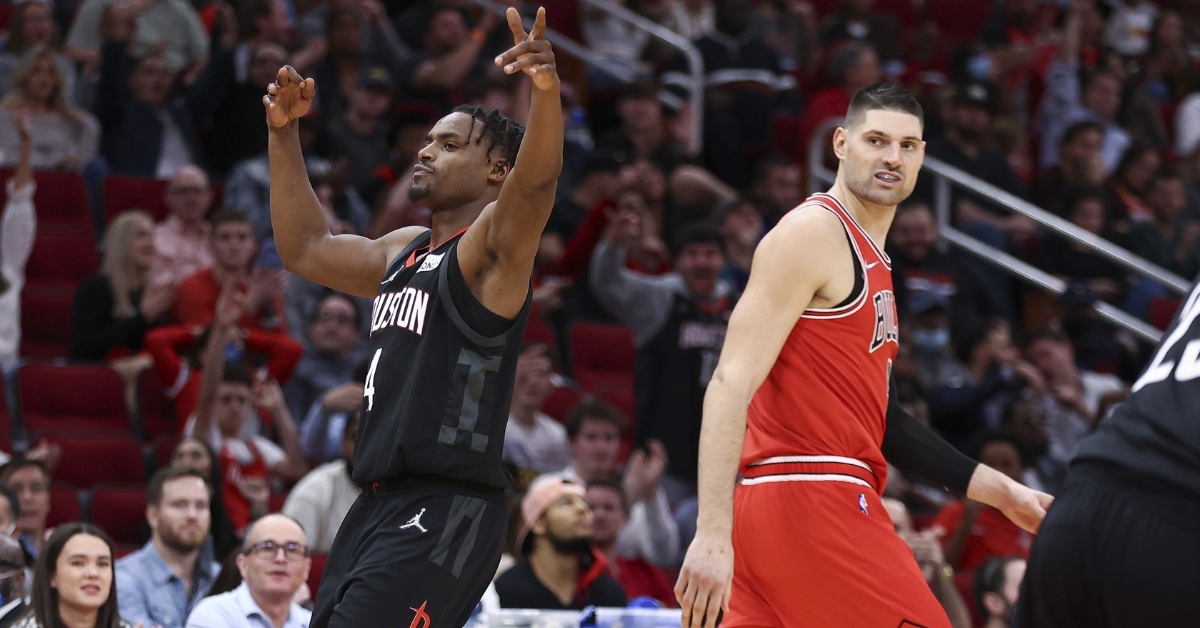 | | |
| --- | --- |
| Rockets catch fire in second half to upset Bulls | |
---
HOUSTON – For the first time this season, the Chicago Bulls (12-7) are facing some adversity. It could be a good thing to go through that adversity now, but as always, it all depends on how you respond during these adverse times on the court. Coming off their worst loss of the season to the Indiana Pacers, Chicago hit the road again as they opened a three-game weekend trip against the Houston Rockets (2-16).
Sporting one of the worst records in the league, this was one of those games Chicago had to have as the Rockets have been laboring since the start of the season. Despite allowing the Rockets to hang around in the first quarter, the Bulls started to open things up in the second and headed into the half with a comfortable nine-point lead.
Zach Lavine continued his hot shooting stretch by dropping a game-high 28 points as he paced the Bulls offense throughout. His game was especially as DeMar DeRozan suffered a rare rough shooting night and struggled to finish with 17 points. That is why it is crucial to have more than one go-to guy, and Lonzo Ball proved to be the other go-to player in this one connecting for 17 first-half points to jumpstart the Bulls offense.
Unfortunately, he had just two points in the second half, which was a common theme for Chicago. Along with those three, Alex Caruso and Nikola Vucevic returned to the lineup, with Caruso dropping 15 points off the bench and Vucevic adding 14 points to go with 13 rebounds. His rebounding ability has been missed in recent games, so getting him back on the floor was crucial.
Holding that nine-point lead after one half of play, most people expected the Bulls to build on that during the second half and eventually pull away for an easy win. Instead, they found out the hard way that you can't take anyone lightly in this league, as the Rockets came out firing in the third quarter. Not only did it seem as if they couldn't miss, but Houston shot 53% from the field in the third and scored 35 points in that quarter.
That was an issue on its own, but the Bulls had other problems as not only did their defense let them down, but their offense picked the worst time to go into a funk and couldn't seem to get out of it. What was a nine-point lead at the half turned into an eight-point deficit for Chicago as the Rockets outscored the Bulls 35-18 in the third and took control of the game.
The sloppy play of Chicago was a big reason for that, but so was Houston's balanced scoring and ball movement, as they were looking like the Rockets from a few years ago. Christian Wood continued to do his thing inside, leading the starters with 16 points and 10 rebounds, but it was the three-point shot that proved to be the biggest difference.
In a league where teams live and die by the three, the Rockets buried 17 three-pointers on 36 attempts to shoot 47% percent from deep. I don't care who you are; when a team hits nearly 50% from beyond the arc, you will not win many games, so to see the Bulls lose by single digits is a positive in itself.
Daniel House Jr. had the hot hand going 4-4 from beyond the arc off the bench and leading all Rockets scorers with 18 points. Kevin Porter Jr. added a pair of threes and 14 points, with Eric Gordon and Jalen Green finishing with 11 and 10 points to round out the scoring for the starters. In total, the Rockets had eight players drop double figures, with four of them coming off the bench, as they were able to build a 10-point fourth-quarter lead and then hold off the Bulls late charge for the 118-113 win at home.
Vucevic and Caruso return
Over the past couple of weeks, the Bulls have been playing shorthanded as Vucevic and Caruso both missed some time. It was a one-game absence with a wrist injury for Caruso, but the Bulls overall tenacity suffered without him on the floor. He not only returned to the team last night, but went back to the bench and provided an excellent lift.
Vucevic, on the other hand, returned to action for the first time in two weeks after being put in the Health and Safety protocols. Although he hasn't been his typical self in terms of scoring this season, Vucevic is an essential piece to this team, especially on the rebounding side.
For a team that lacks height, Vucevic is the one guy they can count on to rebound the basketball and help keep teams from getting second chances on offense. Despite being rusty, which was to be expected, Vucevic went about his business to drop 14 points and secure another double-double as his presence in the rebounding side of things was drastically missed.
Third-quarter woes
There hasn't been much to complain about when it comes to the Bulls this season, but you are starting to see some concerns over the last few games. You wouldn't guess that by their 12-7 record, but this team is just 6-6 in their last 12 games, so things are starting to level off a bit.
A big reason for that happens to be the competition they have played, but then you have losses to both Indiana and Houston, which are games this team needs to win. The Indiana game was one of those throw it in the trash games, given the Bulls were on a back-to-back coming off their west coast trip, but last night there was no excuse to drop this game to Houston.
As good as this team has been, as they are one of just a handful of teams to be ranked in the top 10 both in offensive and defensive efficiency, the third quarter has not been kind to them. That was again the case last night as the Bull let a nine-point halftime lead not only getaway, but trailed by eight on the other side of the quarter.
This wasn't the first time that happened this week, as the Bulls allowed a similar run by the Knicks on Sunday, but they were able to respond and hold on for the win in that game. Whatever happens from halftime to the start of the third is not working for this team. They don't seem to have that same energy and typically don't find it again until the fourth. They are learning the hard way to play a full 48 minutes every game, no matter what the record shows.
Defend the three
The way the NBA is played nowadays is much different from 30 even 20 years ago. Instead of teams having a seven-footer in the paint to pound the ball inside, too, the league has become a three-point shooting contest as teams care more about the three than anything else. Credit Stephen Curry for that, as his style of play, has changed the game of basketball across all levels.
With increased three-point attempts comes higher scoring games as the more three's teams make, the more points they score. Sure, consistent three-point shooting will always be an issue as most teams can't shoot 40% beyond the arc on a given night. However, they will be hard to stop when they catch fire, and the Bulls saw that first hand with the Rockets last night.
Houston has always been known as a great three-point shooting team, but for some reason, they couldn't find their rhythm this season. Last night they not only found their rhythm but knocked down 17 three-pointers while shooting at a near 50% clip. Record aside, you will be hard to beat when you are hitting threes like that.
The Bulls had no answers for the Rockets when they started to heat up, and if you look at how their season has gone, the three-point defense has been an issue. No one will argue that this team is a scrappy bunch that makes you work for everything, but they don't do a great job defending the three. So far, they have been able to get away with it, but if they don't improve on that part of the game, more losses will follow as plenty of good shooting teams will make them pay.