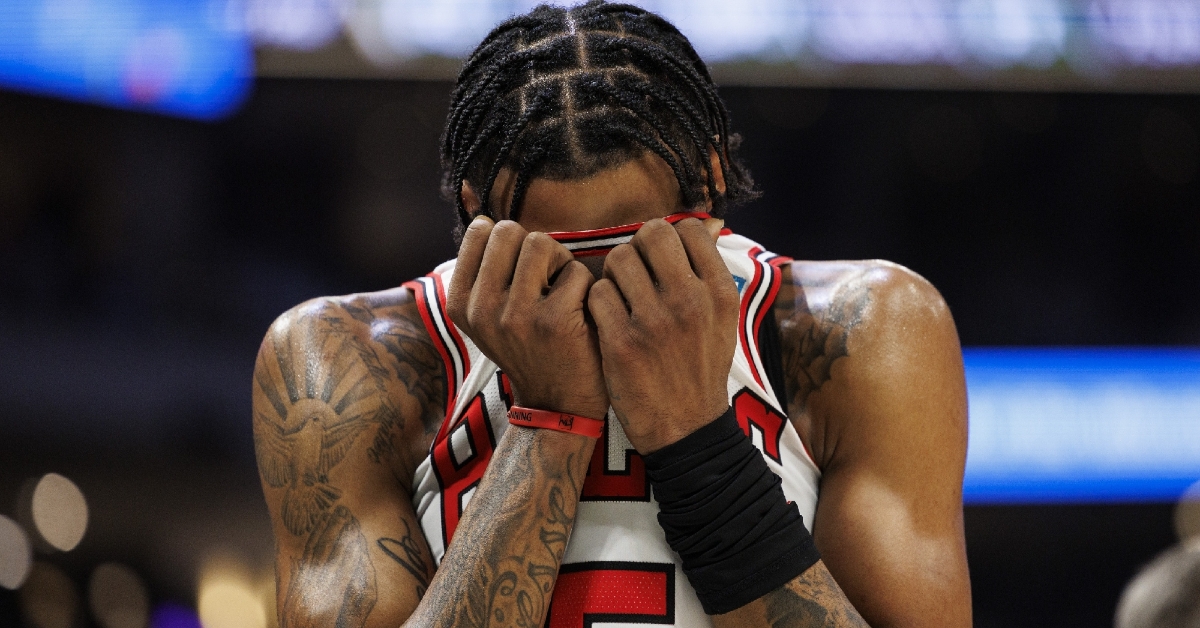 | | |
| --- | --- |
| Season Over: Bulls head to offseason after blowout loss to Bucks | |
---
MILWAUKEE - Well, it was fun while it lasted as the once-promising Bulls season came to an end on Wednesday. What started with a team-leading the East at 38-20 turned into a second-half nightmare as the injuries and lack of consistency proved costly. In turn, the Bulls limped to 8-16 over their final 24 games and landed in the sixth spot once the playoffs began.
To make matters worse, the defending NBA champion Milwaukee Bucks were their first-round opponent and swept the Bulls during the regular season. Going a bit further than that, you have a Bucks team that had the Bulls number this season and are now 22-2 against them over their last 24 games.
After showing signs of life in the first two games, where the Bulls could have led the series 2-0, Chicago returned home tied 1-1 and had a great opportunity in front of them. With Khris Middleton done for the series, many people thought the pieces were falling into place for the Bulls to make a surprising run.
Instead, the Bucks showed their depth and flexed their muscles as Greyson Allen emerged as the real X-factor in this series and led Milwaukee in scoring for two games. That alone took a once competitive series flipped it around as the Bucks won the next three games by an average margin of 21 points, including the 116-100 game five win to put things away.
Not only did the Bulls have to contend with Allen and the rest of the Bucks squad, but they were also put behind the eight ball before game 5 began with Alex Caruso out with a concussion and Zach Lavine played in the health and safety protocols. With Lonzo Ball also out, this made for a daunting task for the Bulls to even keep it close.
Despite a hot start from Patrick Williams, who led the way for Chicago with 23 points, the Bulls were never really in this game, trailing by 18 in the first and by 30 at one point in the first half. A big reason for that was the sudden late series struggles from DeMar DeRozan as Jrue Holiday made it tough on him.
Even with a 5-10 shooting performance, DeRozan finished with just 11 points, which will not cut it. You have to give credit where credit is due, and Nikola Vucevic was the Bulls most consistent and arguably the best player in this series. Despite a down game four, Vucevic bounced back in game five to finish with 19 points and 16 rebounds to show he can still play at an all-star level.
Add in the 17 points from Coby White off the bench and 10 more from Troy Brown Jr, and Chicago had plenty of contributing pieces, but not even contributions to top the Bucks. Milwaukee has shown outstanding balance, poise, and overall depth this entire series, and when you lead by 30 in the first half, you can see why.
Giannis Antetokounmpo had a few games in this series that were pedestrian for him, but the team always goes as he goes. Following a 33-point effort, Giannis and the Bucks feel confident heading into the second round as he continues to play like an MVP. Allen isn't the only shooter the Bucks can deploy off the bench, as Pat Connaughton is another valuable weapon.
After playing ok, but not great in his first four games, Connaughton showed up in a big way on Wednesday as he connected for six triples off the bench and dropped 20 points in the series clincher. Add in 13 more from Allen, and those two created a problem all game long for the Bulls off the bench.
With Giannis continuing to have the games he typically does against the Bulls, you don't need a ton from the rest of the supporting cast. Even with Middleton missing from the starting lineup, Milwaukee saw four of their five starters land in double figures making it nearly impossible for teams to defend them.
Bobby Portis capped a fine first-round series with a 14-point and 17 rebound showing, while Brook Lopez added 12 of his own. Bring Holiday's 10 points and nine assists into the mix, and you can see why the Bucks were able to handle them as easily as they did, eliminating the Bulls in just five games.
Despite the loss, Chicago has to like what they accomplished this season. A team that many felt could contend for the postseason went 46-36 and dealt with more injuries and COVID-related issues than anyone in the league. When healthy, they showed they could be one of the best in the league, but it is hard to keep that rhythm going when you are only fully healthy for three games.
The next step for this Bulls roster will be to add to what they already have in place while fixing their flaws. One of their flaws is a lack of overall frontcourt size where Vucevic could be out the door for younger blood. Chicago must also figure out what to do with Lavine and his contract, as his playoff performance doesn't garner the Supermax deal he is hoping for. With tons of money committed to next year's roster, Arturas Karnisovas and Marc Eversley are going to have to get creative to not only keep this crew together, but to find ways to improve this team.