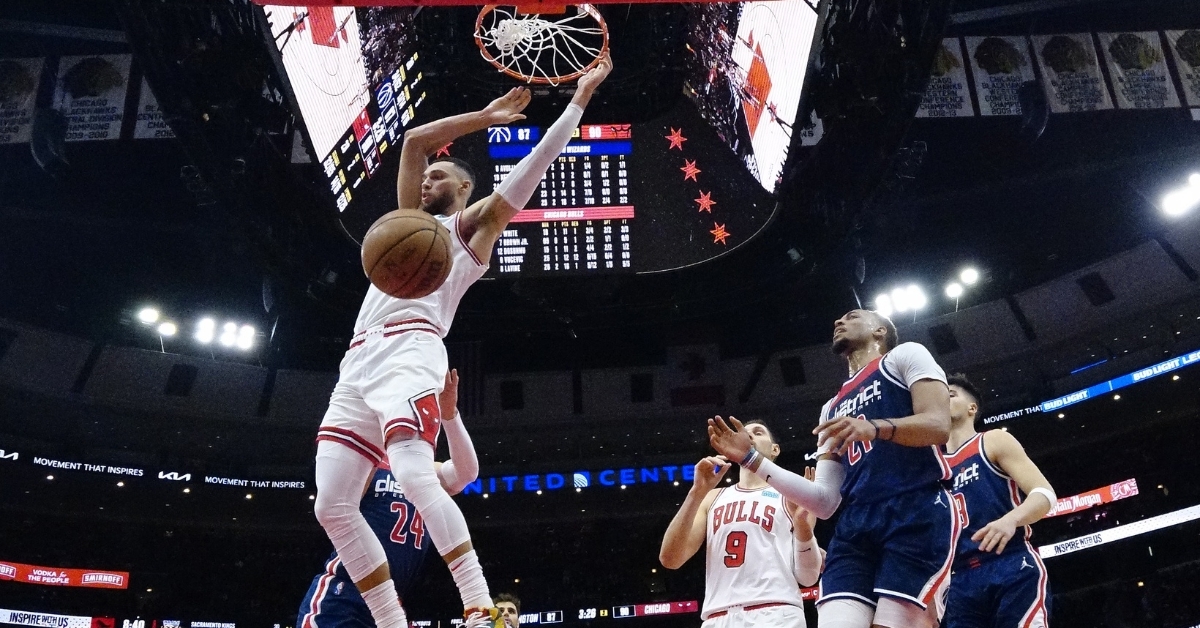 | | |
| --- | --- |
| Bulls News: Season Report Cards: Zach LaVine and Coby White | |
---
| | | |
| --- | --- | --- |
| Thursday, May 5, 2022, 9:47 AM | | |
We continue to trickle down our season in review report card series with the final position of the backcourt known as the shooting guard position. This was one of the positions on the roster the Bulls didn't need to do a ton with as they had an all-star returning.
Even at that, the all-star put together possibly a better season than in 2020-21, which was exactly what this team wanted to see from him. Considering he is entering free agency for the first time, the Bulls have a tough decision to make on him and must decide if he is worth what he is asking.
Heading into this season, Lavine was the unquestioned leader of this team, and rightfully so. All he did since arriving in Chicago is put up great scoring numbers that only got better each season. Despite playing in just 67 games this season and dealing with knee pain much of the second half, he still went on to have another great season.
This year, Lavine took a back seat to DeMar DeRozan and realized he wasn't the only one who had to shoulder the offensive load this season. That may have helped his overall production as he averaged a 24.4 PPG while adding 4.6 RPG and 4.5 APG.
Not to mention he almost pulled off a 90/50/40 season where you shoot 90% from the free-throw line, 50% from the field, and 40% from deep. Although he came up short on that, you have to wonder if his second-half knee pain had something to do with it.
Season Grade A-: Lavine was steady this season, but he saw his scoring slightly dip from the 2020-21 season. That isn't to say he had a down year, but more so because other players on the roster stepped up where he didn't have to shoulder the load.
Entering free agency for the first time and looking for a Supermax contract, the Bulls will be in play for that as they want to keep the band together another season. However, his poor performance in the postseason was not a good look, which is the question the Bulls must face. Can they win with him on this roster?
Taken in the first round three years ago, Coby White has shown plenty of potential, but has been marred with inconsistency, especially in the shooting. Despite that, several teams know his scoring capability, which is why many teams have inquired about him during the trade deadline period.
Across 61 games, 17 starts, White showed the most consistency at any point in his career. His 12.7 PPG was down from last season, but most of his time came on the bench. When in the starting lineup, White gave them nearly 16PPG as he proved he could score either at the PG or SG spots.
He may never be a distributor first, where he averages around 3 APG and 3 RPG, but that is not part of his game. He is a shooter that shot a career-best from the three-point line this season. This season, the Bulls were the top three-point shooting team in terms of percentage, but they took the fewest attempts. When they were forced to take more, their percentage went down, but White was often in the middle of the streaky shooting.
Season Grade B-: I would love to give White a slightly higher grade, but his inconsistency still bothers a lot of Bulls fans. When you are the No. 7 pick in the draft, you are expected to lead and contribute from day one.
Granted, many of his results are not his fault, as he hasn't had a consistent starting role, but he still doesn't show the consistency needed when called upon. Next year will be crucial for White as he could be playing for a future job in Chicago.
The Bulls had a couple of other players see time at SG, but none played enough minutes to garner a season grade.