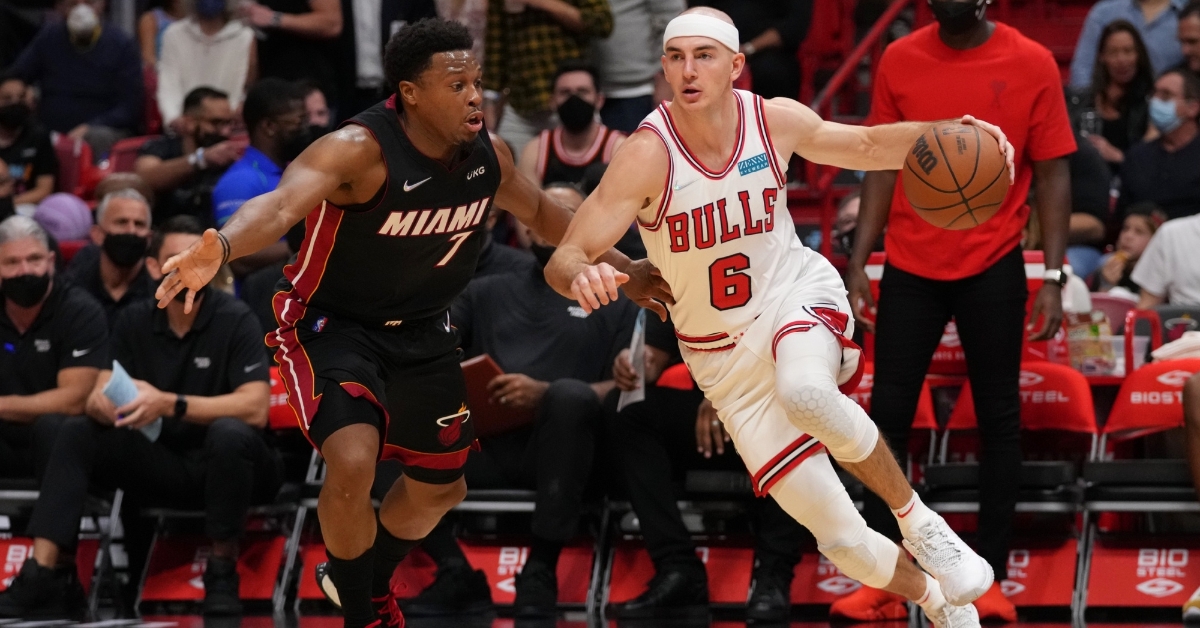 | | |
| --- | --- |
| Short-handed Bulls no match for Heat | |
---
| | | |
| --- | --- | --- |
| Sunday, December 12, 2021, 11:14 AM | | |
MIAMI – At some point, playing shorthanded against good teams is going to expose you. That is exactly what is happening with the Chicago Bulls (17-10) right now as they continue to deal with COVID issues on their roster. Derrick Jones Jr was added to the COVID list following their game against Cleveland the other night.
That meant that the Bulls needed to add yet another player, and Alfonzo McKinnie got the call. The good news was that Alex Caruso came back from a hamstring injury to try and give this team a lift. However, you can't go through an entire season playing shorthanded, especially against a Miami Heat (16-11) who continues to thrive off their defense.
The one thing that the Bulls have going for them right now is that Zach Lavine is playing at the All-Star and MVP level that most people expected him to be at this season. Lavine not only led all scorers with 33 points, but has once again put together a great season that has gone under the radar. A big reason for that has been the emergence of DeMar DeRozan taking the pressure off him, but right now, it is Lavine's time to shine, and he is doing well.
Outside of LaVine, scoring has been an issue for this team, which continued to be the case last night. Lonzo Ball chipped in with 15 points, but didn't shoot the ball particularly well throughout the game. Troy Brown Jr made his first start of the season in place of Jones Jr and did what he could with 10 points, while Nikola Vucevic capped off the double-digit scorers with 10 points. Vucevic had a horrible night shooting, which has been a concern lately, especially after it appeared he was ready to turn things around for good.
For Miami, they too were missing some pieces, and both happen to be their best players on the roster. Former Bull and perennial All-Star Jimmy Butler was inactive for the game, as was their big man Bam Adebayo who is out after having surgery on his thumb. Despite that, the Heat have plenty of weapons across the board and continue to show how deep their roster truly is.
Sharp shooting Duncan Robinson put the team on his back, connecting for five triples and leading the Heat with 26 points. Dewayne Dedmon added 20 points in what was an excellent game for him while rising star Tyler Herro continues to go about his business off the bench connecting for 17 points to give Miami some excellent scoring from their second unit.
Add in 16 points from one of the steals of the offseason in Kyle Lowry and 10 from KZ Okpala, and the Heat had a plethora of scoring options that the Bulls not only had to defend but had a tough time doing it. All in all, it was the Heat continuing to expose the Bulls right now as they made short work of Chicago 118-92.
Just tread water
The last few games have seen the Bulls go from one of the best teams in the East to looking like the Jim Boylen era Bulls a few years ago. Billy Donovan will not make excuses for this team, but the bottom line is this team is hampered with a lack of depth right now. President Arturas Karnisovas and GM Marc Eversley did a great job rebuilding this roster and adding key pieces to make them contenders again.
The problem with that is they spent a lot of money making this team really only eight players deep with six or seven bench players who seldom contribute. Given that the Bulls are missing seven players right now, six due to NBA Health and Safety issues, the players who seldomly play are being forced to step up, and the end result hasn't been good lately.
Chicago will be a good team this season, but they will only be as good as their stars can take them. With a lack of stars right now, this team is average at best, so their goal should be to tread water at this point while they hope and pray players come back soon.
That Heat Defense
Say what you want about the Bulls not having many options right now, but give the Heat some credit for what they thrive on philosophically speaking. Even with a full roster a few weeks ago during their first meeting, the offense was tough to come by for Chicago as the Heat defense gave them fits.
In a league where offense is king, the Heat continue to turn back the clock and focus on defense before worrying about their offense. Sure, they have plenty of weapons on their team that can beat you, but they also make you work for every possession, and teams seldomly score more than 108 points off them.
There is a reason why Erik Spoelstra and his group continue to have one of the best defenses in the league and a reason why they win a lot of games. This is a team built for the postseason, and it will be their defense that gets them farther than most.
Learn from Miami
From a defensive side of things, the Bulls are a great team but haven't shown that lately, given the missing pieces. Offensively speaking, Chicago is built around three players, while this team typically has eight players they can count on during a game. As good as those eight players are, this Bulls team still lacks overall depth, and that is becoming an issue.
As soon as the season started, the Bulls lack of overall size was going to be this team's Achilles heel, which has proven to be an issue thus far. However, Chicago has done a great job getting by with that lack of size and has done better than most people expected regarding rebounding.
However, the second unit or bench mob as they call themselves has been a disappointment this season, and that stems from spending so much money on players like Caruso, DeRozan, and Ball to improve this roster. After having one of the best benches in terms of offensive production last season, the Bulls have gone backward as they rank near the bottom of the league in overall bench production.
Ayo Dosunmu, Jones Jr, and White are the leading players who contribute off the bench, but even White has struggled this season as their numbers would look better if he would be himself. Dosunmu was also out yesterday, so that put Chicago down another piece. Across from them is a Miami Heat team who may not only have the deepest roster in the league, but the best bench in the game as they have plenty of players they can count on.
Pat Riley has done a phenomenal job tearing down and rebuilding this roster to make what it was, and that has put them back near the top of the East once again. The Bulls front office can learn a thing or two from Miami as it not only takes stars to win in this league, but it takes a solid supporting cast also, and the Bulls need more out of their supporting cast.