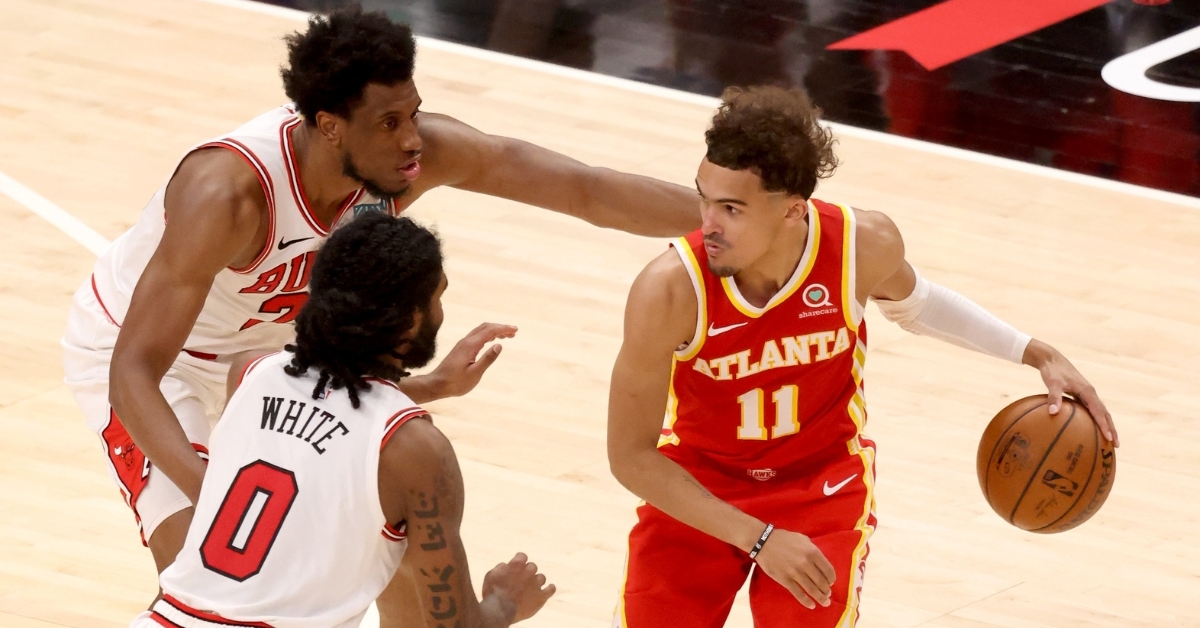 | | |
| --- | --- |
| Takeaways from Bulls loss at Hawks | |
---
It is hard enough playing a game without your leading scorer. When your second-leading scorer is a late scratch due to an abdomen injury, it makes things that much tougher, especially against a playoff-caliber team like Atlanta.
That is precisely what the Bulls were up against last night as Nikola Vucevic was a late scratch joining Zach Lavine as unavailable players. Not only that, both average more than 24 PPG and are a major part of the Bulls offense. Facing an Atlanta team that is not only led by Trae Young but is one of the hotter teams since March 1, the Bulls knew they needed to bring their A-game if they wanted a shot.
For the most part, the Bulls did more than hold their own as Thaddeus Young, and his 20 points led them as he nearly posted a triple-double.
Rookie Patrick Williams put together a strong night of his own, dropping 19 points which were the most for him in over a month. Chicago not only held a nine-point halftime lead but managed to hang with the Hawks much of the contest. That was until Young went off in the second half, finishing with a game-high 33 as Chicago ran out of gas down the stretch falling 108-97.
Coming out party for Williams
When the Bulls chose to make Williams the fourth pick in the NBA draft, many questions were surrounding that pick. Those questions have been answered as Williams is going to be a great player in this league. While his scoring may be way down compared to earlier in the season, Williams does all the little things you like to see in a player, including matching up with some of the better players on defense.
Williams is not only physical but also an athletic freak who will only get better with experience. Keep in mind, he is just 19 years old and wasn't a starter at the NCAA level, so he is getting his first real look at a starting rotation gig. His scoring numbers may be a bit down, but last night he showed everyone how good he could be when he gets aggressive. The Bulls will need more offensive from him over the next few weeks, especially if other players remain out.
P Will came out in attack mode! ?? pic.twitter.com/Wa2KnMtWSa

— Chicago Bulls (@chicagobulls) May 2, 2021
A tale of two halves
The Bulls don't like playing in Atlanta this season as they have been a team of two halves. In their last two meetings, one on April 9 and the once again last night, Chicago has come out with guns a-blazing in the first half outscoring the Hawks 129-107 in those first 48 minutes.
For a team who struggles to beat good teams for some reason, they certainly know how to play against Atlanta, at least in the first half when they look like a playoff team themselves. Whatever the Bulls do in the locker room during the half certainly doesn't work as they look like a completely different team.
Not only does their offense go south as they were held to just 34 second-half points last night, but in their last two matchups, Atlanta has outscored them 121-76 in the second half. That is a big reason why the Bulls dropped both matchups in Atlanta instead of potentially winning one, if not both.
Whatever adjustments the Hawks make at halftime work for them, and the Bulls can't seem to figure things out after outplaying them in the first half.
Perhaps having Vucevic on the floor last night may have made a difference, but the bottom line is this team doesn't know how to close games. Until they figure that out, these are the results that will continue to happen and something Billy Donovan wants to change next season.
Time to face the harsh reality
At 26-38, the Bulls are still mathematically alive in the postseason hunt, but it isn't going to be easy. Not only are the Bulls now 3.5 games behind Washington, who is showing no signs of cooling off, but since the deadline, the Bulls have gone 7-14 and don't look anything close to a playoff team.
With eight games remaining on their schedule, Chicago still has an outside shot at getting in, but it won't be easy. If I were to guess, the Bulls would have to go at worst 6-2 down the stretch and hope the Wizards win three or less down the stretch. Given the unknown status of Lavine, that will be a tall task, so I don't think there will be playoff basketball in Chicago this season.
If that is indeed the case, look for the Bulls to start resting some of their key players down the stretch and the potential to look at players for the future. Guys like Lavine, Vucevic, Coby White, and Williams will all be around next season, but the rest of this roster is up for grabs, especially for guys like Daniel Theis, Lauri Markkanen, and Young.
Don't expect Chicago to go into tank mode until they are eliminated from playoff contention and given, the way they have played that might come sooner than you think. This team has a ton of young talent, but the keyword is young as they are still learning how to play together. This season has been a great learning experience for this group as they have shown the ability to compete with anyone while also showing the growing pains you would expect. Cheers to next season with some new faces and a group hungrier than ever to win.
Tough one on the road. Back at home Monday. pic.twitter.com/kH7oL5pHaD

— Chicago Bulls (@chicagobulls) May 2, 2021

Upgrade Your Account
Unlock premium boards and exclusive features (e.g. ad-free) by upgrading your account today.
Upgrade Now