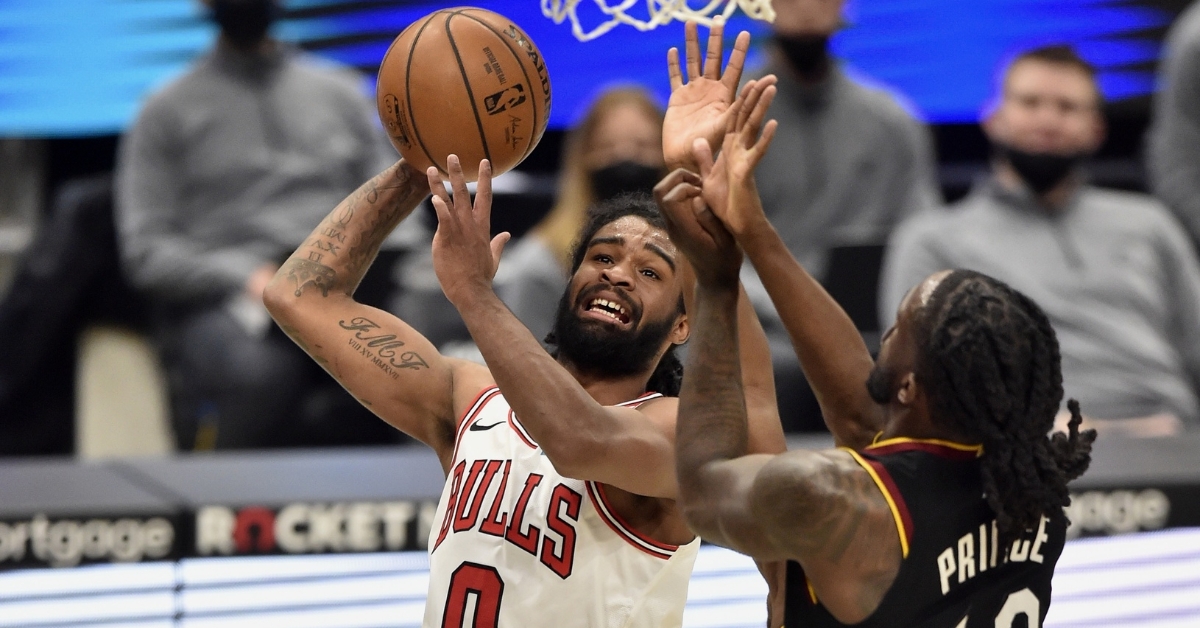 | | |
| --- | --- |
| Takeaways from Bulls loss to Cavaliers | |
---
| | | |
| --- | --- | --- |
| Thursday, April 22, 2021, 9:55 AM | | |
The Bulls lost more than a game on Wednesday night as the Cleveland Cavaliers embarrassed them 121-105. Not only did Chicago lose that game, but their pride took a serious hit, as did their playoff hopes in the process. Things have not been going well in Chicago as they continue to fade in the standings, but on the bright side, Zach Lavine will be returning soon.
Chicago really could have used Lavine's services last night as Lauri Markkanen and his 16 points led them as Nikola Vucevic was held to just nine points, ending a streak of 58 consecutive double-digit scoring games. Add that in with a first-quarter that saw the Bulls not only score just 12 points but trail 34-12 after that first quarter, and this game was over almost as soon as it started.
It is a miracle Chicago was able to make this game as close as it was, even though 16 points isn't that close. These are the kind of games that you throw away and forget about as Chicago has a quick turnaround with Charlotte later today as they look to get back on track.
Down to 12th position
As mentioned above, this loss was more than just a loss for Chicago as their playoff chances took a serious hit. Not only are they battling for the final postseason spot with Toronto, but Washington has suddenly caught fire-throwing themselves into the mix also. After winning their sixth straight game last night and Toronto coming away with a win over Brooklyn, Chicago now sits on the outside looking in as they are in the 12th position.
Remember all that talk a month ago about the Bulls having a shot at the sixth seed? Well, that talk is long gone as they are now seven games out of that spot and practically need to run the table to have a shot at avoiding the play-in tourney at this point. Fortunately for them, they are only one game behind both Washington and Toronto at this point, so they are still very much alive.
Not to mention the Bulls won the season series against both clubs, which is a real advantage during the final weeks of the regular season. Washington is playing their best basketball of the season while Chicago is not, and Toronto is getting healthy again. Surely you wouldn't think that this will continue. With Lavine set to return in about a week, Chicago hopes to remain close and then hopefully finish with a nice push to close out the year.
How will their recent play affect their future?
When the Bulls added Vucevic to the roster, many people felt it was the steppingstone they needed to be big players again. It gave Chicago two all-star caliber players to build around who are both locked up for two more seasons. You would think that would be attractive to pending free agents who are looking for a payday.
Given how young the Bulls roster is, Chicago will be an intriguing place for some of these free agents, especially guys like Lonzo Ball, who could be viewed as the missing link. However, how will the recent stretch of play affect the Bulls pursuit of big names next offseason?
When Chicago traded for Vucevic, I don't think anyone expected this team to struggle as much as they have. They are not playing like a playoff team and instead are playing like a rebuilding team. Chicago has more talent than their record shows, and they are a better team than what they have shown the past month. Could they be further away from contention than the front office thought? That is a question they will have to answer this offseason and one they will have to discuss with any free agent looking to come to Chicago next season.
Vucevic's scoring run comes to an end
It took 58 games, but Vucevic was finally held to single digits in the scoring column. That was a streak that started the final game for Orlando last season and went the entire duration of this season until last night. It was the longest double-digit scoring streak in the NBA, which is impressive when you think about some of the elite scorers in the game.
Vucevic is a great player but is often overlooked as to how good he is. A big reason for that was the team he was playing for in Orlando. They haven't been a legitimate playoff contender for quite some time, and unless you live in the Orlando area or see him on the national stage, Vucevic is vastly underrated.
Put him in a big market like Chicago, and he finally gets the recognition he deserves. Not only is he great on defense, but he is excellent with the ball in his hands, and any offense can run through him. He has the size and tough to go inside with a terrific outside shot to knock down threes. If Lavine weren't in Chicago, he would be the primary option and still could be when Lavine touches the floor.
Vucevic will be a critical piece for Chicago over the next several seasons, and it will be fun to watch him and Lavine play side by side if you are a Bulls fan. The next step is finding the right pieces to surround both, and this team will be back in the title conversation in no time.