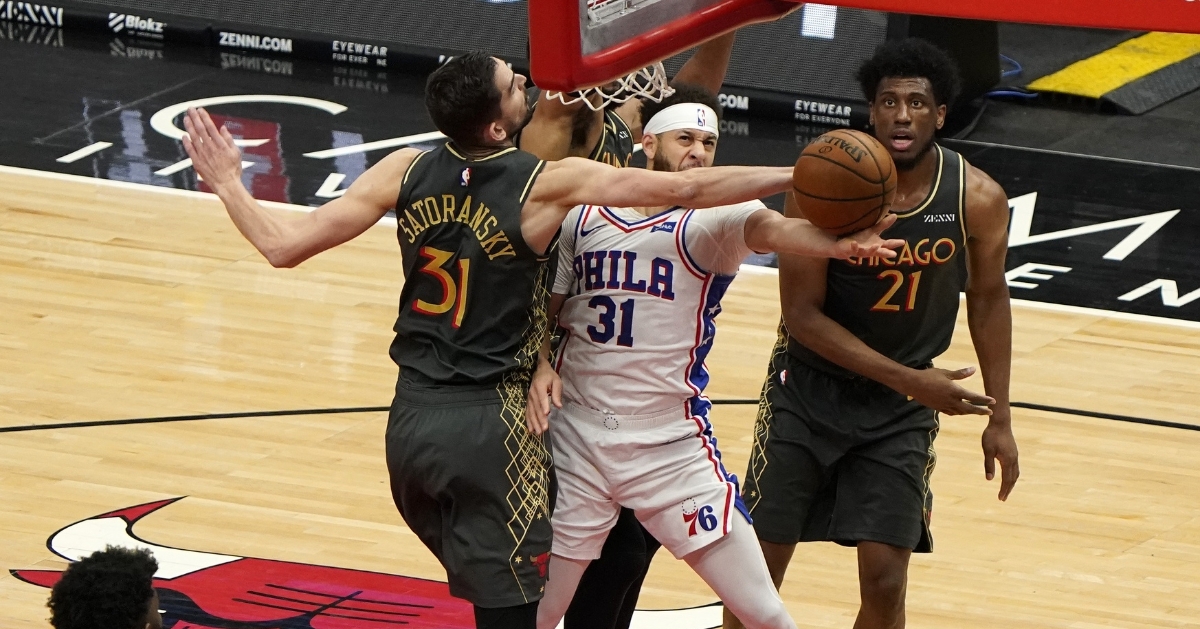 | | |
| --- | --- |
| Takeaways from Bulls loss to Sixers | |
---
Chicago received some good news before their game on Monday against Philadelphia as Zach Lavine rejoined the team after missing time in the Heath and Safety protocols. The bad news, Lavine was unavailable and will most likely not be ready until Thursday at the earliest.
That meant that the Bulls would be taking on one of the best in the East without him and Nikola Vucevic, who missed his second straight game with an injury. Already a challenging task ahead of them, down those two players made things that much more difficult, and Chicago suffered the consequences.
In their previous meeting, Joel Embiid had a career night and showed everyone why he should be in the MVP conversation for this season. Chicago did a great job keeping him in check tonight, holding him to just 13 points and 10 rebounds. Philadelphia was able to pick up his slack with Tobias Harris leading his team with 21 points and the suddenly hot Seth Curry dropping 20 to pace the offense and build a considerable lead.
The Bulls continue to see great performances from Coby White as he led all scorers with 23 points. However, when he is the only one on the team with more than 14, it makes it that much harder to win as the Sixers continue to push the Bulls further down in the standings following the 106-94 win.
You can't win if you can't score
The Chicago Bulls have one of the better offensive teams this season but have struggled defensively. They know that if they want to be a playoff team, they need to get better on defense and that all starts with the young players buying into the system.
Chicago has gotten much better at defense over the past month allowing nearly seven fewer points per game than they did the first half of the season. You would think that would lead to more wins given how talented the offense is, but the reality is, wins haven't followed. A big reason for that is the loss of Lavine, as Chicago is missing his 27 PPG.
His absence has crippled the teams scoring, and we have seen them struggle to hit 100 points consistently since going down. As good as the Bulls defense has been of late, it is hard to win when you can't score, as 94 points isn't going to cut it. Sure, you may get some wins here and there when you are held under 100 but not against a team like Philadelphia. This is all part of the growing process for this young team, as Billy Donovan has a lot to work on this offseason with his group.
Another comeback effort falls short
At one point in the first half, the Bulls found themselves down by 22 and even trailed by 20 after three-quarters of play. They could have packed it in at that point, but Chicago is at least showing more fight than in seasons past. Even as the losses continue to pile up, the Bulls are showing growth by not giving up until the end.
Their tenacity and refusal to back down helped this team climb out of a 20-point deficit and slowly chip away to get things within three possessions before eventually losing by 12. That may not seem like anything special, but it is certainly a positive to take away, especially when you look at how things played out the first three quarters.
With every loss from here on out, the Bulls are learning a lot about themselves, and the one thing they are learning is how tough a group they are. They will not quit or give up for anyone, and if there is time left on that clock, they will continue to give their best effort on the floor most nights.
Magic number down to 2
The Bulls loss coupled with another Washington win not only has them a season-worst 13 games under .500 but now has them four games out of the final playoff spot with just seven to go. What is even more impressive, Washington is less than two games out of the eighth seed as they continue to be one of the hottest teams in the East.
At this point, Chicago needs to go 7-0 if they want any shot at a playoff berth this season, and even if they do that, it may not be good enough. The magic number is two for this team, meaning if the Bulls lose two games, Washington wins two games or any combination of the two, the Bulls will be eliminated from playoff contention once again.
While that may not be a surprise, it certainly is a kick to the stomach when you look at the start they got off to this season. Injuries certainly haven't helped them the second half of the season, and either has their schedule. Excuses aside, Chicago hasn't done enough to capitalize on the chances and opportunities they were given, so they have no one to blame but themselves.