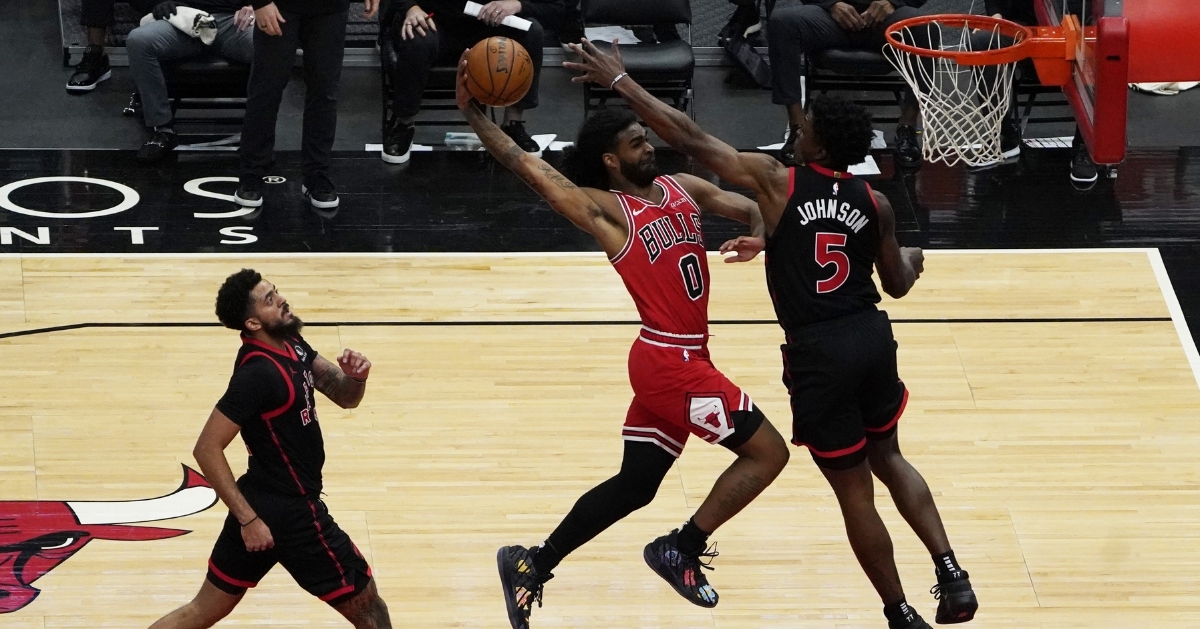 | | |
| --- | --- |
| Takeaways from Bulls win over Raptors | |
---
| | | |
| --- | --- | --- |
| Friday, May 14, 2021, 4:31 PM | | |
Chicago is in a win or go home mode at this point in the season as they need to win out for a shot at the postseason. They took care of business last night by disposing of the Raptors 114-102, but even if they continue to win, they still need some outside help.
With Toronto eliminated from playoff contention, Nick Nurse has started to rest some of his stars in hopes of getting a better draft pick this summer. That has allowed him to see other players, including Stanley Johnson, who emerged as a star last night. The 2015 first-round pick entered the game averaging less than four points per contest, and then went on to have a career night.
His 35-point 10 rebound performance not only led the team but led all scorers in the game as he single-handedly kept the Raptors afloat. Thankfully for the Bulls, they got plenty of support from their entire roster, with Zach Lavine continuing to do his thing with a team-high 24 points to pace the offense. While Coby White and Nikola Vucevic added 17 and 16 points in their own right, it was Lauri Markkanen and his 20 points off the bench stealing the show, as that was one of his best efforts in quite some time.
Staying alive for one more day
Chicago doesn't control their destiny at this point, but they still can. If the Bulls win the rest of their games, they put pressure on Washington to do the same. Beating Toronto closes the gap to just two games with two games left to play.
The Bulls played like a playoff team last night and have played like their season has been on the line the past two weeks. They have now won four of their last five to remain in the hunt as Washington has cooled off just slightly. The problem is, the Bulls dug themselves such a big hole that it may be too big to climb out of.
If Chicago can keep winning, they give the fans not only something to cheer about but give themselves hope at a miracle. Of course, should Washington win tonight, that hope goes out the window, but the Bulls know they are still alive for the time being.
Coby White is more than just a shooter
When the season started back in December, Billy Donovan named White the starting point guard for this team. For the most part, White was producing on the floor averaging close to 16 ppg as a starter. His shooting ability was a key factor for this team, but that was all he was about in the early part of the season.
While his shooting continued to be his strong suit, White lacked the consistent decision-making ability you would like to see in your PG. He was also a liability on defense at times, which forced Donovan's hand to move him to the bench for a month. As soon as that move was made, White saw his numbers plummet, but it may have been the best thing for him and his development.
As the injuries continued to pile up for this team, White found himself back in the starting lineup, where his scoring average is nearly two points higher than before. He is also cutting down on turnovers and limiting the mistakes to look more like a point guard by the minute.
His shooting continues to be his greatest attribute, but White is starting to show Chicago there is way more to his game than just shooting. He can put the ball on the floor and get to the rim, and he is proving he can lead an offense and now is showing us some hops that no one expected out of him. White deserves a ton of credit for the work he has put in to get better.
COME ON, CLEVELAND
The Bulls have one game in hand over the Wizards, with that game happening Saturday night. Washington will play tonight, and then both teams will play on Sunday with hopefully a postseason spot on the line. Chicago has the tougher of the two games down the stretch and could use a little help tonight to keep hope alive.
That help will have to come from Cleveland as they are set to take on Washington. Record aside, the Cavaliers have played better ball as of late and have at least been a more competitive team. They even have a win against these Bulls not long ago, so Washington better not take them lightly.