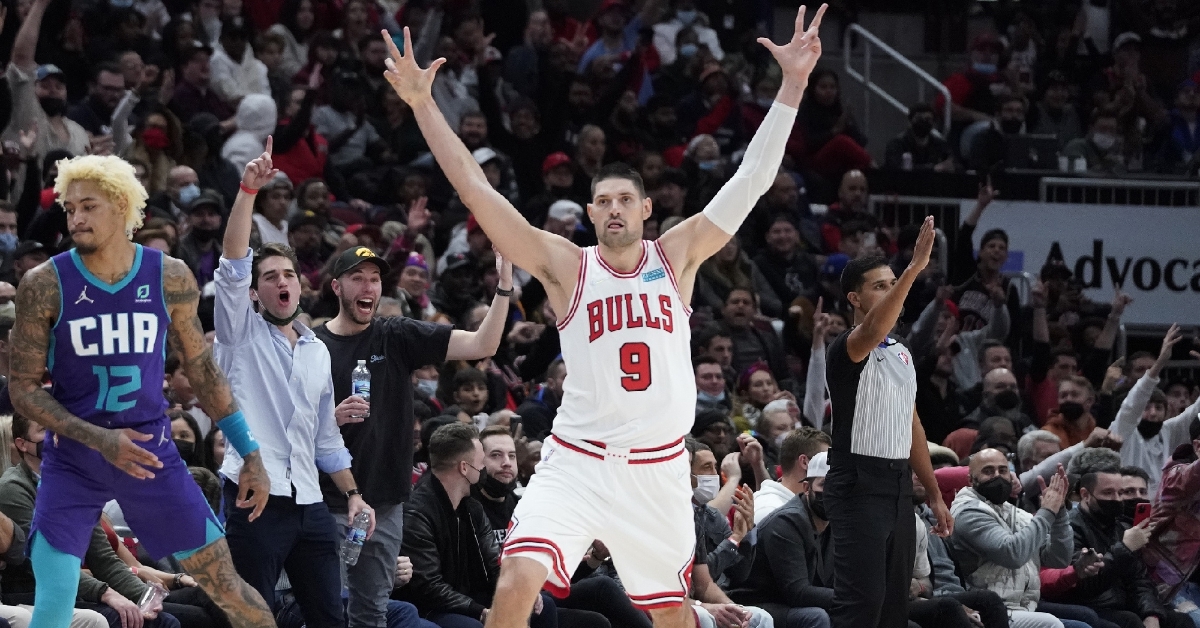 | | |
| --- | --- |
| Bulls News: Vucevic drops 30 in impressive win over Hornets | |
---
| | | |
| --- | --- | --- |
| Tuesday, November 30, 2021, 9:59 AM | | |
CHICAGO – The Chicago Bulls (14-8) haven't been winning at the clip they would like to recently, but that doesn't mean things are bad. After going through a brutal portion of their schedule filled with challenging teams and few off days, things are going to lighten up for the Bulls this week as they will get some much-needed rest.
Despite a lighter load in terms of the scheduling, Chicago will still see some fierce competition as three of the best teams in the Eastern Conference will look to stop the Bulls this week. That started with the surprising Charlotte Hornets (13-10), who continue to play winning basketball and play better than what many expected from them this season.
Led by Terry Rozier and his game-high 31 points, the Hornets were then up to the task of topping the Bulls as they went punch for punch with them throughout the duration of the first half. Rozier was on fire from deep, going 6-7 and collecting his ninth game of at least 20 points this season. He wasn't alone in having a big game with Gordon Hayward adding 22 points, LaMelo Ball and Kelly Oubre grabbing 18, and P.J. Washington knocking down five triples to finish with 15.
Those five did a great job of keeping things close throughout the first half, but once again, the Bulls had more than enough firepower to get by. Looking to snap out of what has been a season-long shooting struggle, Nikola Vucevic picked a great time to have his best outing of the season, dropping a team-high 30 points to go with 14 rebounds. Not only that, he was a perfect 6-6 from deep and helped cap off a 9-0 run to end the first half to give the Bulls an 11 point halftime lead.
At the time, that lead looked like it would be more than enough with Zach Lavine and DeMar DeRozan going about their business, adding 25 and 28 points to pair with Vucevic. Lonzo Ball (16) and Alex Caruso (14) also played significant roles as the Bulls needed every bit of help in the fourth quarter. Despite holding a 19-point advantage after three quarters, it was the Hornets who came out firing in the fourth as Rozier, Hayward, and LaMelo Ball would not go away quietly.
Not only that, they helped spark a huge run that took what was a 19-point Bulls lead and turned it into a four-point advantage with over seven minutes to go. In desperate need of some offense, the Bulls went with their big-3 as they were able to get on a 13-4 run to all but ice the game and picked up another home win against a good Eastern Conference foe 133-119.
A family reunion
There was a family reunion on the court Monday night as Lonzo and his little brother LaMelo went toe-toe yet again. Despite having a longer career thus far, one could argue that LaMelo has put up better numbers than Lonzo, as he has proven to be a more consistent scorer. Lonzo is more of the facilitator and game manager, but all that matters, in the end, is wins.
From a point side of things, LaMelo got the better of Lonzo, dropping 18 points compared to Lonzo's 16. LaMelo also hit several clutch shots in the fourth quarter to almost give the Hornets the lead late. However, when the Bulls needed a big bucket, Lonzo was there converting on a layup off a huge Javonte Green block and then knocking down a corner three to deliver the final dagger.
LaMelo may have won the scoring battle, but Lonzo wins the war as his team came out on top in this one. Get ready for plenty of battles like this over the next several years, as they will have plenty to talk about at the dinner table.
Family first ?? pic.twitter.com/q9SNu5Gt6T

— Chicago Bulls (@chicagobulls) November 30, 2021
We have been waiting for you, Vooch
The Bulls are 22 games into their season or roughly 25% of the way through the schedule. SO far, things have gone better than anyone would have expected with DeRozan, Ball, Caruso, and LaVine meshing so well together. One name that hasn't played as well as he would have liked thus far is Vucevic.
Yes, the Bulls big man is still averaging a double-double, but when you look at his scoring averages over his career, he is having a down year this season. A big reason for that has been his issues shooting the ball, where for whatever reason, the shots that generally fall have not fallen. That hasn't stopped him from being a massive part of the Bulls offense, and eventually, everyone knew those shots would fall.
Well, last night was the game where they fell as he picked the best time to have his best game of the season and continued to show fans why the Bulls traded for him. Not only will he give you a double-double every night, but Vucevic is a 20 plus point scorer, which is why he has been a two-time all-star. Granted, those numbers haven't been there yet; I feel they are about to come back, especially after the game he had last night.
You add that with LaVine and DeRozan's production, the Bulls will have one of the best scoring trios in the game. Last night was a prime example of what this offense can look like when everything is clicking, and it was a fun sight to see.
30 points
6-6 from deep
14 boards
5 assists
2 blocks@NikolaVucevic did it all in the @chicagobulls win ?? pic.twitter.com/6yVxBoZBLU

— NBA (@NBA) November 30, 2021
LaVine keeps making Bulls history
Whenever you talk about records for the Chicago Bulls, Michael Jordan is often at the top of all those records. However, LaVine is also starting to climb those lists, as he may go down as one of the best Bulls players ever. Following his 20-plus point effort last night, LaVine was ensured he would finish the month of November, averaging 20 PPG.
Why is that significant? Well, because he has now gone 19 consecutive months averaging 20 PPG, which ranks him second behind MJ. The record held by the GOAT is 63 straight months of accomplishing that feat, so LaVine has a long way to go, but don't count him out as he continues to impress every night on the floor.
Billy Donovan on Zach LaVine playing through fever: "Physically, you could tell he was sick. His eyes were all bloodshot. I give him a lot of credit."

— K.C. Johnson (@KCJHoop) November 30, 2021