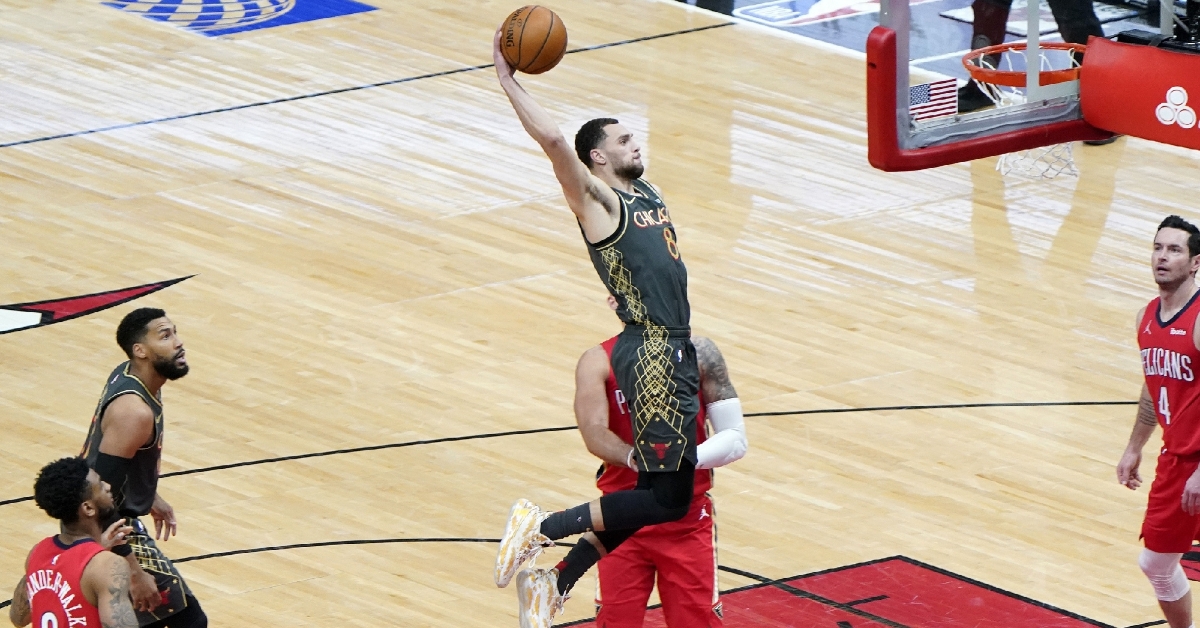 | | |
| --- | --- |
| Bulls News: Zach LaVine placed on COVID-19 protocol | |
---
| | | |
| --- | --- | --- |
| Friday, April 16, 2021, 11:42 AM | | |
As if the Bulls playing some of their worst basketball of the season wasn't bad enough, things got worse for Chicago in a matter of 24 hours. Following their loss to Orlando, it was announced that Zach LaVine would miss the next 10-14 days as part of the NBA health and safety protocols.
In a nutshell, that means that LaVine has either contracted COVID or has come in close contact with someone who has tested positive, forcing him to sit for the next two weeks.
When you look at the Bulls schedule, he essentially could miss up to eight games which is not good for a team fighting for a playoff spot and struggling to get wins at this point. Yes, there are a few winnable games during the time he will miss, but the Bulls are having a hard enough time winning with him right now, so losing your leading scorer will not be easy. Here are some things to think about during Lavine's absence that will make or break the Bulls season.
Where will the scoring come from?
Lavine has turned himself into quite the player, and the transformation in his game since coming to Chicago is impressive. He has averaged 20 or more points per game every season with the Bulls, including a career-high 27.4 PPG this season. That helped him earn his first All-star appearance in the process.
Lavine is the one guy on this team who can create his own shot and take over a game. Some would argue Nikola Vucevic can do the same thing but not in the way Lavine can. Losing a player of Lavine's caliber certainly won't be easy to replace, but the scoring will be the most challenging part of it all. Chicago now needs to figure out where those 27 points will come from as other players will need to step up. Look for the offense to run more through Vucevic and players like Coby White and Lauri Markkanen to get more involved.
Time to find out what this team is made of
We have talked about it for a while now, and the Bulls hold their own destiny to make the playoffs. What better way to find out what you're made of than to play without your best player. Let's be honest; the Bulls haven't fared well without Lavine in the lineup, going 7-19 across the past three seasons when he doesn't play.
A big reason for that was the lack of talent around him, as they have more talent now than in the past. However, he takes on such a large scoring load that Chicago hasn't been able to make up for his loss on the court. With the losses piling up and Toronto starting to get healthy, Chicago's once comfortable hold on the final playoff spot is much tighter.
If they want to make the postseason and hold off the Raptors, they need to win games and win games now. They will have to do so without Lavine for a while, but that could essentially help this team. Should they find ways to win some of these games, it will give them the confidence to beat anyone in the league without their best player. Maybe that is what they need to get back on track.
Blessing in disguise
I can't believe I am saying this, but maybe losing Lavine for the next two weeks is a blessing in disguise for this team. Allow me to explain what I mean. Lavine is the best player on this team, and no one is going to argue that. However, sometimes I think he tries to do too much, especially late in the game, which takes the team out of rhythm.
Without him, this team will have to get other players involved, leading to a more balanced attack. Look for White to get back into the starting lineup and take over the position occupied by Lavine. Since moving to the bench, White hasn't been scoring the way he usually can, and maybe getting him back into the starting role will help get him going.
Markkanen will also play a huge role off the bench and will have his number called more often. Much like White, Markkanen has seen his scoring take a big hit since hitting the bench and has been a non-factor over the last few games. Before that, he was off to the best offensive start of his career and certainly was proving his worth for a contract extension.
Both Markkanen and White can score 20 plus points on a given night, and they have shown that in the past as starters. Perhaps, having a Lavine-less Bulls team will help this team rely on other players who can make up for his scoring loss. If Chicago goes out and wins by getting others involved, look for Billy Donovan to start making some rotation changes to maximize the team's effort down the stretch.
https://www.youtube.com/watch?v=PCPr3bBreWo