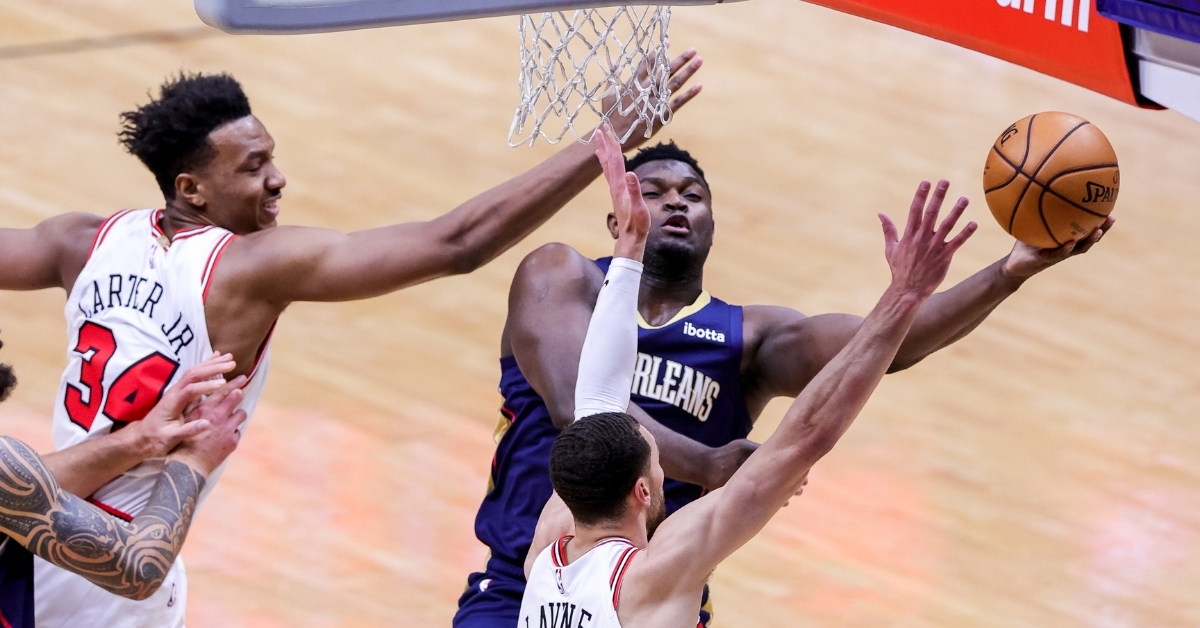 | | |
| --- | --- |
| Three Takeaways from Bulls win over Pelicans | |
---
After dropping two games in relatively heartbreaking fashion, Chicago closed out the first half of their season schedule against the New Orleans Pelicans. Looking for a win to head into the All-Star break, it took another 36-point effort from All-Star Zach Lavine to get things done as Chicago held off a furious fourth-quarter rally to win 128-124.
Chicago jumped out to an 8-0 lead in the first before Zion Williamson put New Orleans on the board. The second-year player was impressive, especially in the first quarter, as he inserted himself in the paint and made life miserable. Rookie Patrick Williams was putting on a show early in the game as he scored six of Chicago's first 11 as the Bulls continued to roll 11-2. As the quarter rolled on, it was about all starts leading the way, with Lavine matching Williamson and Brandon Ingram with Chicago clinging to a 26-25 lead.
The second quarter was a different story and really could be summed up as two separate quarters within one. Through the first six minutes, New Orleans managed to stay within one possession as the Bulls bench did most of the scoring early. Denzel Valentine, Thaddeus Young, Tomas Satoranksy, and even Wendell Carter Jr were providing Chicago's offense. New Orleans counted with guys like Josh Hart and Eric Bledsoe as they continued to give Chicago a battle early.
Holding a 39-37 lead, Chicago took the game over, closing out the first half on a 25-8 run and outscoring New Orleans 38-20 in the quarter. Both Coby White and Lavine were big reasons that run got rolling, but even Garrett Temple started to find his groove with Chicago holding a commanding 64-45 lead at the half.
Having leads to open the second half isn't a surprise for this team but having this big lead certainly was. Knowing that Ingram started to get going after a slow start to his night, bring things within 12. Fortunately for the Bulls, Williams and Lavine continued to have great nights of their own as they wouldn't let New Orleans get much closer, leading 96-79 heading into the fourth.
That is when the game completely changed, as the final quarter hasn't been too kind to the Bulls as of late. With other players like Ryan Arcidiacono now getting involved, it seemed as if the Bulls 16-point lead would be too much to overcome. That is why teams play the game as JJ Redick started to knock down some jump shots with Williamson continuing to work inside.
That duo put the team on their back down the stretch as they managed to get New Orleans within nine with four minutes to go. Chicago still held a double-digit lead with less than three minutes to go, but some Jaxson Hayes buckets coupled with Ingram finishing off the game strong had things down to just two points. Fortunately, both Lavine and White were able to knock down their free throws down the stretch as the Bulls picked up the 128-124 win. Lavine once again led the way with 36, with White chipping in with 25.
Lavine is a superstar
There was always a reason why the Minnesota Timberwolves drafted Zach Lavine in the first round of the 2014 NBA draft, and Chicago gets to see why. Lavine battled through some struggles and a torn ACL early in his career, but he is not only an All-Star but a superstar since being traded to Chicago.
Lavine is an athletic freak, and no one is going to argue that. The way he attacks the rim is second to none, and watching him fly through the air is a thing of art. However, not many fans knew just how good a player he was until they started seeing him shoot the ball. He is one of those players that can create his own shot and is just effortless when getting it done.
His 27.5 PPG is top 10 in the NBA, and he is putting up scoring numbers not seen since Michael Jordan. Lavine has proven to be worth every bit of the contract Chicago gave him and could be playing himself into a MAX deal very soon.
The Bulls still need to learn how to finish games
At 16-18, not many people can complain where this team is, especially when you look at the last three seasons. Not only are they battling for second place in the Central, but they are going to be fighting for the postseason all year.
They are doing this with a new head coach and a young roster, and the future is very bright for this team. One thing that still lacks this group is not necessarily a killer instinct, but they struggle to close out opponents when leading late. That happens a lot with young teams, but the Bulls need to learn how to do that if they want to make the postseason.
In their past three games, Chicago has held leads of at least eight points in the fourth quarter only to let two games get away and almost a third last night. Losses like that will hurt you later in the season, but for now, this team continues to play well.
How good can this team be?
Chicago reached the .500 mark when they were 4-4 earlier this season. However, they haven't been above .500 since November 2017. Even at 16-18 and currently, there is a lot to improve upon in the postseason picture, and the sky is the limit for this team. What is even more impressive is Chicago continues to play this well without being at 100% full strength this season.
Both Otto Porter Jr and Lauri Markkanen are nursing injuries at the moment, as is Chandler Hutchison. Porter Jr appears to be ready to return soon with Markkanen shortly after. Once they return to the lineup, this team will be as close to full strength as they have been all season and will become that much more challenging of a team.
You have perhaps the best second unit in the game that will get better with Porter, a young stud in Williams who continues to develop, a starter in Markkanen who was putting together the best start of his career, and a dynamic scoring duo of White and Lavine. This team has the looks and feel of a postseason team, and if they get healthy could be a scary team down the stretch.
https://www.youtube.com/watch?v=2P6biykkI1M

Upgrade Your Account
Unlock premium boards and exclusive features (e.g. ad-free) by upgrading your account today.
Upgrade Now

Tags: Bulls Basketball
,
Zach Lavine
,
Patrick Williams
,
Denzel Valentine
,
Thaddeus Young
,
Wendell Carter
,
Coby White
,
Garrett Temple
,
Ryan Arcidiacono
,
Lauri Markkanen
,
Chandler Hutchison