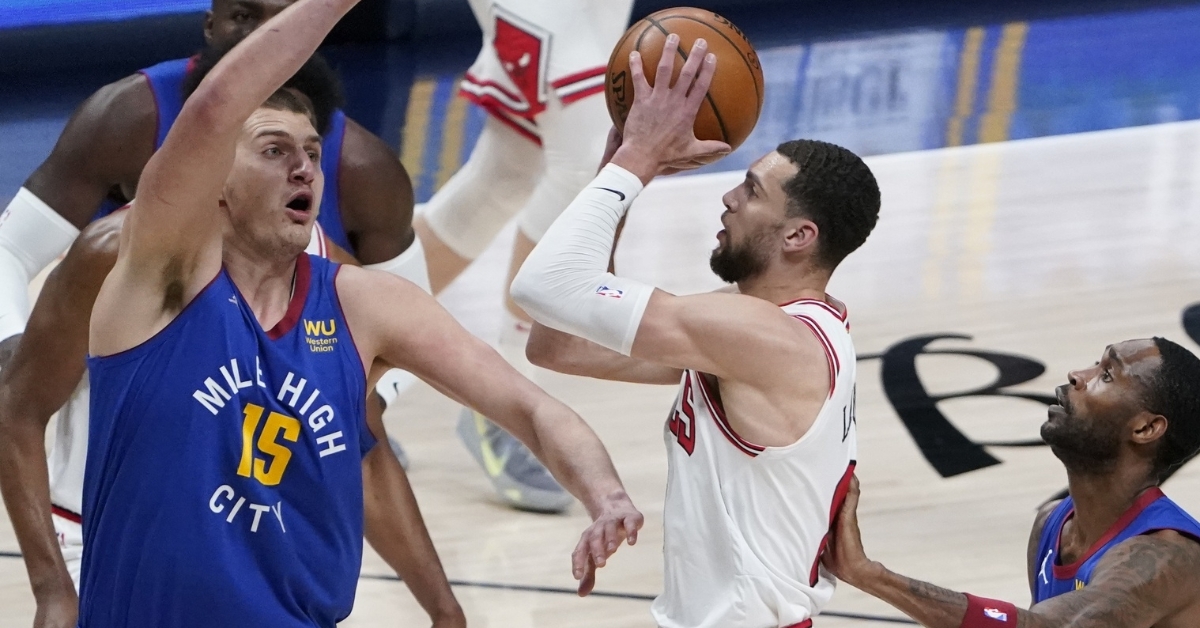 | | |
| --- | --- |
| Three takeaways from Bulls OT loss to Nuggets | |
---
| | | |
| --- | --- | --- |
| Saturday, March 20, 2021, 9:26 AM | | |
Despite 32 points from Zach Lavine and 22 from Otto Porter Jr. off the bench, the Chicago Bulls let a golden opportunity slip away against a strong Denver team. For the second consecutive game, Chicago held a fourth-quarter only to see it slip away before eventually falling.
It may not have been a 20-point lead this time around, but the Bulls did hold a 14-point fourth-quarter lead over the Nuggets. That was until Denver relied on both Jamal Murray and Nikola Jokic down the stretch as they closed out the game on an 8-2 run capped off by Murray's game-tying three at the buzzer to send things into OT. A strong start from the Nuggets proved to be just enough as they held off Chicago 131-127 in OT.
Chicago is still searching for a signature win against a playoff-caliber team, and judging by their last two defeats, they are close to getting it. Realistically, this team should have won their previous two games, but for some reason can't put teams away late. Michael Porter Jr was hot early as he had the Nuggets in front, but the Bulls answered by playing three-ball.
Tomas Satoransky, Lauri Markkanen, and Thaddeus Young connected for three-pointers in the early going providing the early offense for Chicago. Markkanen would later hit another three after a Zach Lavine jumper as he led the team in scoring with six points in the first. The three-point
shot continued to be a massive part of the Bulls game, with Porter Jr getting in on the fun to keep the Bulls in front.
While the Bulls were knocking shots down from the outside, Denver went to work on the inside with Paul Millsap and Will Barton, keeping things close. What was a three-point game got stretched out to 10 when Coby White and Denzel Valentine knocked home a mid-range jumper mixed with a rare Wendell Carter Jr three as Chicago was comfortably in front 30-20 after one.
As if six threes wasn't enough in the first quarter, why not make it seven with Valentine starting the second quarter off with another long-range bomb. With Young and Ryan Arcidiacono stretching the lead out to 15, the biggest of the night for Chicago, Denver was starting to find their range from deep with Zeke Nnaji knocking down a pair of threes to brings things back within 10.
Those shots seemed to give Denver much more confidence as Porter Jr and Barton began to go to work on the inside once again. Down by double digits again, Jokic knocked down a long three ahead of another Nnaji bucket, and just like that, it was a five-point game. A couple of Porter Jr and Lavine buckets down the stretch weathered the storm, with Chicago still up 55-47 at the half.
Despite struggling to shoot the ball his last few games, Patrick Williams always seems to come up huge when called upon and picked up a nice bucket to open the second half. He followed that up with a three-pointer of his own to put the Bulls back up by 12. Five quick points from Barton and Jokic cut things to seven, but another Lavine three pushed it right back to double digits as the Bulls remained in control.
The rest of the quarter saw both teams exchange buckets, with the Bulls pushing the lead to 13 at one point before ending the third with an 89-81 lead. Led by White, Markkanen, and Arcidiacono to start the fourth, Chicago answered buckets from JaMychal Green and Murray to maintain a double-digit lead. That lead grew to 14 following a White three as he had his best game since moving to the bench with 17 points.
From that point on, it was all Denver as they began to frustrate the Bulls offense. With Porter Jr, Murray, and Jokic going to work on the offensive end, the Nuggets defense began to put the clamps on, leading to costly turnovers. If it wasn't for a few Porter Jr points, this game might have ended in regulation, but he did his best to keep things flowing.
Down 114-108 with less than a minute to go, Denver turned to their starts down the stretch. First, it was Jokic getting free to knock down a three, bringing things to 114-111. After a Murray floater cut things to one, Lavine knocked down a pair of free throws putting the ball in Denver's hands late. In need of just one stop to secure the win, the Bulls defensive effort was not there as Murray stepped into a three and tied things up with less than a second to go sending the game to Overtime.
That shot was the ultimate backbreaker for Chicago as Murray went on to score five of the first seven points in OT before Jokic took care of things down the stretch. In the end, Denver was able to come back and seal the deal 131-127. Chicago falls to 18-22 with the loss and now must travel to Detroit on Sunday with hopes of getting back on track.
Chicago needs a true point guard
When the season started, one of the biggest needs of this team was finding a true PG. Billy Donovan elected to give White a shot at running the show, but he is more of a SG, and his decision making sometimes shows. With White now on the bench, Satoransky has been handling the PG duties, and although capable of doing that, isn't the answer.
Chicago lacks a true floor general and someone who not only can run an offense but make clutch decisions down the stretch. The more you watch this team play, the more you can see their poor decision-making late. Chicago's only way to address this issue would be at the trade deadline, where a guy like Lonzo Ball may help.
Most frustrated Chicago Bulls HC Billy Donovan has been in the postgame media session.

Billy said he got really upset down the stretch at the team. Didn't like the body language of the players and didn't think the players were fighting to get the win.

— Daniel Greenberg (@ChiSportUpdates) March 20, 2021
Nikola Jokic should be in the MVP talk
When you talk about league MVP's Giannis Antentekombo, Lebron James, and Joel Embed are the three most common choices. Luka Doncic is also on that list, but what about Jokic. The all-star and MVP of the Nuggets used to be an unknown player, but he has now emerged into a star.
Not only that, Jokic is playing at an MVP level this season and should be in the MVP talks himself. While Murray dropped 34 points last night and played one of his better games this season, Jokic responded with 34 points of his own to go with 15 boards and nine assists. Not only is he a walking double-double whenever he takes the floor, but he can put up a triple-double every night and is just one assist per game away from averaging a triple-double this season.
Last night's #NBAsFinest...

MVP: Nikola Jokic
Rookie of the Night: @lamarstevens11 pic.twitter.com/TonA61hGOs

— HoopsHype (@hoopshype) March 20, 2021
Can Chicago be the next Nuggets-type team?
When you look at how the Bulls are constructed this season, they remind me a lot of the Denver Nuggets a few years ago. That shouldn't surprise anyone as current Chicago Bulls president Arturas Karnisovas was previously the GM of the Nuggets, and he appears to have a plan in place for his new team.
While working with Denver, Karnisovas took a struggling franchise and turned them into an annual playoff team. He did that by making some difficult trades and capitalizing on some underrated draft picks that panned out. Jokic and Murray were two of those names, but he did a great job evaluating talent and putting it together.
Although things haven't gone smoothly for Chicago this season, at 18—22, the Bulls are better than what people thought are a year or so ahead of schedule. They are sitting in 10th place in the East, which would be good enough for the final playoff spot and just two games out of the six seed. Credit that to Karnisovas and company as he looks to make the Bulls his next successful project.

Tags: Bulls Basketball
,
Zach Lavine
,
Tomas Satoransky
,
Lauri Markkanen
,
Thaddeus Young
,
Coby White
,
Denzel Valentine
,
Wendell Carter
,
Ryan Arcidiacono
,
Patrick Williams
,
Billy Donovan