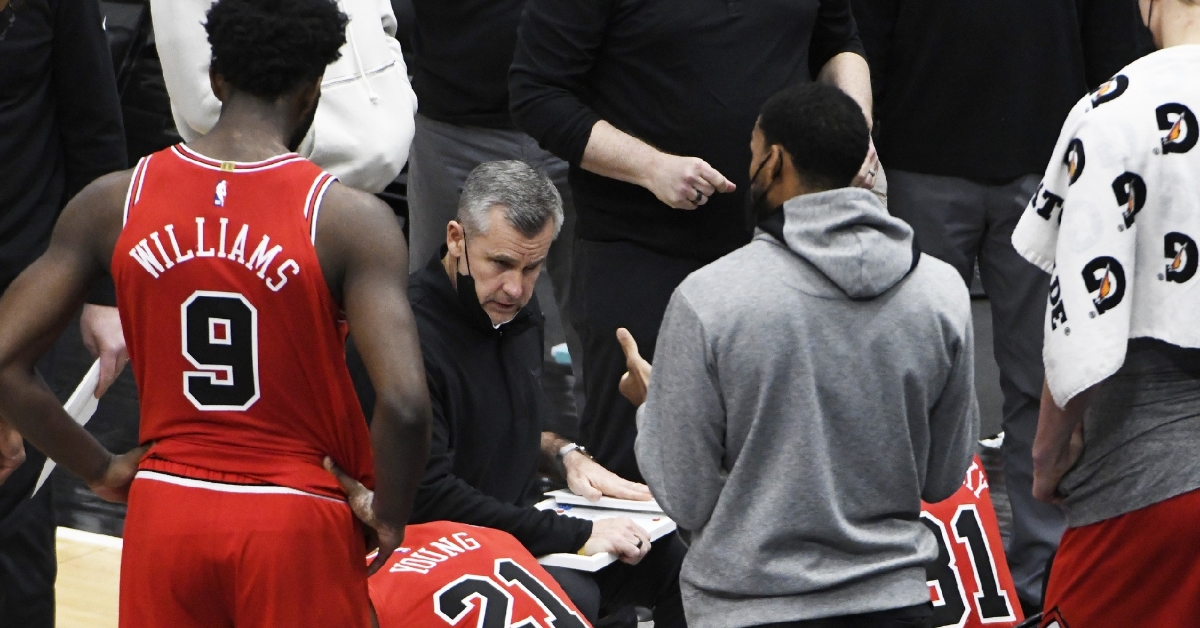 | | |
| --- | --- |
| Three takeaways from Bulls loss to Spurs | |
---
| | | |
| --- | --- | --- |
| Thursday, March 18, 2021, 11:01 AM | | |
Hoping to end their five-game homestand on a positive note, the Bulls hosted a streaking San Antonio Spurs team on Wednesday night. With a chance to move to 19-20 on the season and into the eighth seed in the Eastern Conference, Chicago looked like a team on a mission dominating the Spurs 58-40 through one half.
Keep in mind this off a game on Tuesday night and was the second leg of a back-to-back, so to see the score this lopsided was a surprise. Talk about a tale of two halves, as it was the Spurs going to work in the second half, closing the gap to 13 through three. Even with another strong performance from Zach Lavine, it wasn't enough as the Spurs not only erased an 18-point halftime deficit but used a 17-0 fourth-quarter run to seize command of the game and pickup up a 106-99 road win.
If you watched this first quarter, you wouldn't have thought the Bulls were playing in back-to-back games as they came out guns a-blazing. A couple of early buckets from Jakob Poeltl, who led the Spurs offensive attack, was about the only good thing going for them. Lauri Markkanen continued his hot shooting from deep before Thaddeus Young went to work inside. Young has turned back the clock this season, playing his best basketball in years.
Tomas Satoransky and Zach Lavine then added some three-point offense of their own as the Bulls were off and running early 18-7. That lead eventually grew to 25-13, with Coby White knocking down a three as he is trying to shoot himself out of a shooting slump. His play in the first was a pleasant surprise given what the Bulls have seen lately as Chicago held a commanding 31-17 lead after one.
Expecting the Spurs to come out with a vengeance in the second, Wendell Carter Jr went right to work on the inside showing the Bulls that he is perfect for a sixth-man type of role. His presence on the inside opened things up for White and Denzel Valentine as Chicago was knocking down shots from all over. Both Dejounte Murray and Drew Eubanks did their best to keep things close, but the Bulls continued to get after it building their lead to 17.
That 17-point lead grew to 20 with Lavine continuing to make things look easy on the floor, and Chicago took a 58-40 lead into the break. San Antonio hasn't faced a deficit like this in a while, but when Greg Popovich is your head coach, never count them out. Poeltl and Lonnie Walker IV opened the second half with four quick points of their own, only silenced by Lavine shortly afterward. Lavine teamed up with Young to provide the first 10 points for the Bulls offense as they remained in control.
Holding a 70-50 lead following a Satoransky bucket, things began to tilt in the Spurs favor as their defensive intensity started to pick up. That intensity led to some transition play where Patty Mills set his feet and knocked down some long threes. Otto Porter Jr matched that with a pair of his own three-pointers, but Devin Vassell and company refused to go away, closing the gap to 80-67 after three.
Sensing a massive momentum shift, the Spurs defense continued to give the Bulls offense fits as they opened the fourth quarter on a 17-4 run to close within 84-81. A Markkanen three followed by a Patrick Williams bucket put an end to that run as Chicago opened the lead back up 89-81. When the Spurs took over the game as Rudy Gay sparked what was a game-changing run. Gay, along with Murray, Poeltl, and Derrick White, not only got going but used a 17-0 run to not only take the lead but put the Bulls in a 98-89 hole in the process before a White three gave San Antonio a 101-90 lead. Both Lavine and Markkanen tried to do their best down the stretch, but you could see all the life sucked out of the Bulls as they fell 106-99.
With the loss, Chicago drops to 18-21 but remains in ninth place in the East. Chicago was led by Lavine and his 29 but had five other players add double figures.
Missed opportunity: Many talks were made about the early part of the Bulls second-half schedule and how challenging it could be. With several games against teams with winning records, Chicago would have to find a way to beat those teams to better their playoff chances.
Dropping their first two against Philadelphia and Miami didn't help, but through three quarters, the Bulls looked like a team destined to knock off a playoff-contending team. That was until not only a 17-4 run to open the fourth quarter changed the game but their 17-0 run later as the Bulls were outscored by 30 during that stretch. Chicago will look back on this game, shaking their heads when they realize the opportunity they had for a big win.
End of an era in San Antonio: For the longest time, the Spurs have been the Western Conference's model franchise. That goes from the coaching staff to the players they have in place. Following Tony Parker, Tim Duncan, and Manu Ginobili, the Spurs retooled their roster by adding some younger pieces.
Demar DeRozan, Rudy Gay, and LaMarcus Aldridge were all brought over as they looked to be the next great trio to lead the team to success. Although the playoffs have continued to come, the results haven't been what this team had hoped. Add in the sluggish play from Aldridge this season, and you can see why the team and he mutually agreed to part ways. It is the end of an era in terms of what Aldridge brought to the table, as this roster will soon be filled with names that not many people are familiar with.
Patrick Williams put his game on full display: When the Bulls drafted Williams with the fourth pick in this year's draft, it came with many questions. Many people felt like they reached for him and that he wasn't that high of a pick. I would be curious to see what those people are saying now as Williams has been impressive this season.
At just 19, Williams is the second-youngest player in the league, but you would never guess that from watching him play. Along with a strong and physical frame, Williams is very athletic and can guard anyone on the floor. His scoring is still a work in progress, but he has shown consistency most of the season.
Just two games after putting home a career high-23 points, Williams has now registered a total of 12 points in the team's last two games. 10 of those came on Tuesday, but it was his defensive game that showed up. Not only did he continue to play tough defense, but he logged a career-high 14 rebounds to finish with a 10-point 14 board double-double. Williams is just going to get better, and it will be exciting to see the player he grows into.