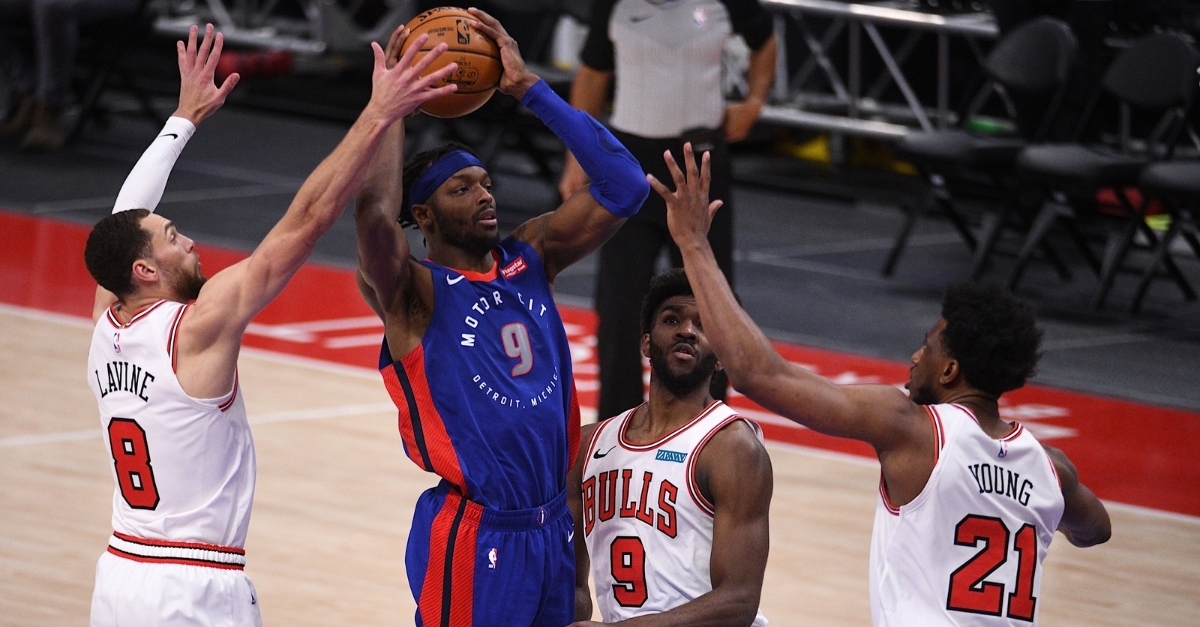 | | |
| --- | --- |
| Three takeaways from Bulls win over Pistons | |
---
| | | |
| --- | --- | --- |
| Monday, March 22, 2021, 10:49 AM | | |
For the most part, last week was a struggle for the Bulls as they let two fourth-quarter leads get away against playoff quality opponents. Hoping for a bounce-back win Sunday against a reeling Pistons team, the Bulls came out extremely flat, holding just a one-point lead at the half.
Despite Zach Lavine leading the Bulls with 18 points and none of their scorers topping 20, Chicago used a balanced offensive approach to go with tough defense to pull away 100-86 for the win. With Lauri Markkanen continuing his second-half surge in terms of scoring, he brought a much-needed element to the game. You add that with strong inside play for Patrick Williams, and the Bulls had something going early.
Detroit had something going of their own early, with Jerami Grant and Mason Plumlee doing their best to get inside, which opened things up for the rest of their shooters. With Lavine struggling initially, Chicago needed to count on guys like Coby White, Ryan Arcidiacono, and Wendell Carter Jr off the bench to keep things close, but even at that, the Bulls trailed 25-20 after one.
Detroit was able to build that lead to eight following an early Isaiah Stewart three, but from that point on, the Bulls began to toughen up and got back to playing their style of ball. Once again, the three-pointer helped jumpstart the offense with Arcidiacono, Markkanen, and Denzel Valentine, each sinking one in the opening minutes. With Chicago now extending the defense, the lane began to open, and Daniel Gafford took advantage. Eventually, Markkanen and Lavine took over to close out the quarter and helped Chicago to a 46-45 lead.
A quiet first half of his own, Thaddeus Young was hoping to get going in the second half, scoring the first bucket for the Bulls in the third. That not only got things rolling for him, but Lavine was now heating up with Tomas Satoransky finally putting one in. Despite the Bulls starting to get more involved, Frank Jackson kept things close as he was feeling it from deep all game long.
Ultimately, it was a 12-4 run sparked by Markkanen and Lavine that appeared to turn the game completely in the Bulls favor as they now led 75-65 after three. Hoping to close out a game finally, White connected for a long three to give the Bulls their largest lead of the night at 13. Once again, Jackson brought things back to single digits, but Chicago had too many answers, with Arcidiacono having one of his better games this season. Chicago eventually built their lead up to 20 points before coasting the rest of the way and picking up a 100-86 win to move to 19-22 on the season.
Tomas Satoransky's time might be coming to an end in Chicago
When the Bulls dropped the first two games of the second half, Billy Donovan elected to move Satoransky from the bench to the starting lineup in place of White. For the most part, that move has paid off as the Bulls have been much more consistent in their offensive output.
Still, despite all that, this team is still making way too many mistakes down the stretch, especially in crunch time, as they continue to search for point guard answers. As we inch closer to the trade deadline, Lonzo Ball remains a focus for Chicago as the Bulls are one of a few teams interested in the New Orleans guard.
It was reported yesterday that the Bulls have a package in place for Ball that includes sending Satoransky to New Orleans and an undisclosed draft pick. New Orleans is said to be asking more, so it will be interesting to see what happens. Regardless, it shows the Bulls' desire to grab a true point guard.
A much-needed win for the Bulls
After dropping two games against quality opponents in heartbreaking fashion, the Bulls needed a win in the worst way. Despite things not looking good early, this team responded and did what they needed to do to pick up a much-needed win. Given where the Pistons are in the standings, this was one of those games the Bulls had to have, especially when you look at their upcoming schedule.
Following a game with the West-leading Utah Jazz, the Bulls will see the Cleveland Cavaliers, which gives them another matchup against a team they should beat. After that, Chicago will see Utah, Brooklyn, Phoenix, San Antonio, and other strong opponents as they are about to be in a tough stretch.
Fortunately for the Bulls, the Eastern conference is very top-heavy, and the bottom four playoff spots are all up for grabs even if they were to lose some of these games. Chicago does have a winnable stretch in April, and should they be able to hold tough over the next few weeks, they could make a nice push toward the playoffs at that point.
Does less Zach LaVine make a better overall team?
No one will argue that LaVine is one of the game's best scorers. When you look at how much he has improved his game since coming to Chicago, it is incredible that it took so long for him to reach this level. Now one of the top 10 or 12 scorers in the league, LaVine is the leader of this team.
Being the leader of this team comes with its challenges as everyone will focus on him, especially in crunch time. Fans have also seen Lavine put the team on his back to score 40 plus points as he sometimes feels he needs to do it all himself. While having Lavine score 40 is always a good thing, could fewer points from him make this team better.
I am not going to sit here and saw Lavine will be held under 20 too many times, but what happens if he averages in the 20-23 range the rest of the season? Realistically, if that happens and the Bulls are winning, it shows everyone that this is a very balanced team capable of beating you in different ways.
The less he scores, the more other plays score and get involved, which will make them tough to defend. That is something Lavine and this team need to continue doing, especially when they face teams who will take him completely out of a game.

Tags: Bulls Basketball
,
Zach Lavine
,
Lauri Markkanen
,
Patrick Williams
,
Coby White
,
Ryan Arcidiacono
,
Wendell Carter
,
Denzel Valentine
,
Daniel Gafford
,
Thaddeus Young
,
Tomas Satoransky
,
Billy Donovan