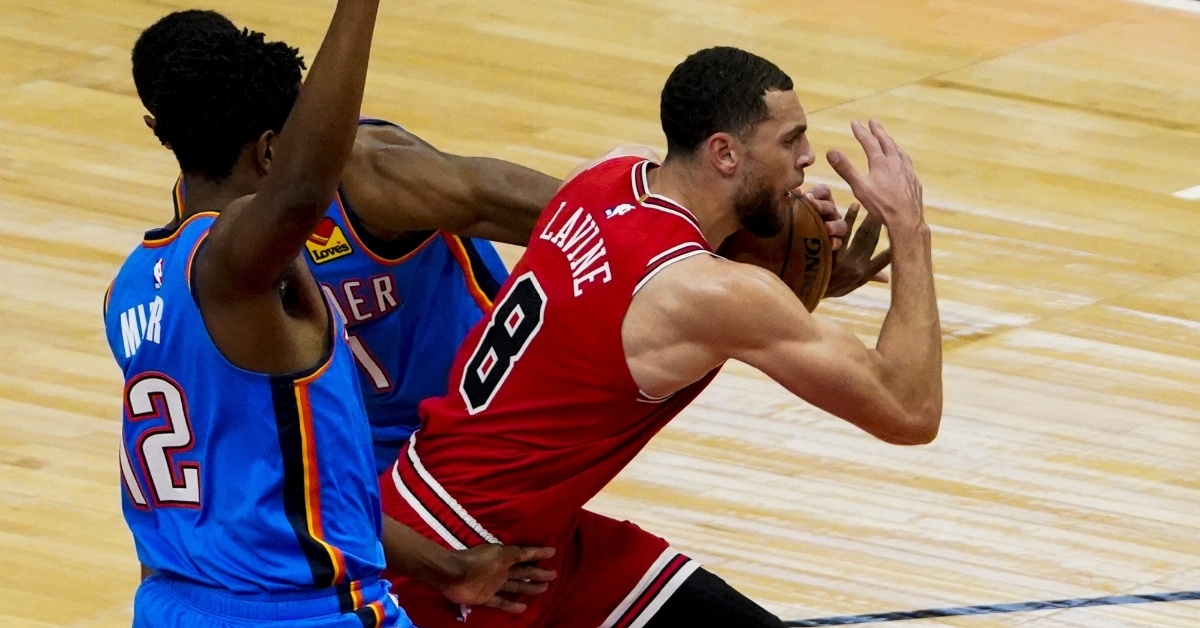 | | |
| --- | --- |
| Bulls News: Zach LaVine drops 40 points in blow-out win over Thunder | |
---
| | | |
| --- | --- | --- |
| Wednesday, March 17, 2021, 11:11 AM | | |
Whatever Billy Donovan said to this team following two losses to open the second half has worked as Chicago has looked impressive in their last two wins. Not only is their offense back to scoring points, but the defense has put the clamps down, also allowing just 104 points over the team's last three games.
With the new-look lineup already paying dividends on both ends of the floor, Zach Lavine busted out of a mini shooting slump to post yet another 40-point game. It was the fourth time this season he has done that as the Bulls topped Donovan's former team 123-102.
Not only has the new-look lineup made a difference, but a healthy Lauri Markkanen has also made a difference emerging as the teams second option once again. His scoring has been up this season, and his overall shooting, especially from the outside, is vastly improved. He and Lavine provided all the offense early, scoring the team's first 11 points to give the Bulls an 11-4 lead.
From there, it was time for others to get involved with Tomas Satoransky and Thaddeus Young, providing the veteran boost this team desperately needed. While Chicago was going with a balanced attack yet again, the Thunder continued to rely on Shai Gilgeous-Alexander, who was a one-man show in the first half. His effort was not nearly enough early on as the Bulls erupted for a 42-28 first-quarter lead.
The Thunder began to crank up their defense in the second and outscored the Bulls in the process. It didn't seem to matter early on, with Wendell Carter Jr taking his new role by the horns and teaming up with Denzel Valentine for some early offense. Otto Porter Jr also got involved early, but it was a rare OKC trio that helped bring them back. With Chicago now focusing on Alexander, guys like Moses Brown, Justin Jackson, and Ty Jerome started to get involved as they closed the gap to just two points.
OKC eventually tied things up at 52 before the Bulls starting five took over down the stretch to score the team's final 19 points of the quarter. Despite allowing 35 points defensively, Chicago still held a 71-63 lead at the half.
The offense was the story early on for Chicago, but it was the defense that rose to the occasion in the second half. After struggling to close out shooters and make plays in the second, not only did the Bulls allow just 16 third-quarter points but allowed 39 total second-half points. That let the offense to go to work as Lavine went off for a substantial 17-point third quarter en route to his game-high 40-point night.
It wasn't just Lavine having a tremendous third quarter as Carter Jr and Markkanen also were shooting the ball well to give Chicago the commanding 102-79 lead after three. With the game practically in hand, it was time for others to get involved as the starters wouldn't be on the floor much longer. Following a career 23-point night on Sunday, rookie Patrick Williams struggled to shoot the ball scoring just two points, with both coming in the fourth.
Coby White also had a rough night shooting the ball, scoring most of his points in the fourth as well as Daniel Gafford. While other players have taken to their new roles, White hasn't in terms of shooting as he continues to struggle. That will be something to watch down the stretch to see if Donovan will stick with him or if his minutes will decrease. Thankfully, Chicago banked such a big lead they didn't need too much from his as they cruised 123-102, moving to 18-20 on the season.
Chicago returns to the floor Wednesday when they host the streaking San Antonio Spurs, who moved to 20-16 on the year.
Expect this new-look lineup to stick
The Bulls are loaded with young talent, and most of that talent should be good. The problem with so much young talent is sometimes a lack of leadership, so it takes young teams so long to gel together. I think that has been the case with the Bulls as they have shown flashes of greatness but then have looked lost on the floor.
To bring more consistency on a nightly basis, Donovan replaced White and Carter Jr. in the starting lineup with veterans Satoransky and Young. Since that switch was made, the Bulls have played two of their better overall games this season. Their offense has been more balanced, their decision-making has been better, and their defense has improved.
With games against the Spurs and Nuggets coming up this week, fans will get a chance to see how much of a difference this lineup shuffle makes. They may not win both or any of their next two games, but if the competitive effort is there, expecting Donovan to stick with this lineup the rest of the season.
Tonight Zach LaVine of the @chicagobulls became the first player in NBA history to ...

-score 40+ points
-make 7+ threes
-shoot 100% from inside the arc
-have a plus-minus of +30 or better

... all in the same game.

— Stats By STATS (@StatsBySTATS) March 17, 2021
OKC misses Donovan
The Thunder used to be the West's premier team until they started to unload start players. Even after going through that process, Oklahoma City was still an annual postseason contender as Donovan got the most out of the players he had.
While he is now doing that with Chicago, OKC is struggling as they are now 17—22 and in danger of missing the postseason for just the second time in the last 13 years. A lot was made about how things ended for Donovan in OKC, and maybe there is more to the story than what everyone knows.
We know that the Bulls are pleased to have him leading this team while the Thunder miss him. His leadership, ability to interact with younger players, and just getting the most out of everyone on his roster are what stands him apart from lots of coaches in the league.
This is the Markkanen we have been waiting for
When the Bulls acquired Markkanen as part of the Jimmy Butler deal, Chicago was getting what many felt was a budding star. Across his first four seasons, Markkanen flashed moments of stardom on the floor, but injuries and inconsistency have always held him back.
When Chicago picked up his fifth-year option but failed to reach a long-term extension this offseason, many felt he was playing for his job this year. Before getting hurt, Markkanen was averaging a career-high in points per game with 19.3, but once again, an injury forced him to miss time. That continues to be the biggest knock on him as a player, but it has been what he has done since returning that stands out.
Not only is he playing at a level the Bulls have hoped for during his tenure, but he is shooting the ball better than ever. Markkanen is also more aggressive on the offensive end, and all this is coming on the heels of a shoulder injury. This is the type of play they expected from him as he has emerged as the Bulls secondary scoring option. The longer this continues, the more likely he remains in Chicago beyond this season.
LAURI MARKKANEN WAAAAAAAH ??????????????

pic.twitter.com/teiUAgPcdp

— First Team (@FirstTeam101) March 17, 2021

Tags: Bulls Basketball
,
Zach Lavine
,
Lauri Markkanen
,
Tomas Satoransky
,
Thaddeus Young
,
Wendell Carter
,
Denzel Valentine
,
Patrick Williams
,
Coby White
,
Daniel Gafford
,
Billy Donovan