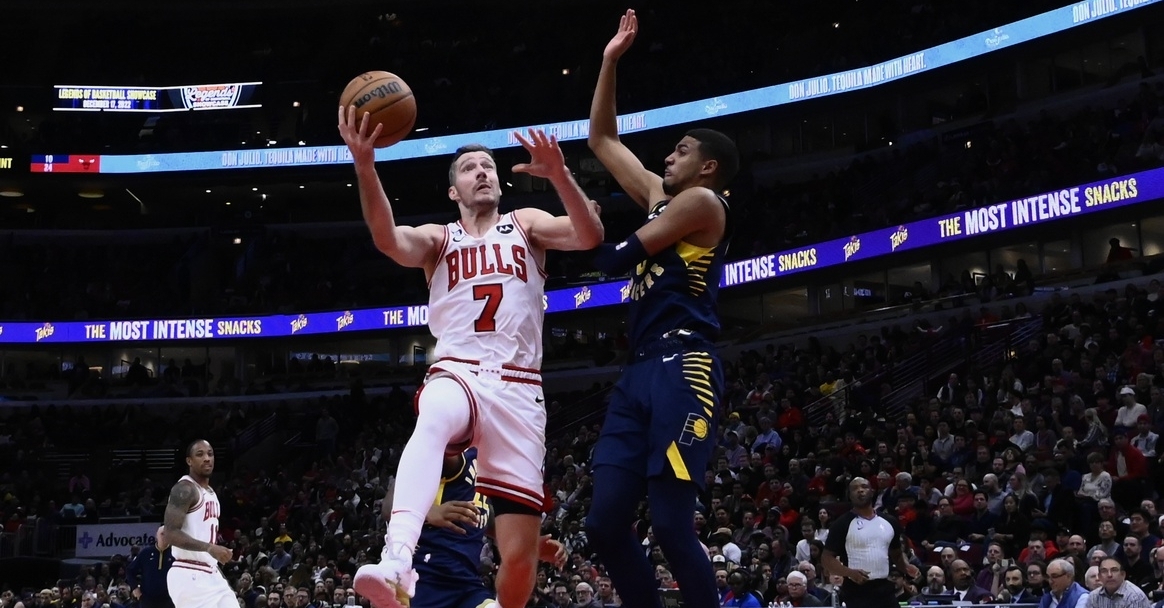 | | |
| --- | --- |
| Balanced attack paves way for Bulls win over Pacers | |
---
| | | |
| --- | --- | --- |
| Thursday, October 27, 2022, 8:22 AM | | |
CHICAGO - Remember when the Eastern Conference had one or two good teams, and the rest were mediocre? Those days are long gone, and the Chicago Bulls (3-2) are now part of an extremely deep conference. Despite the East being 10 teams deep, there are still a few teams that you can circle as got to have type of wins.
The Indiana Pacers (1-4) are one of those teams as they continue to go through a massive makeover in hopes of contending again. With four meetings against the Pacers this season, the Bulls need to have every one of them, as wins will be tough to come by this season. Led by a ferocious offensive attack that dropped 76 first-half points, the Bulls managed to hold off the Pacers late and pulled away for the 124-109 win.
It was another OK showing defensively, as that is something this team wants to get better at as the season progresses. However, from an offensive side of things, the team is clicking, and fans have seen firsthand how good this offense can be in the last two games. Not only did Chicago have six players land in double figures, but for the first time this season, Patrick Williams hit the double-digit plateau as his 10 points saw all five of the Bulls starters land in that category.
Zach Lavine led the way for Chicago as he continues to get back into the right state of mind basketball-wise. Sure, he dropped a game-high 28 points on six triples, but he also added 10 free throw makes from the line. If you watch him in the early part of the season, you can see his explosiveness is not quite there, and he admitted he is not 100% yet, but is getting close.
Thankfully the Bulls don't need him to be 100%, as they have plenty of scoring options to go around. Demar DeRozan is just one of those many options, as he had a very solid yet pedestrian game with 17 points and six assists. However, it was Nikola Vucevic going about his business again, as the Bulls have to be happy with what they have seen out of him lately.
Who would have thought that five games into the NBA season, Vucevic may be their best player right now? His 14 points may not have shown it on Wednesday, but he continues to play great defense while getting more involved on the offensive end. Rounding out the starting lineup for the Bulls was Ayo Dosunmu and his 12 points as he continues to fill in nicely for the injured Lonzo Ball.
While those guys were the leaders for Chicago, Goran Dragic led the way off the bench as his fantastic start to the season continued. Not only did he become the final double-digit scorer with 13 points, but he went 3-3 from distance and is shooting upwards of 70% from deep this season. Alex Caruso, Javonte Green, and Andre Drummond added eight points, while Drummond also picked up 13 boards in what was a convincing win.
When it comes to the Pacers, they know they may be the worst team in the Central division and possibly one of the worst in the league, but that doesn't mean they are going to back down. There is talent on that team, and eventually, that talent will win some games. For now, it is all about developing a new core, and that starts with Buddy Hield, whose seven triples helped him lead the team with 24 points.
He wasn't alone in having a big game, although he was the only Pacer to hit the 20-point threshold. One player who continues to show his value on the court is Tyrese Haliburton, who had a monster night. Not only did he give the Pacers 18 points, but he added 11 assists and continues to show why he was a great return in the Domantas Sabonis trade a year ago.
Take those two away, and the scoring didn't come easy, with Jalen Smith becoming the final starter in double figures with 15 points, while Christ Duarte (12) and Bennedict Mathurin (15) had great nights off the bench. Chicago can also consider themselves fortunate in this one as Pacer big man Myles Turner didn't have a great game.
One of the team's offensive leaders, Turner, couldn't get much of anything going and settled for just five points in the loss. He did manage to pick up six rebounds and four blocks, as the defensive aspect of his game was working just fine. Chicago will take to the road on Friday when they take on the San Antonio Spurs. Expect extra motivation from DeRozan in that one, as he is just seven points away from 20K and would love to have that against the team that didn't believe in him.