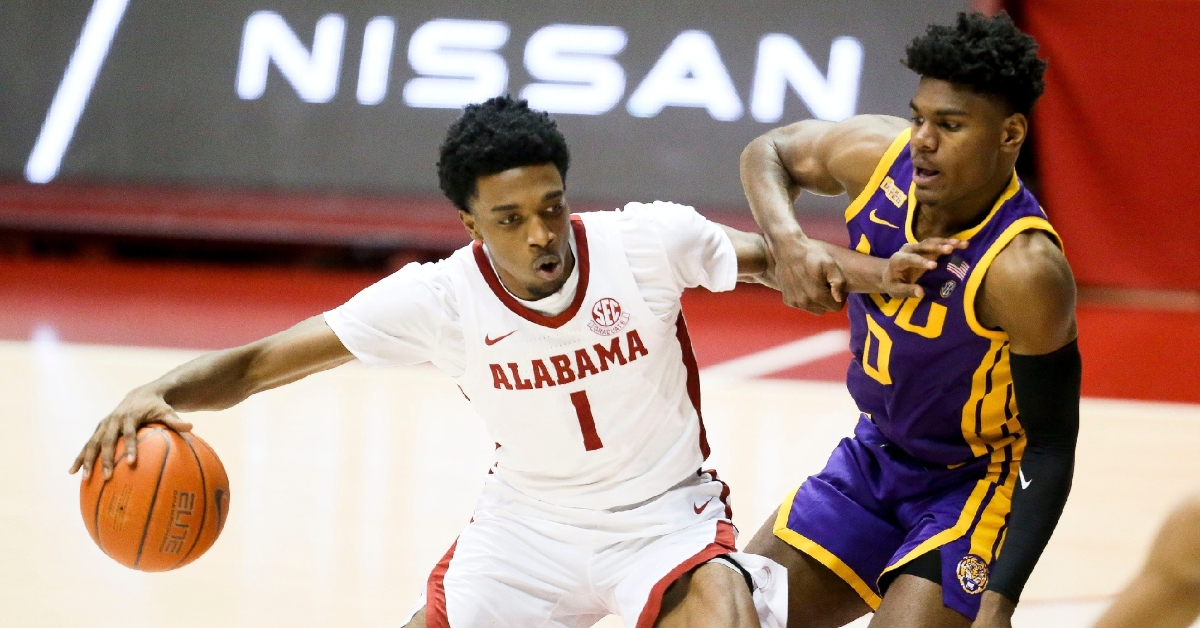 | | |
| --- | --- |
| Bulls could go after SEC Player of the Year at pick No. 38 | |
---
| | | |
| --- | --- | --- |
| 2021-07-29 13:08:33.0 | | |
One thing the Bulls did much better at last season than in seasons past was consistently scoring the basketball. On the flip side, their defense was inconsistent at best, and often times that was their undoing, especially in the fourth quarter. What better way to improve upon your defense than by adding a defensive player of the year to that mix?
That could be the case if the Bulls were to select Alabama F Herbert Jones with the 38th pick in this year's draft. A 6-7 senior, Jones not only is more experienced than most players in this year's class, but he is that hybrid mix similar to a Patrick Williams that this team loves. If the Bulls front office has made anything clear over the past year, it would be that they want versatile players, and Jones fits that definition perfectly.
Not only that, but Jones was also named the SEC player of the year this season to go along with Defensive Player of the year. The defensive side of things is something the Bulls would love to have as they need more defensive studs on this team. Despite averaging just 11.2 PPG this season, Jones does so much more on the floor to make himself valuable. He added 6.6 RPG, 1.7 SPG, 3.3 APG, and 1.1 BPG. In other words, Jones can do it all on both ends of the floor.
Along with being one of the best, if not the best, defender in this year's draft, the Bulls have fallen in love with his mental game as he possesses an extremely high basketball IQ. He also brings with him the rare kind of versatility that teams love as Jones has guarded anyone from the PG position to the Power Forward position.
He plays defense effortlessly no matter who he guards, and that alone is something scouts and teams have noticed from him since day one. Another thing the Bulls like is athletically gifted players, and Jones is certainly an elite athlete who could find his way as a defensive specialist in this league. Although he may not be the most gifted player offensively, he is a decent ball handler with good court vision. That allows him to be productive both on and off the ball.
Along with not being the most gifted offensive player, Jones doesn't have a ton of tricks up his sleeve offensively, and his overall shooting needs to improve. However, Jones did take a massive step in the right direction knocking down 35% of his three-point opportunities this past season. That still needs to go up, but Jones showed he is willing to put in the work to make that happen.
The one thing Jones does better than anyone is get out in transition in the open court where he can be a blur for defenders. Not only does he show that big-time athletic ability, but he has quick feet and good strength, which allows him to attack the rim at any position. He also has no trouble helping out on defense where he can guard anyone on the floor.
All this fits into the type of players the Bulls love to have, but as always, he is a prospect, and they do need some work. Consistent shooting is his biggest weakness at this point, and he will need to work hard at that to improve. On the bright side, should he continue to get better and consistently knock down his three-point looks, it could go a long way to determining the type of player he will become.
That is something Jones has no problem doing, as his work ethic is second to none. Not only that, but Jones is also the hardest working kid in this class and knows what it takes to become better. He is ready to get after it, but the work in and become the next NBA star.