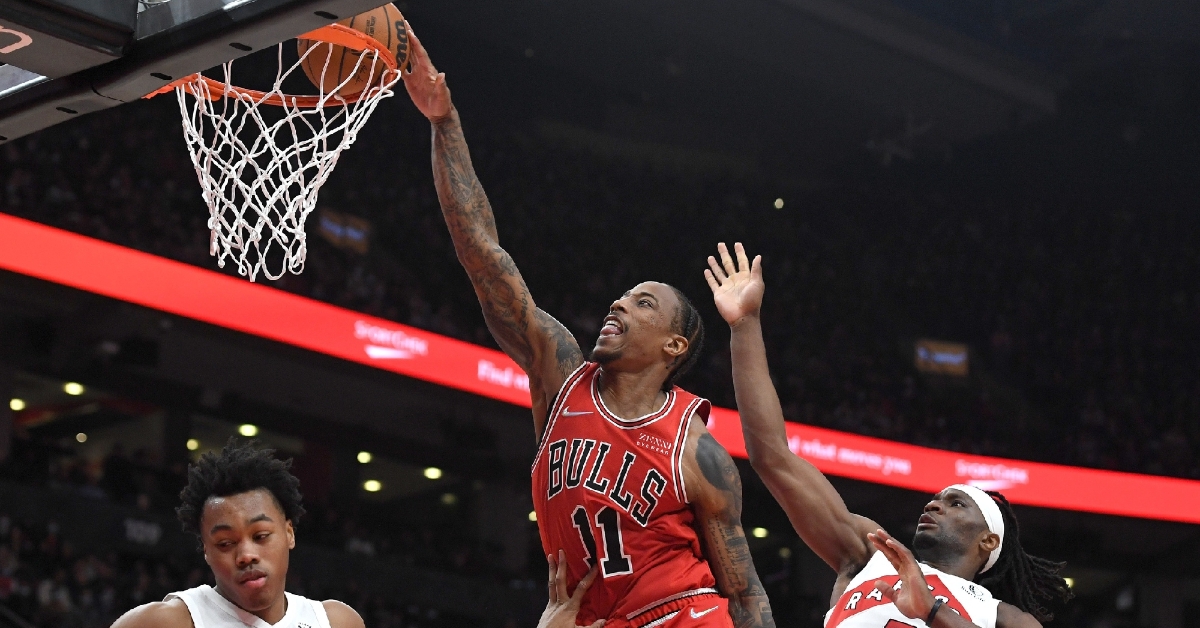 | | |
| --- | --- |
| Bulls hold off Raptors to remain NBA's only 4-0 team | |
---
| | | |
| --- | --- | --- |
| Tuesday, October 26, 2021, 10:42 AM | | |
TORONTO – It has been a while since the Chicago Bulls (4-0) started this good, more than 20 years to be exact. Following their win against the Toronto Raptors (1-3), Chicago continues their unbeaten start and is the only remaining unbeaten team in the Eastern Conference. The last time this happened was in 1996-97, and fans all know how that season ended.
No one is saying this team will win an NBA championship this season, but there is a lot to like about this Bulls team so far. Not only do they have balanced scoring where so many different guys can beat you, but they are playing suffocating defense, which has been an issue in the past. Led by DeMar DeRozan and his 26 points, the Bulls built a 20 point lead on the Raptors as they dominated their opponents through the first several quarters.
DeRozan wasn't alone when it came to having a big game with Zach LaVine (22), Nikola Vucevic (17), Lonzo Ball (15), and Troy Brown Jr (11) all added double figures in the victory. Unlike past games that saw the Bulls play sound defense and knock down clutch shots down the stretch, it was the Bulls of old that showed up in the fourth quarter against Toronto that almost proved to be costly.
Not only was rebounding an issue all night long for Chicago, but so were the turnovers in the fourth as the Bulls of old picked a horrible time to show up. OG Anunoby led the way for Toronto with 22 points as a lot of those turnovers resulted in several easy buckets for the Raptors, who had six players in double figures, including all five starters.
With the lead starting to dwindle, the Bulls needed someone to step up when it mattered. That, someone, was not LaVine, but instead DeRozan, whose mid-range game is on point to start the season. Whoever said DeRozan and LaVine couldn't co-exist are looking very foolish right about now as he has been nothing short of impressive to start the season. Holding a three-point lead following a free throw by Vucevic, the Raptors had a chance to send the game
into overtime as Fred VanVleet saw his three go just long, giving the Bulls the 111-108 win on the road.
Rebounding needs to improve
Coming into the season, everyone knew the lack of overall height would be an issue for this team. Through the first three games, the Bulls made up for that lack of size by forcing turnovers and getting after things on defense. It did help that Vucevic was averaging nearly 13 rebounds a game, but outside of him, the Bulls don't have too much size.
Eventually, that lack of size would catch up to them, and that was the case last night as the Raptors had a plus 20 advantage on the glass over the Bulls. It didn't help that Patrick Williams failed to record a single rebound in the game, but the Bulls were owned on the glass, which didn't make things easy.
Eventually, this was bound to happen to this team, and Chicago is fortunate enough to come away victorious despite their play down the stretch. For the Bulls to continue to play at the level, they have thus far, they will need to rebound better, especially against teams who can actually make them pay for that.
LaVine moving on up
In just four seasons with the Bulls, LaVine has been nothing short of amazing as his scoring has continued to improve each season. Not only that, but LaVine became an all-star last season and has been putting up numbers not seen since Michael Jordan. Speaking of Jordan, LaVine surpassed the GOAT during last night's contest by knocking down a three-pointer.
That shot landed LaVine fourth all-time on the Bulls three-pointers made list in just four seasons with Chicago. It shouldn't come as a shock to fans to see LaVine surpass Jordan on three's as MJ didn't shoot a ton of them as a pro. More impressive is how fast LaVine accomplished that feat as he continues to get better every season.
While his future with the team is still a question mark given the uncertainty of his free-agent status next year, LaVine will go out and give it his all. Should he return to the Bulls for many more seasons after this year, not only does he have a shot at becoming the best three-point shooter in team history, but he will climb the scoring ranks also. He has truly become a superstar in front of Bulls fans eyes and continues to be one.
The Chicago Bulls are 4-0 ??

Zach LaVine
25.5 PPG - 5.3 RPG - 4.8 APG
50% FG - 44% 3PT - 95% FT

DeMar DeRozan
22.5 PPG - 5.8 RPG - 4.5 APG
42% FG - 38% 3PT - 83% FT

Lonzo Ball
14.3 PPG - 5.8 RPG - 5.0 APG
46% FG - 43% 3PT - 100% FT pic.twitter.com/iviR6LQrMq

— NBA Central (@TheNBACentral) October 26, 2021
Time to see how good the Bulls are
No one will take this 4-0 start away from the Bulls as they have earned those victories. However, with games against New Orleans, Toronto, and Detroit X2, how good is this team. They have yet to see a playoff-caliber team this season, so their 4-0 record, although good, is a bit flawed.
They are about to see how good of a team they are as things will get tougher in the coming weeks. Not only do they close the month of October out with home games against New York and Utah, but they follow that up with Boston, Philadelphia X2, Brooklyn, Dallas, Golden State, and both LA teams.
In other words, their schedule is about to get difficult, and that 4-0 start may not matter much in the end if they struggle to win these games. No one is asking them to run the table and remain unbeaten, but should they play around .500 over these next two or three weeks, that should be all the proof you need that this team is good.
For the Bulls to reach the level they want to achieve, they need to start beating quality teams more consistently. That will start at home this week and continue for the next several games as this is Chicago's time to silence the critics and prove they belong in the Eastern Conference elite.
The Bulls are the last undefeated team in the Eastern Conference for the first time since 1996-97 H/T @EliasSports

Chicago started 12-0 that season and finished 69-13 on the season. pic.twitter.com/jSa0BclU55

— ESPN Stats & Info (@ESPNStatsInfo) October 26, 2021