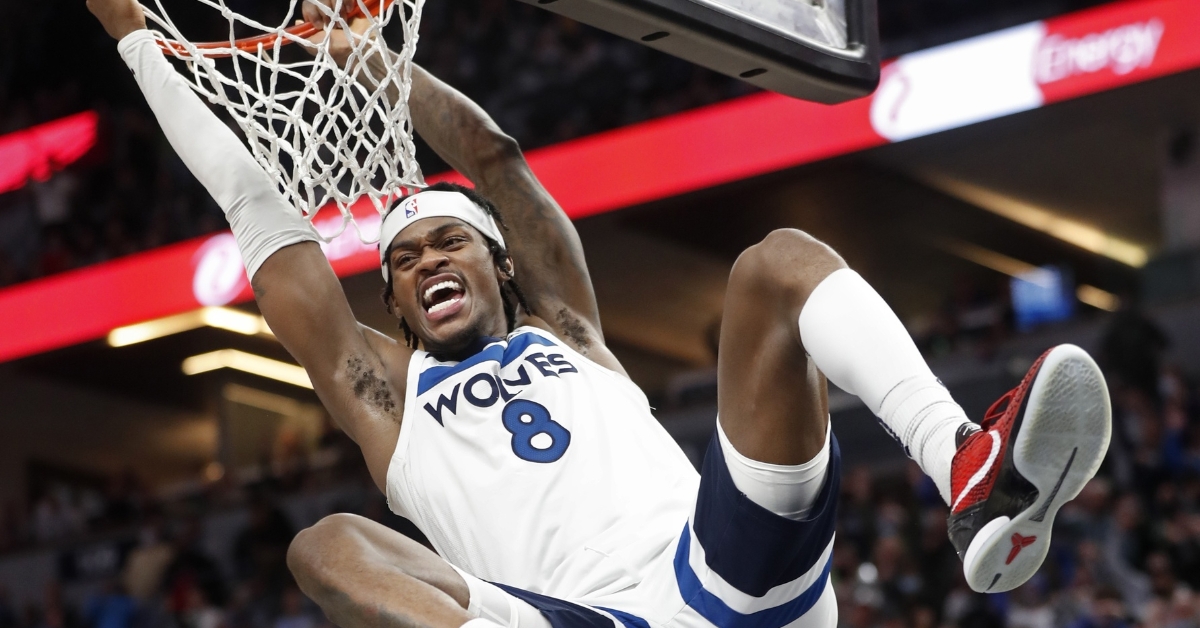 | | |
| --- | --- |
| Bulls should pursue Jarred Vanderbilt | |
---
| | | |
| --- | --- | --- |
| Monday, July 25, 2022, 10:31 AM | | |
For whatever reason, the NBA offseason has come to a screeching halt, especially when you look at how things started. Sure, you still have the Kevin Durant and Donovan Mitchell trade talks out there, but even those are not as frequent as they were a few weeks ago.
While this is not unusual to see talks and action slow down, it is uncommon to see things come to a halt like they have this season. Once we get closer to training camp, I expect things to pick up again, but there are still plenty of talented players out there that teams should pursue.
One of those players to keep tabs on when it comes to the trade market is Jarret Vanderbilt from the Minnesota Timberwolves. After Minnesota shocked the world by bringing in Rudy Gobert to pair him with Karl Anthony Towns, Vanderbilt is one of those names that has emerged on the trade market, and the Timberwolves have already gotten plenty of calls.
The Bulls have not been one of those teams yet, but they soon could be as he would give them some of the things there were looking to do this offseason. One of the most significant areas of need was adding size to their front court, which they did by signing Andre Drummond to a free agent deal. Outside of that, you had Justin Lewis signed as an undrafted free agent, but no further front-court help was added.
Looking at the Bulls organization, you have guys like Marko Simonovic, who could play a significant role this season, especially if his summer league showing translates well into training camp. If he still isn't ready to go, you have Patrick Williams anchoring down the PF and no one behind him to shoulder the load. That is where a player like Vanderbilt could come in handy.
Not only does Vanderbilt give the Bulls some of the size they are looking for at 6-9, but he is a very gritty player that has played both as a reserve player and has now emerged as a starting caliber player. I feel he is best suited for a sixth-man role, but that may not be bad if the Bulls are interested in him or are still looking to add front-court help.
Looking at the NBA and the teams who could be interested in him, Vanderbilt is perfect in Chicago for various reasons. Reason one, he is the ideal backup PF to Williams, who never had a backup last season. 2. He gives them some much-needed size off the bench which is lacking behind Nikola Vucevic. Finally, he is a hard-nosed player who brings a toughness factor that the Bulls didn't have when it mattered.
Across a career-high 74 games last season, Vanderbilt put up career numbers in every category. While his PPG was not great at just 7.0, he averaged 13.1 PPG when used as a starter. He also added a career-high 8.4 RPG, and his offensive rebound percentage ranked in the 93rd percentile in the NBA. That is something that can't be taught and something the Bulls would benefit from immensely.
Although not the flashiest player in terms of what he can do and what he lacks, he is the type of player this Bulls roster needs to get better in crucial spots.
Acquiring Vanderbilt should be an option for this team, and it would come at a cost with most likely Coby White on the way out.
Despite White's vast improvements in his overall game last season, there is no secret that he is on the trade block and that the Bulls hope to move him at some point this season. Why not move him for Vanderbilt, as it would help both sides.
From a Bulls side of things, they would be adding the size they need behind Williams while also bringing in a player who displays plenty of toughness. For the Wolves, White would offer them an excellent scoring asset either off the bench or as a starter and comes with a great three-point stroke. Remember that Minnesota had the top-scoring offense in the NBA last season. White would only make it better.
This is a situation to monitor as training camp nears. Although they haven't called on Vanderbilt yet, they soon could, and if they do, look for Chicago as one of the favorites to get him.