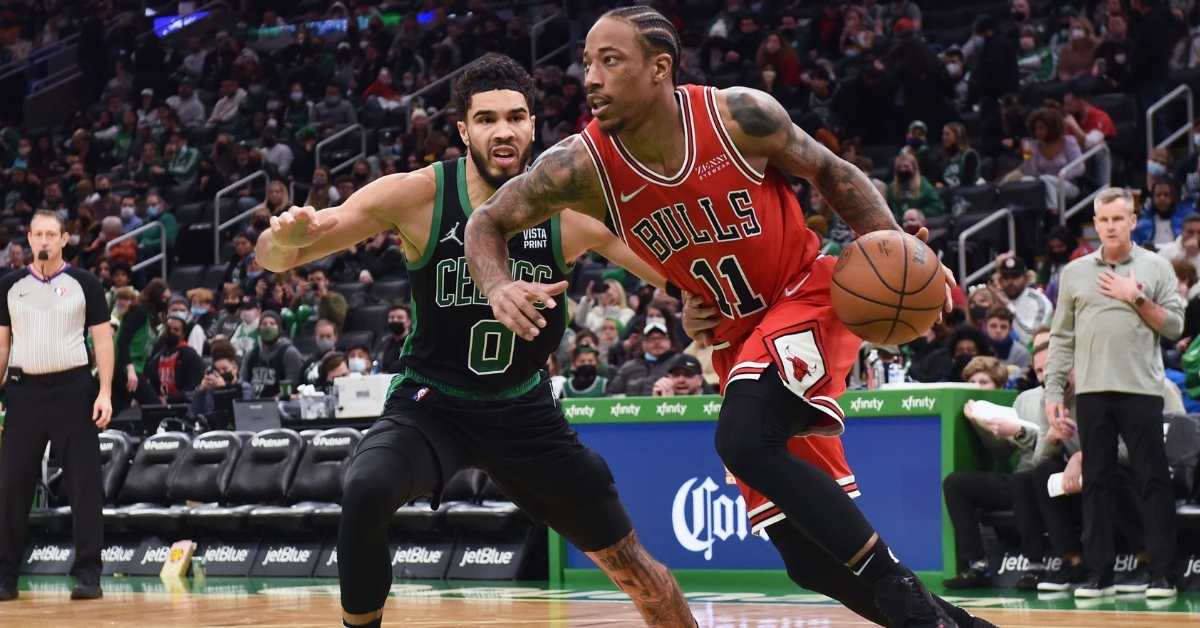 | | |
| --- | --- |
| Celtics rally late to hand Bulls third straight loss | |
---
| | | |
| --- | --- | --- |
| Sunday, January 16, 2022, 11:03 AM | | |
BOSTON – It wasn't that long ago that the Chicago Bulls (27-14) were riding a nine-game winning streak and surged into the top spot in the Eastern Conference. Although they still occupy that spot, things have gotten tougher for the Bulls as they have reached their first rough patch of the season. Riding a two-game losing streak into Boston, the Bulls were looking to take down the Celtics (22-22) to get back to their winning ways.
Just like the last several games for Chicago, the Bulls got off to a slow start and were trailing by double-digits yet again in the first quarter. This is not something the team has been familiar with, and it all stems from the bad habits they have gotten into over the last few weeks. Credit this team; even without Patrick Williams, Alex Caruso, Derrick Jones Jr, Zach LaVine, Javonte Green, and Lonzo Ball, they continued to fight and refused to go down without a fight.
Not only did they outscore Boston in the second quarter, but also the third quarter as they pulled within one heading into the fourth. A big reason for that was a quartet of offensive players looking to pick up the slack while some of their stars were on the mend. Nikola Vucevic had a great night for the Bulls as he led all scorers with 27 points while adding six rebounds. In fact, there was a stretch during the second half where the offense was going through him, and he was looking like the player from his Orlando days.
Vucevic wasn't alone in having a big day as the Bulls saw two other players reach the 20-point mark. Despite a rough shooting night from the field, DeMar DeRozan still reached 23 points and started to take over in the early stages of the fourth quarter. He was joined by Ayo Dosunmu, who filled in admirably for Ball as he dropped 21 points to go with 10 assists. Also getting into the starting lineup was Coby White, who picked up 19 points in place of LaVine.
Those four accounted for most of the Bulls offense and helped propel the Bulls to an eight-point lead late in the fourth. Unlike earlier in the season, where the Bulls would finish off opponents late in the game, Boston had other ideas as it was their time to rally late. Jason Tatum got off to a hot start in the first half, but cooled off in the second half as the Bulls made some excellent adjustments on him. He still managed to lead the team with 23 points, but it wasn't the way you would expect.
Jalen Brown added 19 points, including several clutch shots in the fourth quarter as he helped the Celtics rally back late. Joining them were Dennis Schroeder (16 points), Al Horford (15 points), and Robert Williams III (14 points 13 rebounds), as all five Boston starters finished with double figures. Josh Richardson also chipped in with 13 points off the bench giving Boston six options in a balanced attack.
Typically you would expect guys like Tatum and Brown to take the shots in the clutch with the game on the line. They did do that, but the unsung hero Williams came through late. Not only did he have several impressive alley-oop plays, but he cashed in with four free throws in the winding seconds, including the game-winning pair, to give Boston the 114-112 lead. Chicago had a chance to win late, but Vucevic saw his three-point attempt land off the mark, followed by a missed DeRozan putback, securing the 114-112 Boston win.
The hits keep coming
At this point, I don't know how much more this Bulls team can take. They received some good news on the LaVine front that there is no structural damage in his knee, but he will still miss the next few games as they want to rest up that knee. To make matters worse, Ball was added to the injured list before the game on Saturday, and he, too, will miss a few games dealing with knee soreness.
Nearly every player on the Bulls roster has either missed time with injuries or COVID, so it continues to be impressive that they remain in first place in the East. Granted, their lead is getting smaller and smaller by the day, but the bottom line is they built a big enough lead and can use this time to take their bumps and bruises and get healthy.
No one knows how long it will take for this team to get healthy, but there does appear to be some help on the way as Caruso is expected back on Wednesday. Hopefully, Ball and LaVine won't be far behind as this team needs a win in the worst way.
Lonzo Ball will not play in tonight's game vs. Boston (left knee soreness). pic.twitter.com/PvY4eP2ITa

— Chicago Bulls (@chicagobulls) January 16, 2022
Ayo and White step up
With the absence of two more starters, other guys will have to step up while Chicago tries to maneuver through this difficult time. Dosunmu and White were two players who stepped up yesterday as they combined for 40 points in the starting lineup.
Fans have seen this for a while now from White, as he has gotten into a nice groove off the bench and has also turned in quite a few good games in the starting lineup. Dosunmu, on the other hand, has primarily been a bench option this season, but the rookie has been nothing short of impressive.
From his defense, along with his overall good and consistent shooting, Dosunmu is one of a few rookies who have found instant success in the NBA and someone the Bulls are starting to count on more and more. His game in place of Ball on Saturday was huge for him and huge for the Bulls because they now know he can handle a starting PG role if needed.
Ayo Dosunmu is the first rookie in NBA history to have 20 points, 10 assists and 90% FG in a single game. pic.twitter.com/OPgOm1FtrD

— Chicago Bulls (@chicagobulls) January 16, 2022
Costly mistakes loom large
Throughout this three-game skid, the Bulls haven't looked like the same team. Their consecutive blowout losses to the Nets and Warriors dropped them from 7th to 18th in NBA defensive efficiency, and it didn't get much better last night. For whatever reason, Chicago is having difficulty closing out on shooters and getting back on defense.
That is never a good thing, especially when Chicago has been prone to turning the ball over in recent games, which is never good. In the final minutes of the game last night, the Bulls had a four-point lead and were in an excellent position to get to the free-throw line to ice the game. That was until Vucevic turned the ball over, which led to a quick two-pointer by the Celtics to close the gap to two.
It didn't seem like much at the time, but that play seemed to take the air out of the Bulls while giving momentum back to Boston. Plays like that over the last three games that have gotten the Bulls in trouble and something Donovan is concerned about. His team has gotten into bad habits, and now it is time for this team to do some deep soul searching and figure things out in a hurry.