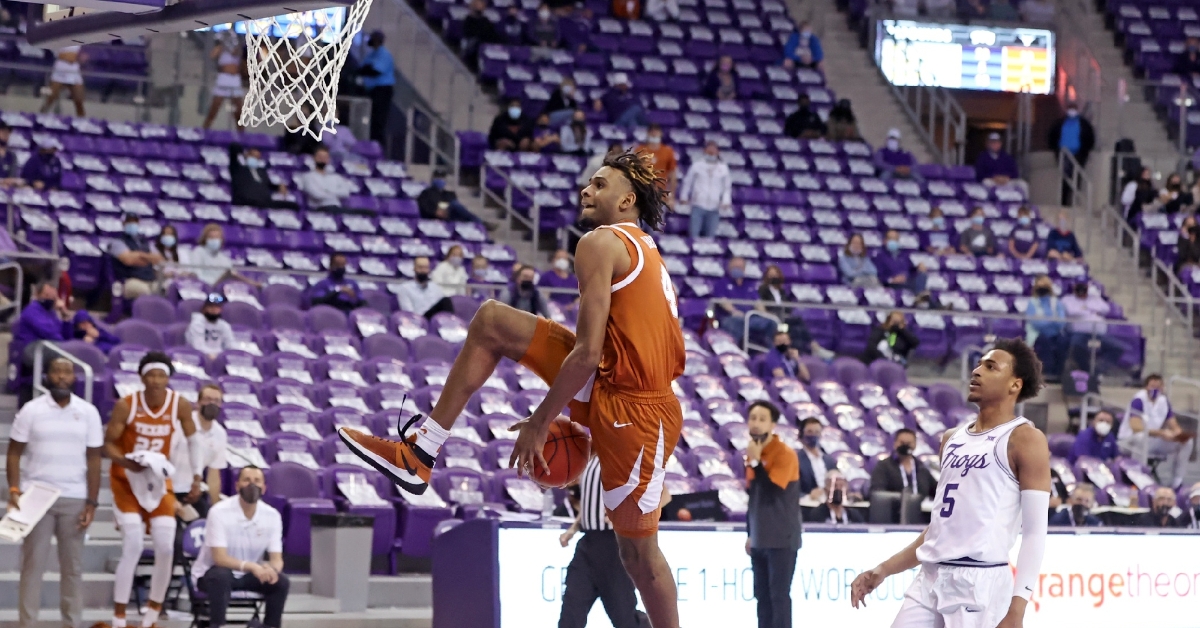 | | |
| --- | --- |
| Bulls News: Prospect spotlight: Greg Brown III | |
---
| | | |
| --- | --- | --- |
| Friday, June 25, 2021, 10:50 AM | | |
When the Bulls are on the clock during the 2021 NBA draft, it may not be until the second round when they pick 38th. Unless Arturas Karnisovas has something up his sleeve to trade back into the first round, Bulls fans should brace themselves for a second-round selection as they have to hit with this pick.
Fortunately, this is one of the deepest drafts in quite some time in terms of talent, so there could be plenty of talented players when the Bulls reach the clock. Of course, some of them may stick, and some may not, but when you have a list of players like this year's draft does, the future is undoubtedly bright in this league.
One of the players the Bulls may look at in the second round is University of Texas SF Greg Brown III. When it comes to the NBA, athleticism certainly matters, and Brown is one of those once-in-a-decade freak athletes who translates well to the NBA game. He certainly has an NBA body at this point in his life, but his game is not NBA ready, so he would be more of a project. Chicago has done well with projects in the past, but would drafting another be wise at this stage of a rebuild.
We saw what happened when the Bulls drafted a project in Patrick Williams No. 4 overall last year. Sure, Williams went through the typical growing pains that you would expect, but he earned second-team all-rookie honors, so he lived up to the hype surrounding him. Brown could pan out to be one of those types of players, but how soon can he deliver.
The Bulls took a chance on an athletic freak in Daniel Gafford a few years ago, and we saw how that panned out. Gafford had all the athletic talent in the world, but he never turned into the player Chicago expected him to be hence the trade to Washington this winter. However, if Chicago did learn anything from Gafford, he played extremely hard which he was rewarded with more playing time.
Brown certainly plays hard, and hopefully, that hard work pays off. As a part of a great Texas team last season, Brown put up solid numbers averaging 9.3 PPG, 6.2 RPG, and 1.0 BPG. Interestingly enough, those numbers are very similar to what Williams put up when he was a Freshman with Florida State. Brown bounced around between a starter and role player last season but carved out his niche as a sixth man. Again, that sounds a whole lot like Williams.
At 6-9, Brown is a huge SF, but at 190 pounds, he does need to put on some weight to battle with the physical NBA game. However, he has excellent length, making him a tough defender on defense, while his elite leaping ability makes him must-watch TV. He can dunk the ball in traffic in transition, and his exceptional bounce gives him the edge over many defenders as he can create and finish his own shot.
He is not the most mature prospect and still has to grow a lot as a player. He is the perfect candidate to start his NBA career in the G-League, with the potential to land a two-way contract as the year goes on. Even though he stands at 6-9, his leaping ability helps him land as one of the better shot blockers in this year's class.
While his athleticism will help him finish around the rim, he needs to find consistency in shooting the mid-range jumper and extending out to the three-point line. However, his defensive fundamentals are not teachable, and he will be a matchup nightmare for a lot of teams. From an athletic side of things, he draws comparisons to a poor man's version of Aaron Gordon, who has turned into a solid player. In terms of a player, look for him to be like Marquise Chriss with better SF skills.