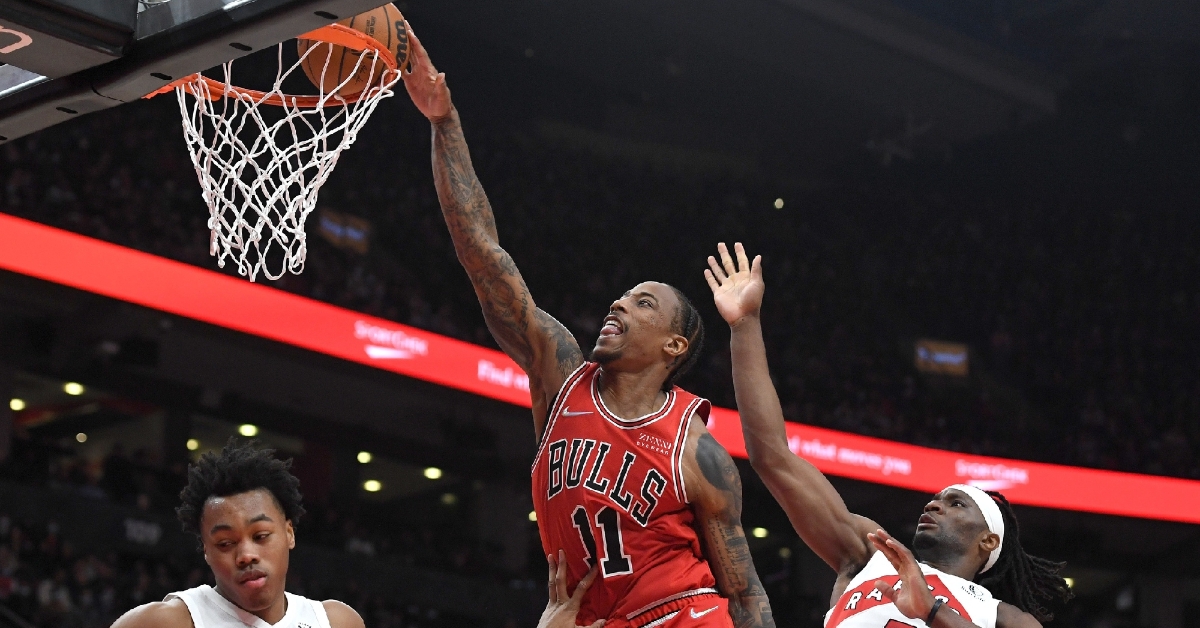 | | |
| --- | --- |
| Bulls News: Season Report Cards: DeMar DeRozan, Javonte Green, Derrick Jones Jr. | |
---
Our list of the season in review report card series reaches the frontcourt as small forward is next on the agenda. This was the most critical position for the Bulls as their leading scorer, leader, and MVP anchored that position this season.
No one would have expected that when the Bulls had to nab him via sign and trade from the Spurs in exchange for Thaddeus Young, but now that the Bulls have him, they will do whatever it takes to keep him happy. The next question is will he be able to duplicate the production he put up this season.
DeMar DeRozan
When the Bulls signed DeRozan to a three-year 51 million dollar deal last offseason, they brought him in knowing he had the veteran leadership the team was lacking. He also provided Lavine with the secondary scoring option that he hasn't had since arriving in Chicago.
However, once DeRozan got to Chicago, the Bulls saw something no one saw coming as he was in the MVP conversation most of the season and emerged as the Bulls most trusted option. On a roster filled with injuries, DeRozan saw action in 76 games which were the most on the team.
To go along with that, he led the team in scoring, averaging a career-high 27.9 PPG, which landed him in the top 10 in the league. He also added 5.2 RPG while adding a career-high 4.9 APG. Without him and his production, this team was not a playoff team, and there was no one more valuable on this roster than him.
Season Grade A+: The season that DeRozan put together this season was nothing short of amazing. This was the season the Toronto Raptors and San Antonio Spurs were hoping for across his first 10 years in the league, so to see it at his age 32 season was remarkable.
When you look at the inconsistencies some of the Bulls roster had this season, DeRozan was the one person you could count on as he set an NBA record with nine straight games of 35 points or more while shooting 50% from the field. He also made NBA history by knocking down back-to-back game-winning three-pointers.
No one expects this kind of production again, but he has set the bar real high for himself. Anything less will be considered a disappointment, but he could still post better numbers than his career average, which will still be a win for this team.
Javonte Green
When the Bulls traded for Javonte Green last season, their mission was to bring in an athletically gifted SF capable of playing off the bench. Instead, you had a guy play in 65 games while making 45 starts as he was forced to play out of position this season.
Given the number of injuries the Bulls had this season, Green needed to play the SF/PF spot a lot which is never a good thing for someone his size. However, Green put together a career-high 7.2 PPG, so Green showed plenty of promise this season. He also had a 10-game stretch where he averaged nearly 11 PPG, so there is still plenty of game left in that tank.
Season Grade B: Green showed a lot to the Bulls this season, and it was more than his athletically gifted self. He showed he could fill a starting role-playing different positions while improving his overall game on every level.
Green saw his playing time dwindle as the season went on, but no one will argue that he played a crucial role during the middle part, especially with Alex Caruso going down with an injury. He will fit in well on this roster, but could be on the move for a better opportunity.
Derrick Jones Jr.
A move that went by the wayside early in the season was the Bulls acquisition of Derrick Jones Jr. Known as a role player most of his career, Jones Jr brought with him an athletically gifted game that translated well on the Bulls roster.
The former NBA Slam Dunk Champion brings highlight-reel dunks with him every time he touches the floor, but he is a one-trick pony at that. His 5.6 PPG indicates that he will continue to be a role player, but he did improve his shooting this season and was a starter in the first half of the season.
Season Grade C: There weren't many fans who were expecting a lot from Jones, but I think they wanted more from him. They were getting that pre-injury when he averaged over 8.0 PPG, but the production went down once a hand and foot injury set in.
I still think he has a place on this roster, especially regarding his dunking ability. The Bulls are at their best when in transition, and not too many do it better than Jones. Most fans would love to see him back one more year.
Troy Brown Jr. also saw time at SF and received a D for his season grade after seeing way less time than anyone expected.

Upgrade Your Account
Unlock premium boards and exclusive features (e.g. ad-free) by upgrading your account today.
Upgrade Now