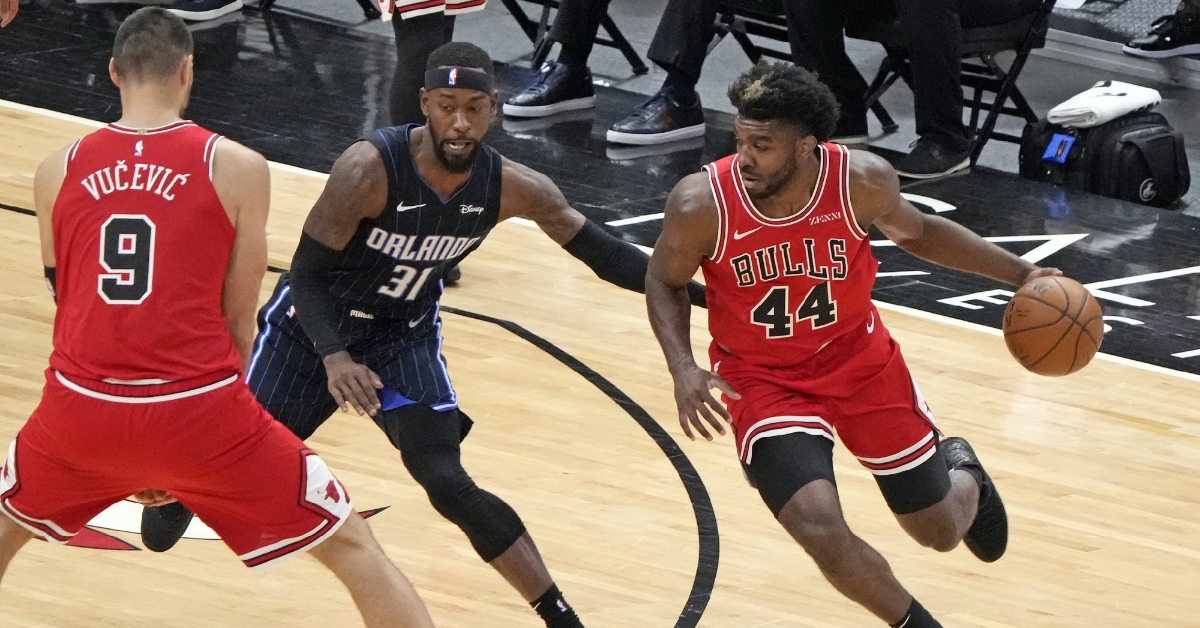 | | |
| --- | --- |
| Bulls News: Season Report Cards: Patrick Williams, Marko Simonovic, more | |
---
| | | |
| --- | --- | --- |
| Monday, May 9, 2022, 1:00 PM | | |
The biggest weakness that the Bulls had this season and one Arturas Karnisovas needs to address is the lack of frontcourt size. Take away center Nikola Vucevic and the Bulls had no one else on their roster over 6-10 and a PF who was 6-8 and injured most of the season.
Once that happened, the Bulls had to mix and match who they would use at the No. 4 and never found the success they needed for most of the year. Once Patrick Williams came back, the lineup looked different, but even at that, this is a roster that needs more size on the interior, especially at the No. 4 position on the floor.
Patrick Williams
When you are drafted No. 4 overall, you have a ton of pressure to produce at a top-five level. As a rookie, Williams showed flashes of being a top-five pick, but overall he underachieved in many ways. Fast forward to the Summer League this season, and Williams put on quite a show as his newfound aggressive nature was something Billy Donovan and the Bulls were hoping to see more of this season.
Unfortunately, that never came as Williams was injured five games into the season and didn't return until the final two weeks. His loss was a significant blow to this roster, but once he came back, you started to see the Williams fans wanted to see. Across his 17 games this season, Williams averaged 9.0 PPG, which was more than his rookie season.
However, his final three games of the season saw him average 23PPG, and then he went on to have two great playoff games while displaying the aggressive nature Donovan has preached to him. Everyone knows the talent level is there for him, and now he just needs to believe in himself to maximize the talent and give the Bulls another scoring option to lean on.
Season Grade C: It is hard to be too critical of Williams, especially when he missed 75% of games. However, when on the floor, there is still a lot missing from his game, and you have to wonder if his confidence was crushed this season. When Williams was aggressive, fans saw that offensive upside that he displayed in the Summer League, which is the type of player he wants to be.
Year three will be crucial for Williams as his rookie season was filled with promise, only to see minimal action due to injuries this year. If Williams remains aggressive and confident on the floor, there is no reason to believe he can't be an 18-20 point scorer, making this roster deeper and more dangerous.
Williams was supposed to be the primary starting PF this season, and once he went down, the Bulls were in a huge bind. Guys like Alize Johnson, Jordan Bell, Tyler Cook, Alfonzo McKinnie, and Malcolm Hill saw time at the PF position this season.
Only Hill, McKinnie, and Cook averaged more than three points as their production was minimal. Because of that, those three get a combined grade of an F as neither of them provided the Bulls with anything offensively, which is why this team was exposed against good teams.
Marko Simonovic
Another player who was supposed to contribute a lot this season was 2020 second-round pick Marco Simonovic. After not seeing the court last season and then showing some promise during the Summer League, the Bulls gave him an opportunity to make the team during the preseason. Still, they sent him to the G-League after minimal production.
As a member of Windy City, Simonovic was near the top in scoring, averaging nearly 19 PPG while adding 9 RPG and 2 BPG. If that is the type of production you can expect from him a the NBA level, get him up here now. Unfortunately, that production hasn't happened in the limited chances he has been given, so hopefully, year three is a different story for him.
Season Grade N/A: While his NBA grade is incomplete, his G-League grade would be a B as there were a lot of improvements made. Still, he has work that needs to be done if he intends to be a contributor next season. Given that the Bulls do need size on their roster, it wouldn't be a surprise to see him on the roster next year in some capacity.